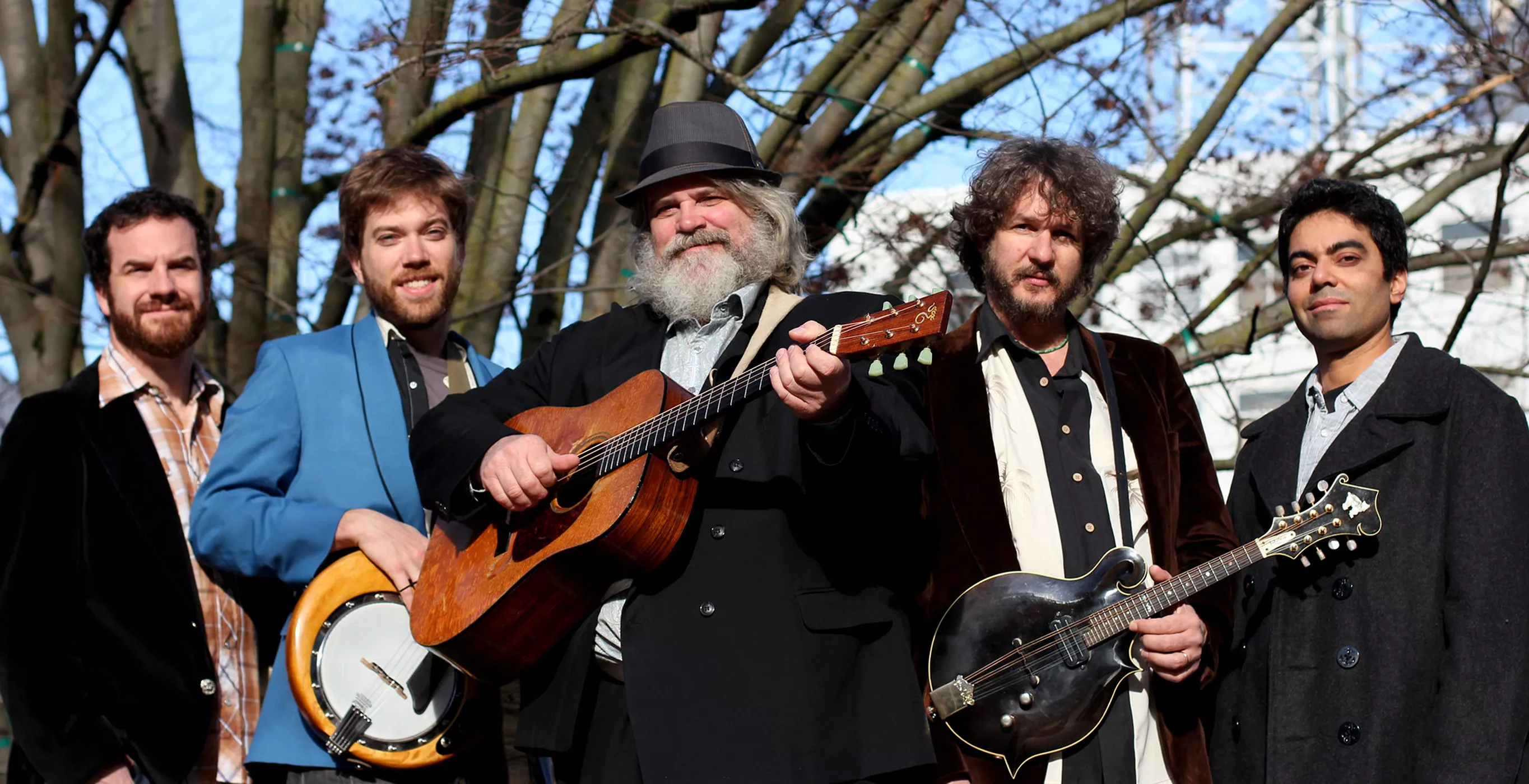 Does the electric banjo held by Leftover Salmon's Andy Thorn look familiar? It was made here in Humboldt by Ian Davidson from Absynth Quintet, a "gypsy jamgrass" group inspired by Leftover's groundbreaking "poly-ethnic Cajun slamgrass."
Salmon guitarist and founder Vince Herman laughed at the suggestion that his band pioneered a new sound. He pointed to Nitty Gritty Dirt Band as an earlier example of "the continuity of loud things to do with folk music." Herman and mandolin picker Drew Emmitt have been playing amped-up string music together since 1989. Thorn came in a few years ago to replace the late, great Mark Vann.
While Colorado neighbors Yonder Mountain String Band and String Cheese Incident achieved greater market penetration, Salmon pretty much invented Boulder's jamgrass scene. "We never had a plan," said Herman. "We were never strategically marketed, never really invested properly in the project. We never hired the right light show or the right bands to open for us. We're just a bunch of bozos doing our thing. And luckily, after all these years, we're still allowed to keep doing it. We're pretty psyched about it."
The key, says Herman, is making music that makes people want to get together. "You know, I'll volunteer to be the loud guy if it helps everybody ride the same wave," he said. "Creating the group mind is really cool. We humans just want to do things together; we want to join. We're here to provide a train to ride, for everybody to jump on. And to do that, you have to make it a time that will not be recreated. Something out of the ordinary."
One way to do that is through improvisation. Some object to the term, but Herman doesn't mind if you call Leftover Salmon a jamband. "That's because I know what 'jamband' means," he says. What does it mean? "It means that people with hair will be there," he concludes with a laugh.
Got hair? Leftover Salmon and Absynth Quintet are playing at Arcata Theatre Lounge Sunday night. Get on board.
So, Thursday is Valentine's Day and you're wondering where to go on a date. You have options. Just figure out what kind of music your Valentine likes.
Let's say your loved one is into string band music and/or newgrass. Well, The Bee Eaters are at the Arcata Playhouse V-Day for night-one of a two-night run. The band's roots are in the new acoustic "newgrass" of formerly local fiddlers Tashina and Tristan Clarridge (with Tristan switching to cello) -- but what makes it unusual is Simon Chrisman's hammered dulcimer laying down flurries of notes. Elements of bluegrass, jazz and Celtic weave into Texas fiddle tunes (the Clarridges are certified champions), creating a unique, organic whole. "We grew up listening to the sounds of nature, rather than the sounds of cities," says Tristan, and perhaps that explains it.
San Francisco-based rockers The Stone Foxes are at the Jambalaya for V-Day. The four-piece plays music you might call a post-classic rock -- mostly original tunes but based on the rootsy-bluesy sound of the Stones, Zep, Credence, etc. The Foxes just released its third album, Small Fires; pick up at a copy at the merch table. They share the bill with The Trouble, who somehow sound better and better every time I hear them. Great songs, great players, a truly fine band.
The Lorenza Simmons Trio plays jazzy love songs at Robert Goodman Wines with Lorenza on vocals backed by the versatile Tim Randles on keys and Bobby Amirkhan on bass.
Is your date into EDM (as in electronic dance music)? "I Hate Valentines Day!" at the Red Fox Tavern has GRAssHOppA, OnHell and DJ Trey playing dance music heavy on the bass end.
"Another Awkward Valentine's" at the Arcata Theatre Lounge is Ba-Dum-CHH Comedy's take on VD with William Head up from S.F. to join the B-D-C crew: Joe Deschaine, Kimberly Hodges, Ratty Maty, John McClurg, Tony Persico, Ivy Vasquez and your hostess with the mostess Sherae O'Shaughnessy. Special guests Kyle and The MacLachlans provide some sort of musical interlude. The troupe invites you to "share your VD with us," which sounds kinda dangerous.
Pressure/Anya spins vinyl for an '80s Valentine's Day Dance Party in the Eureka Inn's Palm Lounge with the Humboldt Pinups calendar girls signing autographs. (As usual Pressure Anya is rocking multiple parties this week: Saturday at the Pearl, the duo spins "world wide beats" with guest belly dancers; Taco Tuesday at the Jambalaya is equally worldly; then Anya goes solo for Whomp Whomp Wednesday at Nocturnum, opening for a female electro-duo from S.F. with Lotus Drops and Skulltrane, aka SkullDrops.)
The day after VD, Friday, In Human Creation presents My Bloodiest Valentine, "a satirical look at a classic holiday," at The Jambalaya with music by Tellum, Twist of the Python and Fuck You (Sex Ghost), dancing by Megz, Lex and friends plus thematic games and prizes. It comes with a warning: "This show will contain images of a bloody nature. Viewer discretion is advised."
The British electronic artist known as Ott grew up listening to dub by Scientist and King Tubby alongside proto-electro bands like Neu! and Kraftwerk. The inspiration led to work as an engineer in London helping craft soundscapes by The Orb and On-U-Sound bands like African Head Charge, and working with masters such as Brian Eno. Ott ultimately created his own psychedelic dub style, first collaborating with Simon Posford of Shpongle and Hallucinogen, then, starting 10 years ago, releasing his own solo records. His latest tour as Ott and The All Seeing I finds him backed by guitar (Naked Nick), bass (Chris Barker) and drums (Matt White). He says shifting to playing with a band was an obvious choice. "People like going out to see bands. It's a way to amplify the fun. It's fun on your own but much more fun with a gang of your mates." How much fun? See for yourself when Ott and company play at the Arcata Theatre Lounge Saturday night. Philly-based producer KiloWatts opens.
Jamaican reggae/dancehall singer Gyptian is among the few who have managed to cross over to the American hip hop/urban market. The key was his song "Hold Yuh," which was remixed with added vocals by hot rapper (and American Idol host) Nicki Minaj. Gyptian hits the Arcata Theatre Lounge Friday with a full band (sorry, no Nicki). Second Nature Sound and Rude Lion provide local support.
More reggae? The One-Love Jam Saturday at the Angelina Inn has Stevie Culture headlining with C-Baker, Judrum, Aminata, Mykal Somers, Marcio, Professor Funk and Madi Simmons.
It's cold out, which makes it time for another Winterfest, Humboldt's only wintertime beer-tasting festival, once again held at the Arcata Community Center, Saturday evening. As usual they'll be pouring a whole bunch of different microbrews. Music comes from Chris Parreira, Speakeasy Saints and, breaking a long all-local Winterfest tradition, an import: a neo-psychedelic rock band from Santa Cruz, Grandpa's Chili. The afterparty at Humboldt Brews has electro-funk by a reunited Moo-Got-2; free admission with a Winterfest wristband.
KMUD/KMUE Community Radio has a pair of benefits at Portuguese Hall in Arcata Saturday. First, it's an afternoon wine tasting party (3-6 p.m.) with samples from our fine local vintners, an auction, and music by the Meadowood String Quartet. After sundown it's time for the MUD Fling with an eclectic collection of local bands: the funky River Valley Mud, Kenny Ray and The Mighty Rovers playing country swing (Kenny is a KMUD deejay), bluegrass-ish tunes by The No Good Redwood Ramblers, jammy rock by Liquid Kactus and Brazilian-style rhythms and dancing by SambAmore. Proceeds from both parties go to help pay for a signal upgrade for KMUD's NoHum branch, KMUE. Good cause. Good music. Good times.