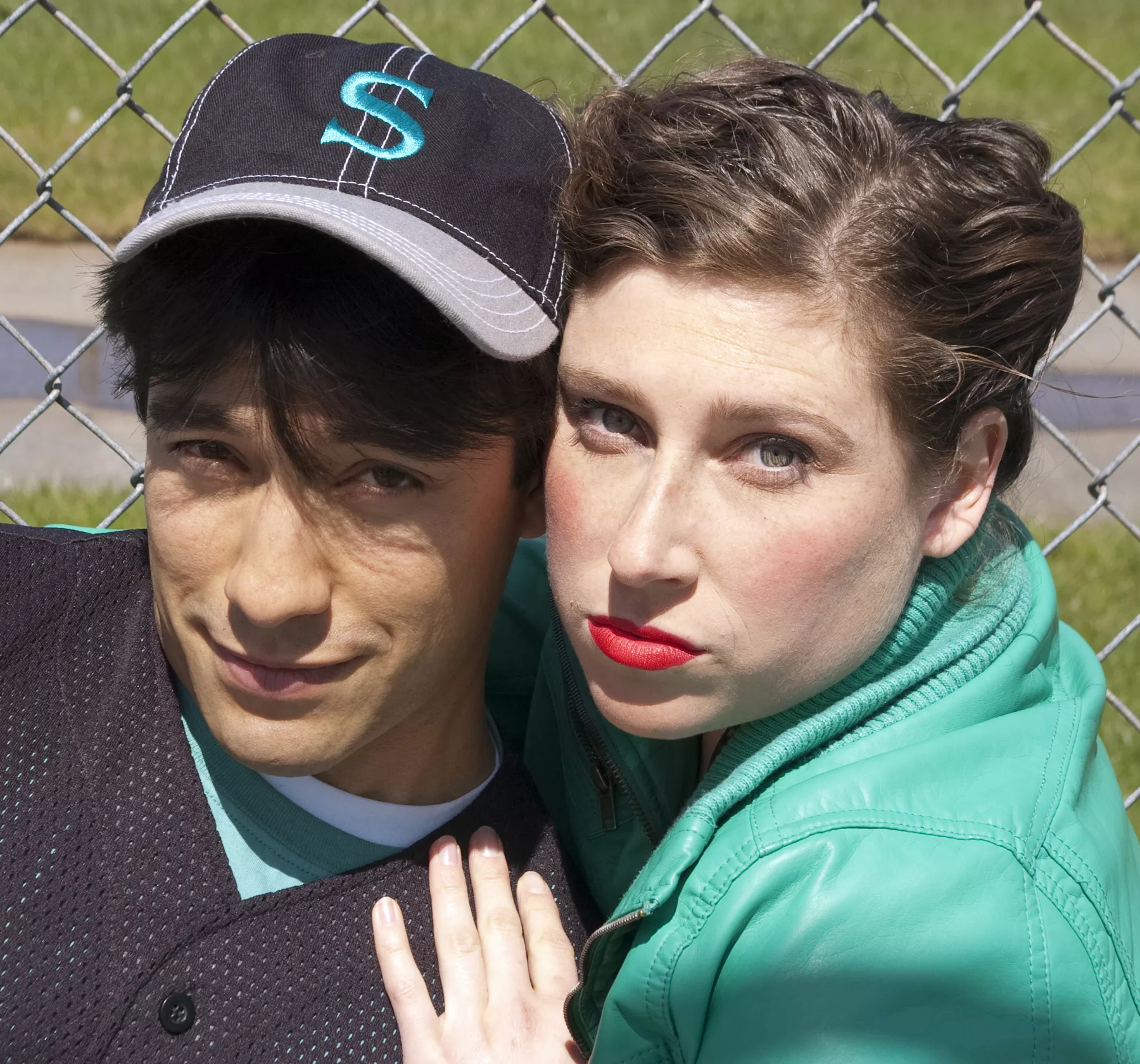 photo by Maia Cheli-Colando
James Gadd as Joe and Lela Annotto-Pemberton as Lola
Back in the 1950s, when baseball really was the national pastime, the New York Yankees ruled. With Mickey Mantle, Yogi Berra, Whitey Ford, etc., they usually won the American League and the World Series. So a 1954 novel called The Year The Yankees Lost the Pennant was about Joe Boyd, a frustrated middle-aged fan of the Washington Senators -- next to the Kansas City A's (virtually a Yankee farm team), the most hapless American League club. He makes the usual deal with the Devil (who calls himself Mr. Applegate) to become the heroic young home run hitter for the Senators, Joe Hardy.
Richard Adler and Jerry Ross (Pajama Game) added music to the story based on Douglas Wallop's novel for the hit Broadway musical Damn Yankees, which is now being performed by the Humboldt Light Opera Company at the College of the Redwoods Forum Theater in Eureka.
Once Applegate (played with suave irony and sonorous glee by Brad Curtis) gets Joe Hardy in his clutches (James Gadd, looking the part of the innocent baseball star) he moves to control him further with the professional temptress known as Lola. This showy role made Gwen Verdon a Broadway star. Verdon was a dancer who'd never sung a role before, and coincidentally that's also true of HLOC's Lola, Lela Annotto-Pemberton. Dancers must make every movement mean something, and Lela seems to bring that approach to Lola's songs, particularly the first one ("A Little Brains, A Little Talent"), honing every phrase as she belts out one of the show's highlights. She follows that with the song that emerged from this show: "Whatever Lola Wants (Lola Gets.)" Quite a debut.
Also debuting on a North Coast stage, but with plenty of experience in New York and nationally touring musicals, is Melissa Trauth as Gloria, a tough sports reporter who can suddenly dance up a leggy storm. Besides her flashy solo, when she and Lela/Lola do a dancing duet it's a sparkling Broadway moment.
The story involves Joe's trials and his attempt to invoke his escape clause (a little Faust, a little Samson and Cinderella --this show's got it all) but plot twists are less important than the quiet credibility brought to the central love story, which is perhaps surprisingly about the middle-aged couple. In this, Carol Escobar (as Joe's wife Meg) is crucial, both with James Gadd and Robert Keiber as the elder Joe.
The singing by both male and female ensembles is another highlight: the fans (Patty Andreise, Jennifer Callen, Bonnie Cyr, Katherine Matheson, Mary Severdia, Alana McConnell and Liz Souza) and the team (Gino Bloomberg, Jesse Chaves, Dylan Karl, Rigel Schmitt, Andrew Sible, Levi Simmons, led by manager Bill Ryder, and Howard Lang and Ralph Nelson). Rookie of the year honors go to young Jake Smith for especially fine singing.
Carol Ryder directs creatively and effectively as usual (she also designed the handsome modular set, built by technical director Peter Johnson). Molly Severdia and piano accompanist Sharon Welton are musical directors, Melissa Trauth did choreography, Kevin Sharkey the costumes, Justin Takata the lighting. Not a big summer show or a great play, but it's fun. To miss Damn Yankees would be a damn shame. It plays weekends through April 28.
Coming Up:
Dell'Arte School second-years present the results of their investigation into tragedy: The Night Mare, Thursday-Saturday April 19-21, at 8 p.m. in the Carlo. It's a full-length work about a couple that relentlessly -- and one assumes, tragically -- pursues their dream of having children. 668-5663, www.dellarte.com.
Just weeks after the 1979 hit musical Evita officially returns to Broadway, it opens at Ferndale Repertory Theatre, which is a lot closer. It begins there April 20, starring Elena Tessler as Eva Peron, Jaison Chand as Juan Peron and Steve Nobles as Che. Directed by Ferndale Rep Executive Director Ginger Gene, it's the famous Andrew Lloyd Webber and Tim Rice musical about the rise of Eva Peron to become the idolized wife of the dictator of Argentina, and what her ascension suggests about the interaction of celebrity and power. The cast of 35 also features Craig Waldvogel and Jessie Shieman. Dianne Zuleger is musical director and Linda Maxwell the choreographer. Dan Stockwell is scenic designer, Lydia Foreman designed costumes, Greta Stockwell the lighting. It plays Fridays and Saturdays at 8 p.m., Sundays at 2 p.m. through May 13. (707) 786-5483. www.ferndale-rep.org.
The HSU 10 Minute Play Festival opens on Wednesday, April 25, for five performances. With the usual mix of comedy, drama and fantasy, the playwrights are Keosha Chambers, Jessica Charles, Christin Hunter, Sarah McKinney and Alan La Police. John Heckel is at the helm. Though this is a perennially popular show, unfortunate changes in class offerings mean this 14th annual 10 Minute Play Festival is probably the last. It plays Wed.-Sat. at 7:30 p.m. and Sunday at 2 p.m. in Gist Hall Theatre. 826-3928, http://HSUStage.blogspot.com.
Previews begin on April 26 for Redwood Curtain's latest, the "romantic comedy for the digital age" For Better, directed by Kristen Mack, with Anthony Mankins, Kyra Gardner, Ken Klima, Colleen Lacy, Sarah McKinney and Kyle Hanziak. It plays through May 19. 443-7688, www.redwoodcurtain.com.