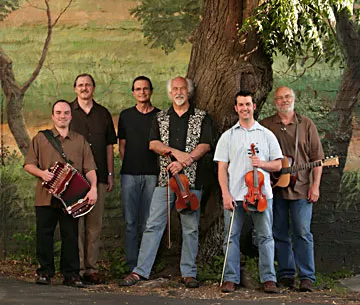 By capitalizing the "S" in the middle of BeauSoleil, the Cajun band's name becomes beautiful sun, but the truth is the band is named for an Acadian resistance fighter. Joseph Broussard Beausoleil fought the English in the mid-1700s during what is known as The Great Upheaval (or Le Grand Dérangement), when a British governor removed 10,000 French Acadians living in Nova Scotia from their homes by force. A number of them ended up in Louisiana. Living in the backwoods and bayous, they managed to hold onto at least some of their Acadian/Cajun culture through the years.
You could describe BeauSoleil fiddler Michael Doucet as a keeper of the Cajun flame, but he's more than that. Doucet's name came up in a story by Joel Selvin in last Sunday's San Francisco Chronicle "Pink Section" about East Bay record store/record company owner Chris Strachwitz. Doucet recorded a number of albums for Strachwitz' label, Arhoolie, some with accordionist Marc Savoy as the Savoy/Doucet Cajun Band, and some under the BeauSoleil name. "He's really a folk artist," said Strachwitz, describing Doucet. "I know he's trying to be a zydeco musician, but I think his real tour-de-force is being a folk singer ... He's an amazing guy."
Strachwitz calls BeauSoleil his "rock band" because what they do is not always strictly Cajun folk music. While he's maintaining a tradition, Doucet is not some traditionalist resistance fighter. He also embraces change and you hear it in his music. As Strachwitz noted, the band includes zydeco elements, but also tasty bits of jazz, blues, funk, calypso — whatever fits. Doucet put it this way in the liner notes to the band's latest, BeauSoleil avec Michael Doucet: Live in Louisiana: "Cajun music will continue and continue to influence other forms of music while being influenced by the passage of time and trends. I look forward to the changes."
As they say in France,"Plus ça change, plus c'est la même chose." Personally, I'm looking forward to hearing BeauSoleil at the Van Duzer on Sunday, Jan. 20.
I would not have seen the Arhoolie story without Charles Horn, aka blues deejay Chas Lewis , who sent me an e-mail link to the Chronicle story. Fans of Chas' show The South Side will be happy to hear it now runs three hours Friday nights on KHUM, with a new 7 p.m. start time.
I guessing Chas is happy that KHUM's computer Hal will be there to run things this Friday, Jan. 18. He'll be down at the Riverwood Inn watching Janiva Magness , the hot blues vocalist du jour. She took home the Blues Foundation award as "Contemporary Blues Female Artist of the Year" last year and the year before. This year she's nominated for "Entertainer of the Year." Might be a good idea to call the Riverwood and reserve a ticket. This one will sell out.
Greg Camphuis started The Bump Foundation four years ago, but he's the only one remaining from the original lineup — pretty much everyone else moved out of town. Drummer Tommy Fitzmaurice joined about three years back, then John Murdock took over the bass slot. Leah Crenshaw came onboard as vocalist two years ago, shifting things in a new direction. Some time last year Brian Swizlo , a former bandmate of Camphuis from the days of Spank, was recruited for the keys chair (when he's not playing with The Nucleus or Sub/Sab). Add a couple of horn players and you've got a ton o' funk.
Recording for a "full-on album" is in progress, says Camphuis. In the meantime the band is releasing The Bump Foundation: Just for Freaks Limited Edition Jamtacular. "It's really jammy and sort of psychedelic, something done live in the studio. I'm putting it out for the fans," he explained. "I'm just pressing a hundred. It's truly just for the freaks."
Camphuis (pronounced camp-house) also plays guitar in AfroMassive , an equally funky outfit that came out of a desire to explore the legacy of Fela Kuti and related Afrobeat artists. "My bass player friend Aaron [Bortz ] started it with me," said Camphuis. "Jesse [Jonathon ] from WoMama plays percussion; he brought in a bunch of young drummers from the HSU music program. Daniel [Grantz ] is on keys, then you have the typical horn players: [Chris ] Noonan and a bunch of others."
When I saw the band play last year they filled the big stage at the Kate Buchanan Room with well over a dozen members. The sound they produced was truly massive and seriously funky. The lineup is now pared down to a more manageable 10, but I'm sure they'll sound just as big. They're calling the Bump/AfroMassive combined gig on Saturday, Jan 19, at Humboldt Brews "A Night of a Thousand Funks ." Expect a set from each band, then, "a big bang finale featuring both bands and a few surprises," as Bortz promises. "It's not going to be some crazy jam," says Camphuis. "We actually have a few tunes we've worked up together. It'll be fun."
Scot Shields describes the cast of the "Just Another Hangover Tour " as "the guerrilla fighters of stand up comedy." The trio of comics, Shields, James Heneghen (usually known simply as "Heneghen") and Rodger Lizaola , are all based in Seattle, so you might wonder why they're doing two gigs in Humboldt County, one Friday night at the Blue Lake Casino and another Saturday at the Mateel. The answer is twofold. Shields, who organizes the tours but eschews the headliner title, grew up in Ferndale, and his folks still live there. He typically books gigs in places like this that don't get much comedy. And Humboldt hasn't had a comedy club since Sweetwater Saloon at the mall closed years ago.
Of course there are not as many comedy clubs as there once were in general. "They always talk about the 'golden age,' when comedy hits its stride in the '80s," said Shields. "The comedy clubs had shows on TV; I watched them when I was a kid. The recession killed off a lot of that, but comedy has made a comeback. There's definitely a good scene up in Seattle, a lot of new styles of comedy coming up in places like the Laugh Hole.
"But what we do isn't the same sort of thing you'll see in comedy clubs. It's road comedy, stuff that came up in non-traditional venues, one-nighters in bars, VFW halls, shows in the middle of nowhere. I think it's a more original form, more pure. It's not people who are trying to get on television where the big money is. The thing is, to get on TV you have to be filtered. You don't want to offend sponsors. There are restrictions on subject matter as well as language."
Having seen Shields the last time the Hangover tour came through town, I assure you the jokes and stories are no-holds-barred, and the tales of sex, drugs, drinking and incorrect politics are sure to offend someone. I laughed. I'm sure you will too.
How 'bout a little English quiz? "Is this a dagger which I see before me, the handle toward my hand? Come, let me clutch thee: I have thee not, and yet I see thee still. Art thou not, fatal vision, sensible to feeling as to sight? Or art thou but a dagger of the mind, a false creation, proceeding from the heat-oppressed brain?" Whose speech? And what metal band from Portland draws its name from the quote? The answer to the later is Dagger of the Mind , a band that describes its music as "bardcore" since all the lyrics come from comedies, tragedies, histories and sonnets by William Shakespeare, while musical influences include Iron Maiden, Judas Priest, Manowar and Dio. They help bring rock back to the Alibi Saturday night sharing the bill with local instrumental band 33 & 1/3 . (The quote was from Macbeth.)
The show Thursday at the Red Fox bridges the worlds of electro club music, hip hop and jambands, adding a touch of Burning Man. San Francisco's BLVD is a three-piece with Curtis Sloane on guitar, Tripp Bains on bass and Dylan McIntosh on drums, with all of them throwing in samples and everything looping dubwise, heavy on the bass. They're currently touring behind their new Digital Disorder disc with Colorado-based freestyler MC Souleye , a cat they met at the post-newage Gem & Jam Show in Tucson, plus a couple of guest DJs: Sleepyhead, a downtempo manipulator from Boulder and breakbeat DJ Ravicher from Mt. Shasta.
For straight-ahead hip hop head down to the Mateel Friday for the "Urban Legends Tour " featuringAndre Nickatina (formerly known as Dre Dogg), with Equipto, Smoove-e and theMendo Green Team. (Are they Green Party members? Nah.)
The endless waves of reggae continue to wash over Humboldt. Thursday at Mazzotti's catch the soulful Jamaican chanter Chezidek with Elhadji , in the roots/culture vein. Both are also part of a relatively massive show Friday at the Red Fox: "The Unbreakable Reggae Tour " with Mr. Majestic , Hurricane Gilbert , Jr. Toots (son of the famed Maytal), Yami Bolo , Chezidek and Elhadji .
An unfortunate bit of counter-programming has Hawaiian reggae artist Ancient Mystic andThe Real Far Band playing at the same time at Humboldt Brews. (Maybe you prefer Jahwaiian.)
As you may recall, management of Auntie Mo's Lounge (formerly known at Indigo, but better known as Club West) are planning on making the club a gay hangout. What better way to kick things off than with Humboldt Pride's 2008 Mizz Thang Drag Pageant on Sunday, hosted by the über-flamboyant Sisters of Perpetual Indulgence ? Bonus: Those who come in drag get in for half price. A gay time is guaranteed for all.