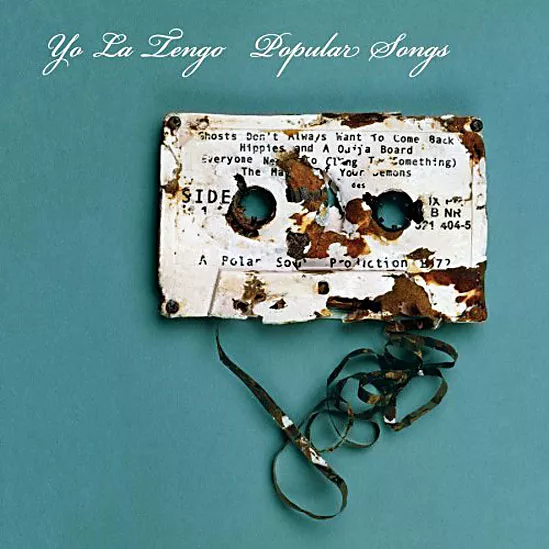 For over two decades, Yo La Tengo, fronted by the husband/wife duo of vocalist/guitarist Ira Kaplan and vocalist/drummer/percussionist Georgia Hubley, have crafted a wide array of slightly subverted rock songs that leans toward '60s pop melodies. After the cementing of the group's core with the addition of bassist James McNew in 1993, the Hoboken, N.J.-based trio reached a few pinnacles with the subsequent releases of 1995's Electr-O-Pura and 1997's I Can Hear the Heart Beating as One. Yo La Tengo also collaborated on works (with Yoko Ono, for example, on the Wig in a Box benefit project) and scored films, such as Junebug, Old Joy, Shortbus and a number of experimental film projects. With its new release, Popular Songs, the band offers a mixed bag from varied musical territories.
Similar in structure to its 2006 predecessor, I Am Not Afraid of You and I Will Beat Your Ass, Popular Songs opens with an epic "Here to Fall," complete with orchestration reminiscent of Serge Gainsbourg's groundbreaking Historie de Melody Nelson. Instead of merely emulating the French singer's sound, as Beck did in Sea Change, Yo La Tengo transforms it into a 21st century soundscape.
From more traditional branches, Yo La Tengo serves up a slice of jangle pop with "Avalon or Someone Very Familiar," inspired by New Zealand 1980s bands such as The Clean and The Bats. Meanwhile, the duet "If It's True" and the shimmering "All Your Secrets" proudly reveal the band's Scottish pop influence, namely Belle and Sebastian (the band's former longtime labelmates).
"Periodically Double or Triple," with its dense, sharp organ riff, sounds similar to the ironic tone of Brooklyn's They Might Be Giants. "Nothing to Hide" is a catchy Replacements-esque garage pop number, perhaps a slightly polished song from their recent Fuckbook sessions, a side project of cover songs recorded under the alias "The Condo Fucks."
Hubley delivers the record's gem, "When It's Dark." The drummer's delicate vocals pulls off the melancholy of Nick Drake, while the band provides a subtle, upbeat '60s folk pop arrangement, as say Simon and Garfunkel, Jackie DeShannon or The Turtles. The song is simple and sparse, and Yo La Tengo executes this with perfection.
The orchestral "More Stars Than There Are in Heaven" never leaves its brooding beginning, from its Arcade Fire-like rhythm, but rather, the band layers upon this foundation, resulting in a dense dirge, including quoting guitar lines from David Bowie's "Teenage Wildlife" (from the '80s album Scary Monsters).
Popular Songs, the band's twelfth studio album release, comprises of various "pop" songs from the many sides of this band. And though it may not hit you as immediately as its predecessor, I Am Not Afraid of You ..., it grows on you, until you finally succumb to humming its melody lines, and that is the beauty of Yo La Tengo's legacy.
-- Mark Shikuma