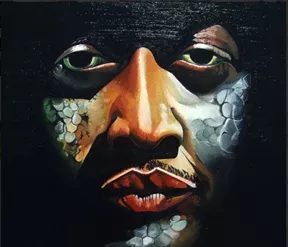 Self portrait of Chali 2na
"I need to face it man, I'm addicted to the sound of the ball when I shake the can... It's graf time, c'mon." So says Chali 2na in "Graf Time" a paean to graffiti on his latest disc, Fish Outta Water.
"My love for graffiti was what got me into hip hop," explains the baritone-voiced rapper, calling from an L.A. fish joint called Charlie's. "When I was 11 years old I met a friend, his name was Dave, he'd moved to Chicago from the Bronx and he was really into graffiti before I knew what it was. He brought the culture to Chicago super-early. People was writing on trains and writing on walls in chalk, but it was like gang stuff, not murals and pictures. To see spray paint used in that fashion was amazing to me. I took to it instantly. I was a vandal for some years, then adapted to other parts of the culture and got into rap."
At 16 he moved to L.A. and fell in with a new hip hop crowd. He made friends with DJ Cut Chemist in high school; they would go on to perform with the Unity Committee, honing their chops at the open mic at The Good Life Café, the health food joint in South Central that was ground zero for alternative hip hop.
"In the climate of the hip hop business then, nobody wanted anything but gangsta rap -- we definitely wasn't gangsta," he recalls. Joining forces with another crew to form Jurassic 5, Chali and company would become mainstays in the underground hip hop of the '90s. On the side, he and Cut Chemist helped found the cumbia/funk/hip hop mélange Ozomatli (then left after that band's first record).
Fast-forward a decade or so and the members of J-5 have all gone solo or found new crews. Chali's working with a live hip hop band, House of Vibe, and he's still painting, but with oil paints instead of spray cans. "I'm on a mission to get really good at it," he says. "Getting older and wiser, I can't be a vandal, so I'm doing something in a new medium." (His self-portrait illustrates this column.) Catch Chali 2na and House of Vibe Saturday at Nocturnum when they help celebrate the Eureka nightclub's first anniversary. 
Self-proclaimed "scumbag country" quartet Hellbound Glory are here from Reno for a couple of days to play songs about drugs, sex and drinking (mostly drinking). Take for example, "Hank Williams Records" from their latest Gearhead Records release, Old Highs and New Lows, with it's chorus promising, "I'm gonna drink 'til I black out and start a fight with my landlord with them Hank Williams records a-blaring loud -- I swear that I don't need you any more." Others cuts include "In The Gutter Again" and "Too Broke To Overdose," both delivered in fine neo-outlaw country style. Get some Glory Friday at Six Rivers, Saturday night at the Alibi or, if you're too young to go to bars and still seek corruption, at their free, all-ages in-store at Missing Link Records at 3 p.m. Saturday.
Thursday March 25, it's the second annual Meals for Real benefit at the Mateel featuring Native American poet/activist/musician John Trudell and his band Bad Dog performing music from his soon-to-be-released record, Crazier Than Hell. Johnny Indovina, Ray "Rock Star" Colby and KMUD Battle of the Bands winner 3Peace fill out the show, which also includes Dr. Sharon Paltin and Wendy Joiner speaking on women's health issues. Proceeds support the Mateel community lunch program.
Friday there's another earthquake relief benefit, Hip Hop for Haiti. This one, at Humboldt Brews, features Medusa "the Gangsta Goddess" up from L.A. (she's also opening for Chali 2na), plus J the Sarge and the return of B Swizlo's Hip Hop Lounge.
Jamaican reggae vet Junior Reid calls his new album Living Legend, fitting for an artist who's been at it for over 30 years and did a stint as lead vocalist for Black Uhuru. The new disc has guest shots by Snoop Dog, Lil Wayne and Reid's sons Andrew and Wada Blood. The boys will be along when Junior plays the Arcata Theatre Lounge Thursday, backed by The One Blood Band.
More reggae Saturday at Humboldt Brews: The Rasta Generation Band featuring King Caleb and Ras Melburn.
That night at the Mateel it's The Skaberville to Dreadway Express, a blast of ska with four Cali bands: SoCal third wave pioneers The Untouchables, Bay Area faves The Impalers, The Originalites from O.C. and Humboldt's own Killbot Factory.
It's a big weekend for ska and Killbot Factory, who also open for Riverside's third wave ska/punk vets Voodoo Glow Skulls when that band hits The Depot Friday night.
The latest addition to the burgeoning local reggae scene, The Karmanauts, play back-to-back gigs next week: Tuesday, March 30, at Mad River Brewing Tasting Room and Wednesday at Six Rivers.
There's an occasional hint of reggae in the sound of Elephant Revival, but also Celtic-style fiddle, newgrass, psychedelic country, jazz, rock, and the random hip-hop beat. (They call their genre-jumping "transcendental folk.") They're from Nederland, Colo. -- land of Leftover Salmon and YMSB -- so stringy jambands are another influence. See for yourself when they play at the Jambalaya Friday with Arcata's worldly genre-jumpers WoMama. 
Greg Ginn is probably best known as the lead guitarist/songwriter for the '70s proto-hardcore punk band Black Flag. He's mellowed with age judging from his work with the instrumental combo The Taylor Texas Corrugators, which is more along psyche/funk/jamband lines. He'll be at the Red Fox Thursday (March 25) with Strix Vega opening with some of their "beard rock for the sharply dressed."
Dubstep? You got it. GeT TuFF at Arcata Theatre Lounge Friday has DJ Bitcrusher and Devour, both from Helicopter Showdown, plus Cardboard Papercut and local stepper Psi Fi of Western Science.
The ATL bass-heavy dance party continues Saturday with Rebel Bass Collective presenting Marty Party and David Starfire. Marty Party, originally from South Africa, came to S.F. as a software programmer during dot-com days, discovered the live production program Ableton Live and used it to Africanize West Coast dance music. David Starfire's specialty is something he dubbed Bollyhood Bass, at least on his latest release -- not hard to guess what it sounds like. Locals Masta Shredda and Mike D get the party started.
Meanwhile there's another kind of dancing over at the Arcata Vet's Hall: Humboldt Folklife and The Emma Center present a benefit Barn Dance with Striped Pig String Band and caller Tara Stetz. Have you been hankering to learn square dance calling? Stetz leads a workshop before the dance.
Same night at the Bayside Grange, it's the eighth annual Elegant French Dinner and Dance Benefit for Northcoast Preparatory and Performing Arts Academy with a fancy dinner followed by dancing to The Delta Nationals.
There's not much dancing at Starving Weirdos shows -- the music is more for deep listening and zoning out. Their next house show is Saturday night with eccentric music legend Daniel Higgs, former lead singer for Lungfish. Discover the undisclosed location by e-mailing starvingweirdos@yahoo.com or asking at La Dolce Video.
If you like the Weirdos, you might want to stop by Missing Link Monday, March 29, at 3 p.m. to hear Stag Hare, an ambient drone outfit from Utah. There's a house show that night, but I don't know where; you'll have to ask them.
Jambalaya Blues Jam stalwart Ron Perry writes to let us know, "Johnny Radella is a legendary sax player who has played with the likes of Billie Holliday [and St. John and the Sinners]. On March 30th he will celebrate his 80th birthday at the Blues Jam when the clock strikes midnight." Hey, happy birthday Johnny! May we all live such a long, storied life.