Editor's note: This is the first of a two-part series looking back at the May 2, 2016, clearing of homeless encampments from the PalCo Marsh and what led to it.
In 2011, Miles Slattery, then a project manager for Eureka's Parks and Recreation division, hiked a group of potential grant funders through the tangle of brush adjacent to the Elk River slough. The city hoped that the California River Parkways would donate money to help restore the area, home at the time to defunct railroad tracks, the remains of the old Tallow Works and around 30 to 40 homeless camps, one of which they stumbled upon during the site visit. As the city officials and CRP representatives watched, a naked man emerged from one of the tents and indulged in a luxurious stretch.
"Well," Slattery recalls thinking, "there goes our grant funding."
File
Some people said they had been living behind the mall for decades.
But his pessimism was proven wrong. The restored wetlands would open to the public in 2013, thanks to a mix of grant funding. Rechristened with its original Wiyot name, the Hikshari' Trail would come to represent a triumph of what Slattery calls encouraging "appropriate use" to discourage "inappropriate use" of public spaces. Its paved, multi-use trails are now beloved by joggers, cyclists and bird watchers. Grant funding from a variety of agencies included an additional $15,000 to pay New Directions, a community group, to clean up remnants of the camps, and another $30,000 to conduct feasibility studies on part of the PalCo Marsh, a blighted piece of city property some called "The Devil's Playground." This area, which adjoins the Hikshari', was slated to be the next link in a trail system hemming the eastern edge of Humboldt Bay. But first, another encampment — an entrenched community of several hundred homeless people living behind the Bayshore Mall — would need to be shifted. The question of how to achieve this task, and who would do it, would come to dominate the professional lives of Slattery and other city employees for the next three years and eventually embroil the city in a federal lawsuit. Both Slattery and Eureka City Manager Greg Sparks say that events of those three years helped the city grow in positive ways, ultimately connecting people who wanted help with shelter and resources. But emails between city staff, obtained by the Journal through a California Public Records Act request, show a bumpy journey full of false starts and fractured relationships.
How long have people been living rough behind the Bayshore Mall? At least two decades, according to testimony from Murl Harpham, Eureka's former interim chief of police. In a 2013 deposition, Harpham said there had been "issues" in the area since the railroad left in 1997. This was the same year the county evacuated around 300 homeless people from the South Jetty, the previous out-of-sight-out-of-mind location.
File
Kathleen Anderson broke her shoulder while guiding a homeless couple in "The Devil's Playground."
Harpham's deposition came as part of a lawsuit brought by Kathleen Anderson, a homeless advocate who sued the city after falling in the PalCo Marsh and breaking her shoulder. A key part of Anderson's case was proving city officials had known about the camp and — in some instances — had encouraged people to live there rather than on the streets.
In his testimony, Harpham recalled visiting the area twice a week to cite people for camping illegally beginning in 2000, and using quad runners to "traverse the length of the city to the greenbelt" before the Balloon Track property was fenced off. Harpham said the "issues" with camping in greenbelts extended to all parts of the city, including Cooper Gulch and the Elk River area.
Harpham also describes a long-simmering conflict between EPD and homeless advocates. Anderson allegedly confronted officers several times when they rousted people from the greenbelt. John Shelter of New Directions had told Anderson and others they could camp there, according to Harpham. Slattery, now the city's parks and recreation director, confirms this version of events, saying that while the city had a long relationship with New Directions, the group "took liberties [it] shouldn't have," redirecting people camping on the Hikshari' to the area behind the mall and telling people they could stay there if their camps were kept tidy. This dynamic would end the city's relationship with New Directions. (Shelter did not return calls for comment on this claim.) In a later court case, former marsh residents would state in sworn declarations that they had been told by Eureka police officers to relocate there from other areas of town.
"Officer Neil Hubbard told me to move my camp to the PalCo Marsh," said Gerrianne Schulz, who testified that she had lived in the marsh for two years prior to it being cleared in May of 2016. "Officer Hubbard told me that I would be safe here and that the police wouldn't bother me here."
Schultz and other plaintiffs would describe the marsh as "home," a place where they found a sense of community.
"We are closer here at the marsh than any other neighborhood," said John Martin, who lived in the marsh for a year. "We feed each other, give each other blankets, give each other a roof and take care of our neighbors' dogs. We are not hurting anybody out here."
Whether or not there was an unofficial policy of shuffling homeless people into the marsh, it is evident that before they became one of the city's most pressing problems, some viewed the camps in the PalCo Marsh as a solution. Estimates for the number of homeless people living in Eureka, generated from the biannual Point in Time Count, vary from 400 to 1,000. The several hundred camping behind the Bayshore Mall weren't sleeping or loitering in residential neighborhoods, tourist-centered Old Town or the commercial district, meaning that, for a long stretch of time, the city did not have to reckon with the full burden of the visibly poor.
Although they were periodically rousted by the police, and pushed into an ever-shrinking space by the fencing of the Balloon Track and development of the Hikshari' Trail, Eureka's houseless found a stability of sorts among the crumbling lumber kilns and decaying piers of the marsh, with some building small structures, erecting flags and even planting gardens. Small boats were used to haul bikes and gear across to the spits. Rows of tents lined the abandoned railway tracks, with shopping carts parked outside. Solar panels were rigged to charge cell phones. Trenches were dug to drain the swampy earth. Dogs ran in packs; puppies were born and adopted, their lineage discussed around campfires. Items were stolen and hoarded and stolen again. Vigilante justice was meted out. Memorials were erected. Romances were sparked. Heroin dealers and pimps found easy marks. The old kilns were graffitied, and graffitied again. A baby was born in a tent in the rain. The police and social workers visited, dodging the loose dogs, the fleas and mosquitos, the makeshift latrines and loose needles. It was never meant to last. It lasted a very long time.
Asked if he considered the PalCo marsh encampments to have been a solution of sorts, Slattery fires back that the idea is "absolutely asinine." If the citizens of Eureka would rather have homeless folks camping in the brush than on the streets of Old Town, he says, then "they need a little compassion."
Slattery insists his staff was always consistent and on message about the camps: This is private property, move along. Emails exchanged between Slattery and EPD officers about encampments on the Hikshari' in 2014 reveal a cohesive working relationship between the two departments. Officers would notify and/or cite illegal campers, Parks and Recreation would visit and clean up with the help of the Sheriff's Work Alternative Program. But around 2014, things changed, Slattery says. The disposition of the people he and his employees contacted while doing work on the PalCo Marsh and adjacent areas became more entitled, more violent.
"They said, 'Get off my property,' and that pissed me off," says Slattery, recalling a time in 2014 when a man threatened him with a gun.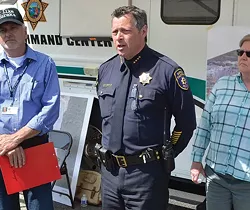 File
Eureka Police Chief Andrew Mills.
EPD Chief Andrew Mills affirms Slattery's perception that things became a little wilder in the marsh around 2014, attributing the change to the passage of Assembly Bill 109, aimed at alleviating prison overcrowding by reducing sentences for low-level offenders, putting many who would be behind bars back onto the streets. Mills, who came to Eureka from San Diego in 2013 to succeed Harpham, says he was not naïve to the presence of homeless people in Eureka but concedes he did not know "how entrenched these issues were." According to the 2015 Point in Time Count, Humboldt County has one of the highest per-capita rates of chronically homeless people in the United States. Mills also points back to 1997 — when officers searched the "transient camps" behind the mall for suspects in the disappearance of Karen Mitchell — as evidence that the conversation had been going on for a very long time.
File
Eureka businessman Rob Arkley tells a packed town hall meeting that generous social services are to blame for Eureka's homeless problem.
Mills inherited a climate of steadily increasing citizen outrage epitomized just months before his arrival by a town hall-style meeting convened by local businessman Rob Arkley. The meeting, attended by hundreds, gave rise to two equally vocal factions: Those who — like Arkley — believed generous social services and lenient policing were drawing homeless people into the city, and protestors who accused Arkley and his ilk of criminalizing the poor and marginalized. This, too, was history repeating itself: A Eureka Main Street memo from 1995 describing a meeting of Old Town business owners also points the finger at handouts and suggests declaring a state of emergency. But back in early 2014, several factors were about to coalesce to make what would happen next in the long, tangled history of Humboldt County's homeless problem a matter of precedent.

First, the surprise court victory of Kathleen Anderson, whose lawsuit left the city with a clear choice: eradicate the kilns where Anderson fell or lose its insurance coverage due to maintaining a "public nuisance." That deposition testimony by Harpham in the case would also underscore a fact no city official would formally cop to — that the dangerous, decaying kilns and the tents surrounding them had been public knowledge for a long time. Both the kilns and the campers had to go. Second, the deadline to complete the coastal trail through the PalCo Marsh, funding for which had come through in bits and pieces over the years, loomed. The city managed to secure around $300,000 to both build the trail and demolish the kilns. Concrete from the structures — which some marsh residents called "the catacombs" or "the tombs" — would be ground into material for a new bike path. But that funding hung in the balance as the city faced a very large hurdle in the form of increased public and media scrutiny, as well as legal challenges, pushing Parks and Recreation up against the deadline to break ground. Third, taking helm of the city just as these issues came to the fore and amid a burgeoning budget crisis that threatened to cripple the very departments most responsive to the issue of homelessness, was a brand new city manager, Greg Sparks, a culture-shocked Chief Mills and a radically restructured city council. On June 23, 2014, Matthew Owen, husband to Supervisor Virginia Bass and future president of the Eureka Rotary Club, emailed councilmembers Mike Newman, Marian Brady and Chet Albin, all of whom were up for reelection, saying, "There are only two things that most homeowners in Eureka care about ... the horrible problem with crime in Eureka [and] the disgusting image this town presents to visitors due to the proliferation of homeless and tweakers ... if the vast majority of your effort is not focused on reducing the problems mentioned, you will not get my vote."
Although Owen's views were certainly not in the minority, this issue alone was apparently not substantial enough to turn the tide for incumbents Albin and Newman, who lost their seats to challengers Natalie Arroyo and Kim Bergel, neither of whom had previously held public office. The election of Arroyo and Bergel would be historic for the city of Eureka, creating its first all-female city council and establishing a progressive majority along with Linda Atkins. Over the next two years the council would split 3-2 when voting on many key issues related to homelessness. During that span, the council would also see some of its most robust civic engagement in decades, with public comment periods stretching for hours, punctuated by swearing, threats of violence and the occasional song.

File
A camp in the PalCo Marsh.
Key relationships — between city employees and councilmembers, councilmembers and one another, city and county officials, constituents and representatives — would fray and break under the strain of a problem that had dogged the region for decades. Atkins would become a particular lightning rod for animosity, drawing barbed remarks from local conservatives, like the ones documented in a September 2015 email from Liana Simpson to councilmember Melinda Ciarabellini, calling Atkins a "carpetbagger" and "troublemaker." Ciarabellini would later write in an email to Mills, Sparks and City Attorney Cyndy Day-Wilson that she didn't know "how Natalie, Kim and Linda sleep at night." Ironically, it would be a shelter crisis resolution proposed by Atkins — pushed through by another bitter 3-2 vote in January of 2016 — that would ultimately help the city defend itself in a federal lawsuit challenging its plans to clear the marsh on May 2, 2016. But before Atkins' vision could receive any measure of redemption, it would be the subject of criticism from all directions.
In February of 2016, Sparks sent out a warning email to department heads, saying he believed Atkins was about to propose a city-run "sanctioned" camp for the homeless, and that he believed the proposal would probably pass. "Strap in your seat belt and get ready for the ride," he warned.
Slattery responded by saying the idea was "political BS as usual," that the county board of supervisors was going to "shit their pants" and suggested Atkins' street as a potential location, adding a winky emoji.
"I suggest that any future comments be weighed against what they might look like in a Public Records Request," Sparks responded primly.
Why did the idea of a sanctuary camp provoke such a passionate response from Slattery and other city employees? Just two years earlier, in a September 2014 reply to a constituent concerned about litter from illegal encampments, Slattery's words were tactful and measured and suggest a cohesive working relationship between Parks and Recreation and the EPD, saying that they had developed "a process to eradicate areas of camping," one that involved 72-hour notifications, and were discussing a slate of ordinances to give EPD more tools to cite and manage homeless people, including harsher penalties for panhandling and removing shopping carts from private property.
"Staff is also looking into using a city-owned property as a respite for those illegally camping," the email continues. "Other court cases established the precedent that you cannot remove houseless people without providing them a place to go."
File
Eviction day.
As public criticism began to mount and the legal terrain shifted beneath city officials' feet, this concept of a "place to go" would become a rallying cry for homeless advocates who found the city's actions cruel and disruptive. Slattery and others would come to regret ever floating the idea as the true logistics of creating a sanctuary became ever more contentious. Slattery and Sparks would drop the concept altogether, even as Mills, whose officers faced the yeoman's task of actually uprooting the entrenched camps and responding to the aftermath, diverged from the city's message. The relationship between Slattery and Mills would be tested as budgets shrank and patience wore thin. Both departments would also grow in surprising, positive ways. Parks and Recreation would earn accolades for several programs related to helping homeless youth and parolees. EPD would add a mental health outreach program. The trail would ultimately come to fruition. But none of this would happen without a surfeit of dysfunction and pain, for the city and for the several hundred people who called the marsh home.
In a February 2015 email between department heads about an agenda item concerning the PalCo Marsh, Slattery seems matter-of-fact and optimistic about the task at hand.
"As far as the displacement of houseless, we would treat this just like other encampment clean ups," he wrote. "We will notify any encampments and provide alternatives to those in the area ... ever since the property became city-owned, we have done our best to prevent any public access to Parcel 4 because of the liability concerns. When the trail is built, this will change."
It all sounded so simple.
Linda Stansberry is a staff writer at the Journal. Reach her at 442-1400, extension 317, or linda@northcoastjournal.com. Follow her on Twitter @LCStansberry.
Editor's Note: The first paragraph of this story has been updated to correct the name of the agency that granted money to develop the Hikshari' Trail. The
Journal
regrets the error.