Photo by Mark McKenna
Alme Allen looks at his nearly completed mural "Arareethívthaaneen" on the back wall of the Discovery Shop on the last day of the festival.
The Eureka Street Art Festival galvanized the Henderson Center neighborhood with new visions and unfamiliar words. Quarantine kept the focus of this year's renewal local, which presented an opportunity for organizers to assemble an eclectic group of local visual artists and poets. The 12 new murals and eight poetry installations they produced over the course of a week-long session succeed by reflecting the region's cultural diversity.

Photo by Mark McKenna
Jose Moreno finishes one of his two murals painted on garage doors in the alley off Henderson Street between E and F streets.
This year's event, like the two previous, was organized by the Eureka Street Art Festival, a DreamMaker Project of the Ink People Center for the Arts. (Full disclosure: I am employed by the Ink People Center for the Arts but my work is not connected to the festival.) It marked the completion of the first artwork produced under the auspices of the Native Mural Project, a public arts initiative created in partnership with the Native Cultures Fund, the Humboldt Area Foundation and a coalition of local Native American leaders. Humboldt-based Native artists Alme Allen, Carl Avery, Melitta Jackson and Julian Lang joined forces for this project, each taking on a separate but contiguous segment of one wall of the American Cancer Society's Discovery Shop.
Side by side, the four massive segments exert graphic impact. Even when glimpsed from bumper-to-bumper F Street traffic, the murals' scale, vivid colors and novel content makes them arresting. Up close, they become more so. Traditional basketweaving motifs run like a thread through three of the four. On the corner, Jackson's "Run" transports viewers to a blue and green world where rushing waters cut in between craggy green mountains. The young woman at its center is running in a traditional maple bark skirt and a basket cap. She is pictured in mid-stride with the sole of one bare foot turned upward, braids whipping behind her as she laps the river bend. She runs ahead of us so we have to imagine her face. Jackson's character is taking part in the Flower Dance — a recently revived coming-of-age ceremony practiced for millennia by and for young Indigenous women in this part of the world. (Read more in "The Flower Dancers," Aug. 2, 2018.)
Jackson's freehand rendering contrasts with the techniques used in the adjacent murals. In Avery's breathtaking "Ten Days," a jagged line like a lightning strike splits the electric blue space and a pileated woodpecker spreads its wings within a coil of beaded, patterned regalia. Avery, the only artist in this year's festival painting with aerosol, sprays color straight out of the can and masks with a straightedge to get clean lines. By way of contrast, Allen drew a grid on the wall as a reference to scale up his design. In Allen's "Arareethívthaaneen," the photographic image of a baby in a feathered cap appears rendered in monochrome, like a Warhol portrait, against a regal backdrop patterned with a traditional Karuk basket-weaving motif. Lang's "Fixing the World the Old-Fashioned Way" completes this quartet with a visionary narrative depicting the Karuk people's spiritual mission of pikyávish: fixing the world and using ritual to repair its balance. Redwood groves appear in the sky; paired woodpeckers appear again overhead. A vision of the riverbank center of the world opens up beyond a traditional Karuk house's round front door.
Photo by Mark McKenna
This year's festival included poetry painted on the sidewalks, such as this piece written and painted by Harvey Mitchell.
Another first in this year's festival: The organizers' decision to include sidewalk poetry installations that bring words from local poets into the public eye. While it made for tricky photo ops, the underfoot installation format proved surprisingly effective in real life. The intimate, unassuming presentation fits well with these poems. After all, there is something enjoyable about finding words underfoot in a place where experience teaches you to expect only concrete.
Example A: "The Salt," a poem by Izzy Unsinger, which sprang up near the corner of F and Grotto. Unsinger's words are inscribed in a gray-blue oval painted by festival organizer Jenna Catsos — it looks like a well opening up in the sidewalk or like the sky reflected in a puddle. A short meditation on complexity by Jacqueline Suskin titled "How Are We to Know the Limit?" finds a home on a tasseled pastel trompe l'oeil rug, also painted by Catsos, on the sidewalk outside Revolution Bicycles. A free verse sequence by Harvey Mitchell, neatly inscribed alongside Grotto Street in sidewalk chalk, tells a sad story about distance that accrues between the speaker and a "White Boyfriend" who "prefers East Coast Indian." On reading the poet's line, "That's what I mean when I say Eureka is the end of the world," I wondered whether there might be some backlash karmic tendency that goes along with living in a California city dubbed "I found it" in Latin by colonists — some lingering miasma in the water that amplifies the likelihood of missed connections and crossed interpersonal wires.
Mitchell's piece delves into a register of angst most artworks here eschew. Indeed, the uplifting vibes exuded by most of these artworks stand in relief against the tenor of the times. We certainly don't inhabit the Mexico City that iconic muralists Diego Rivera, Jose Clemente Orozco and David Siquieros painted in the 1930s; mural painting may be less effective as a vehicle of overt protest in an era where polarization about the pandemic itself has become toxic and debate has moved online. But several artists I spoke to framed the decision to keep things light as a sort of stealth political move. A mural or a sidewalk poem that gets readers to think or makes viewers crack a smile can be a form of care for a psychically strapped, anxiety-worn community in need of that attention. This may be especially true at a time when the very notion of expressing care or taking responsibility for one's community fails to resonate in pronouncements emanating from the nation's highest office.
Photo by Mark McKenna
Local copper artist Scott Hemphill talks with a couple taking in the murals during the festival. Hemphill was helping with the lettering on Ellie Gainey's mural "Heart of the Redwoods," located on the side of the Toy Box. It was the largest mural of this year's festival.
Outside Dave's Place on Grotto Street, Mir de Silva's "Of a Feather" serves up a formidable pairing in the form of craft beer and birds — subjects capable of eliciting a passionate response from practically every hipster in Humboldt, when teamed this way. De Silva's decision to combine them within the confines of a delicately articulated steampunk birdhouse tavern, with a chickadee barkeep pouring flights of Acorn Ale and Leaf Lager for a violet-green swallow and a thirsty flicker, proved irresistible to passersby. "I've been putting in 12-hour days but it's been a happy experience," the artist said Monday. "I haven't had anybody say anything that was less than positive."
De Silva is an illustrator of children's books and avid birdwatcher who also works as a landscaper and gardener. "Everybody's spending time in their backyards now, landscaping and thinking about birds," she remarked. "I think a lot more people have started watching birds as a result of this pandemic." Other people seem to feel the same way, she speculated, noting how certain animal mascots kept turning up in unplanned correspondences. "Jose (Moreno) has woodpeckers in his piece, too. Alme (Allen)'s mural has flicker feathers. There's Carl (Avery)'s giant woodpecker. There are monarch butterflies in one of Jose's murals, and also in Gina Tuzzi's.
"The quarantine and the pandemic has been a time for reflection, I guess. It's not ideal! A lot of the media I consume is ... super negative. And you need to keep up with the news. But you also need to keep looking at the birds in your backyard." Paying attention, whether to a bird's field characteristics or to the intricacies of ritual, is a way to invest lived experience with a significance that many structures of contemporary life either deny or elide.
Jackson said she had drawn on memories of her own Flower Dance in designing her mural "Run." In her depiction, the red disk painted between the runner's shoulder blades telegraphs sacredness, even for viewers who may be unfamiliar with the dance's purpose. "The red disk signifies that she's opening herself up," Jackson said, "her body and her energy. The disk is painted on the dancer's back, her chest, the top of the head, and the bottom of the feet. This is something my medicine woman did with me but not everyone does that. Some elements of the ritual, though, are universal — the maple bark skirt, the veil of blue jay feathers, the wristlets and the anklets."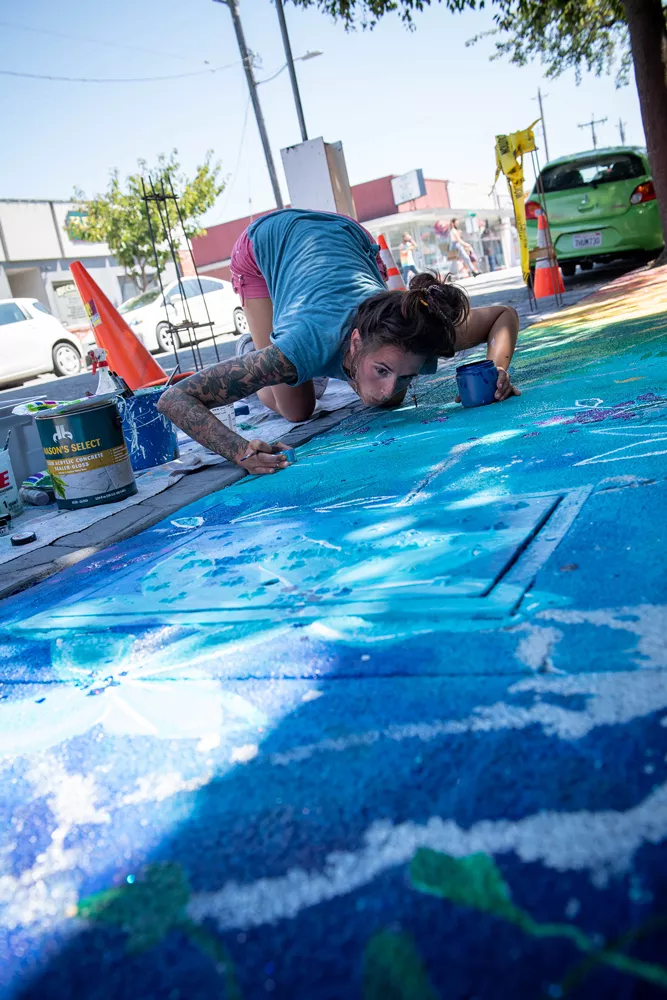 Photo by Mark McKenna
Ashley Rose blows glitter into the paint of her work titled "Complement in Chaos."
When contemplating a potential composition, "I initially thought it would be cool to see the girl's perspective, from under the blue jay veil," Jackson said. However, "that seemed almost too intimate." She decided instead to represent a girl undertaking one of the morning and evening runs that dancers complete over the course of several days. During these runs, Jackson explained, "little kids chase after the runner, teasing her and trying to make her laugh. They represent her childhood. And as she outruns them, she leaves her childhood behind." The completed mural places viewers in the position of those kids, watching while the runner moves beyond their reach and into the space of adulthood. "We're watching her tread her own path."
"This pandemic has me reflecting on the Flower Dance and its resurgence in the last 20 years," Jackson said. How we come together, as community and as individuals. A lot of us who had the flower dance are thinking about it because [during the five days of the dance] we are in isolation, we quarantine ourselves from the rest of the community. And we have these certain rules we have to follow at given times: Don't eat, don't touch your face, etc." The application of this principle to quarantine time resonated festival-wide — ceremony and community can transfigure even the most onerous limitations and restrictions, turning them into sources of purpose and resilience.
Gabrielle Gopinath (she/her) is an art writer, critic and curator based in Arcata. Follow her on Instagram at @gabriellegopinath.