Ian Carey's solo show at the Morris Graves Museum of Art features large mixed-media figures with elements of collage. More painted figures than figure paintings, they've been clipped like paper dolls from their original surroundings and re-assembled free-floating on the wall. Carey's scrappy style veers from painstaking to deliberately de-skilled, sometimes careening giddily in the direction of caricature. His protagonist is a white, 30-something Everyman in casual-Friday Dockers and a stocking cap. He comes accompanied by little winged attendants, cutouts on the wall that hover over his shoulder like flies, sometimes tethered to him by strings, like Mylar balloons. Characters are "loosely based on friends and sometimes me, and sometimes public characters," the artist said.
Each grouping emerges from ambient gloom, surrounded by a spotlight's mandala. A finely drawn face with hollow eyes and a soul patch sits atop a turtleneck that turns out to be an irregularly shaped piece of black paper. A cuffed pant leg sketched rapidly in charcoal ends in a photograph of a shoe.
Some of these dudes are bleary-eyed, as if lacking sleep; all of them appear smudged and tense. Their foreheads furrow with anxiety. They are running too hot to be cool. They shamble, skip, reel and, in one case, take to the air with ungainly flapping arms and faces full of gee-whiz wonderment. Their postures and facial expressions range from default awkwardness through many shades of anxiety and dread — not the kinds of expressions people are inclined to allow themselves in public.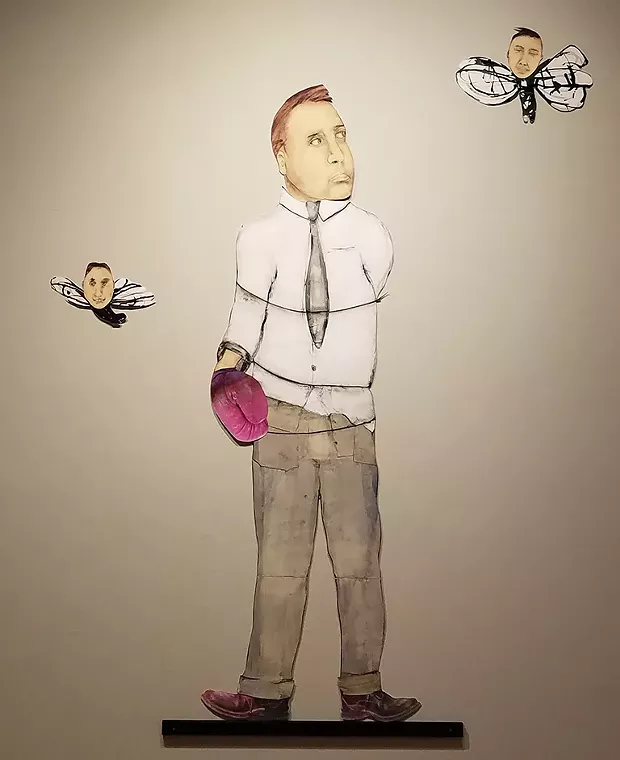 Photo by Gabrielle Gopinath
Ian Carey's Everyman poses with a boxing glove in "Blest are the Ahhh???" (2014)
Accessory imagery can come across as deliberately banal. There are boxing gloves and fields of sketchily crayoned wildflowers. A productive tension sets up between the detail-oriented portraits and the childlike scrawl of the floral backdrops. When relationships between figures compound, visually interesting things start to happen, as they do in the 2014-2019 multifigure composition "Blest are the Who???"
This work's five nearly life-size figures overlap in a group on the wall but their tightly interlocking forms were composed using a grid; Carey has simply cut away the negative space of the picture plane that would otherwise surround them. "They're not on a traditional rectangle or square," he explained, "but they're formulated as though they were."
Carey said, "The body of the one female figure in that group is based on the body of Christ in the 'Deposition' by [Rogier] van der Weyden," making reference to the great Flemish panel painting of 1435 in the Museo del Prado in Madrid, Spain. Four expressionless male figures support the stiffly trailing body of a woman between them; the grim T-shaped crucifixion device that looms blackly above the action in van der Weyden's painting has been fractured and shoved to the margins. The five forward-facing figures in Carey's work, plus the redundancies and dislocations accomplished through the collage-intensive technique, also bring a modernist touchstone to mind: Pablo Picasso's proto-Cubist blockbuster of 1907, "Les Demoiselles d'Avignon."
Photo by Gabrielle Gopinath
Ian Carey's 2014-2019 mixed media piece "Blest are the Who???"
"That's me on the right with the hat — I weighed 160 pounds at the time," Carey volunteers, grinning. He points out that the chain of absorbed and loving looks that links the figures in Van der Weyden's painting is absent in his vastly more alienated rendition. "The figures are not looking at each other. They're holding her but they're not touching her."
Carey, a longtime Chicago resident who has been teaching painting at Humboldt State University since 2017, is happy to situate his practice in that city's tradition of gonzo figures. He cites punk as an influence, which might come as a surprise — his characters resemble bumbling corporate boss Michael Scott from the American version of The Office more than they do firebrands like Kathleen Hanna or Ian MacKaye. But the term "punk" has expanded from its 1970s origins to encompass many forms of organized resistance, the artist observes, including simply "living and breathing and existing in opposition to the system." Punk represents "an ever-fluid opposition to a perceived status quo, a reminder of our need to reevaluate and challenge our political realities." In the U.S. especially, Carey notes, punk represents a rare, democratically available form of collective resistance.
The artist hopes viewers will feel a twinge of "compassion" for these "slightly pathetic" individuals. "Of course, they have to be pathetic, given the times they — we — live in," he said matter-of-factly, citing "the powerless and sense of impotence we all feel now with regard to the systems that structure our lives."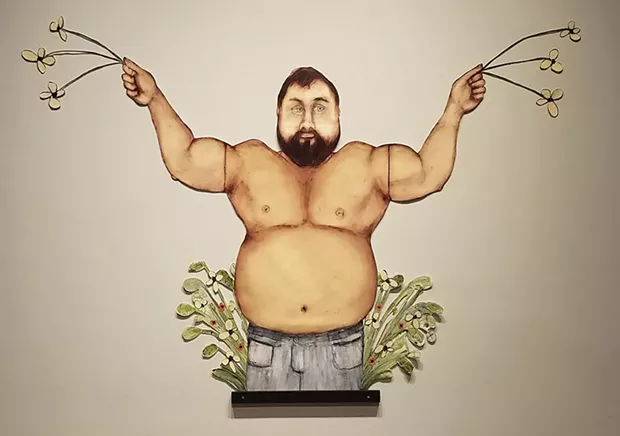 Photo by Gabrielle Gopinath
Ian Carey's 2019 "Blest be the Nominals."
It's true that the charge these twisted figures carry has to do with how constrained they are. These working stiffs don't rage against the machine, at least not in ways that a casual observer would likely notice. Carey's more or less well-meaning Everydudes share some creative DNA with the protagonists in graphic work by Raymond Pettibon and stories by George Saunders. His characters are middle American originals endowed, like all of us, with reservoirs of unspeakably poignant memory and hearts that still beat passionately beneath their ill-fitting, sweatshop-made button-ups. In viewing these works, we come to understand that the saving graces of these men and women are the tiny spaces of resistance they cultivate internally.
Ian Carey's Blunder-Bus will be on view at the Morris Graves Museum of Art through June 30.
Gabrielle Gopinath is an art writer, critic and curator based in Arcata.