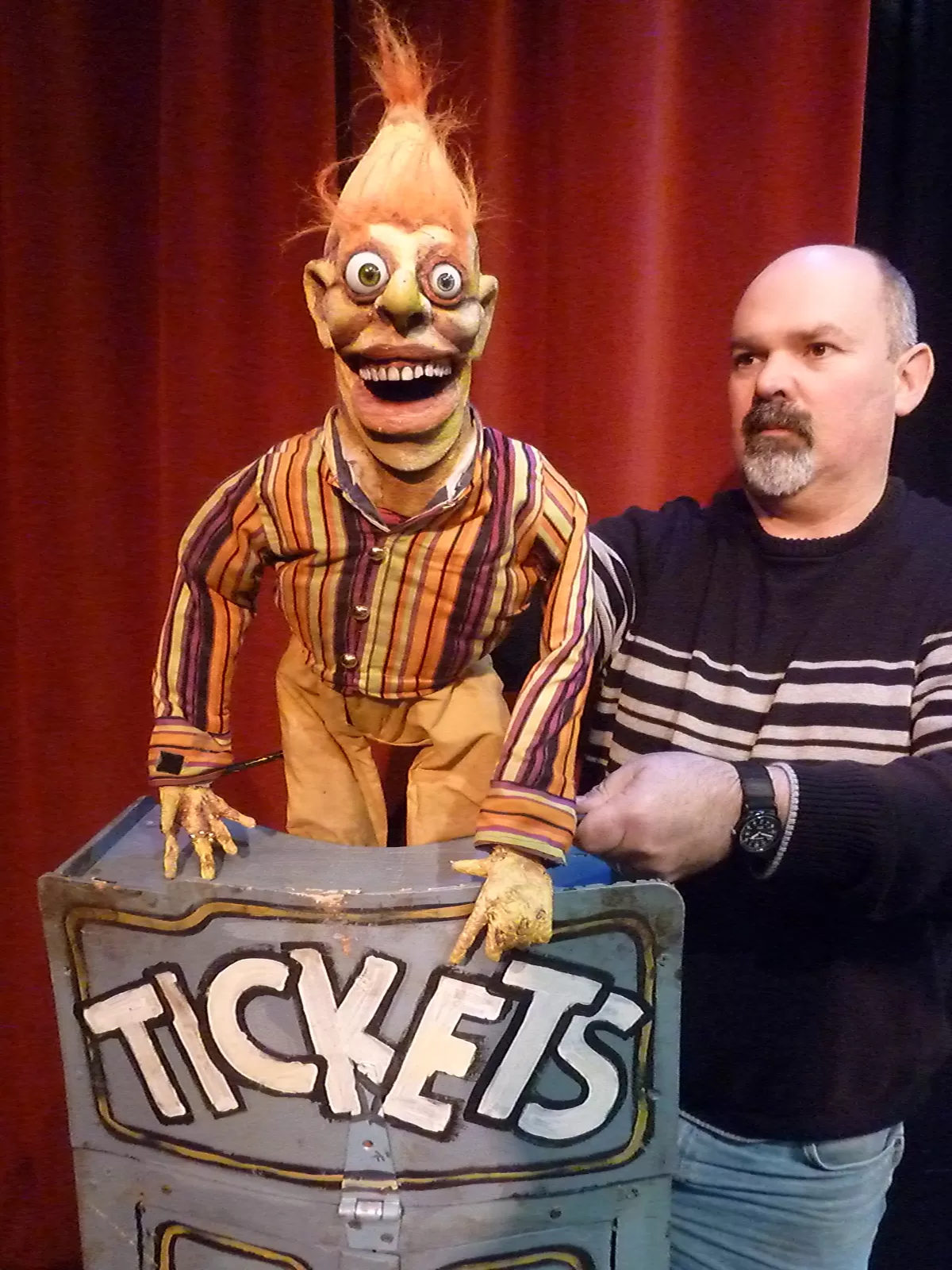 photo by Bob Doran
Professor L.V. Willikers (and David Ferney)
Anyone who caught last year's Arcata Playhouse sideshow play, Crawdaddy's Odditorium, will remember the wild-eyed puppet Professor L.V. (Little Varmit) Willikers.
"He was part of a freak show family," said Playhouse founder David Ferney, the man behind the professorial puppet. "He's the indestructible man -- he tries repeatedly to kill himself, but he can't."
While he manipulated the puppet he created, Ferney was dressed in black but still visible to the audience. "It's like bunraku, [a Japanese] style where you can see the puppeteers instead of having them hiding behind a stage," Ferney explained. "I don't interact with the audience myself, I just play through the puppet." Not that the audience paid him much attention, since L.V. is quite frenetic. Ferney subjected him to an electric chair, drowning (in an onstage tank), dismemberment and other typically deadly fates.
And now -- drumroll -- the death-defying professor returns to the Playhouse as host of this weekend's Professor L.V. Willikers Grand Puppet Slam.
"'Puppet slam' is short form adult puppetry in a cabaret format," said Ferney, "with all the acts around five to 10 minutes. We'll have a wide variety including local puppeteers James Hildebrant, Mark Dupre, Isaac Bluefoot and Sean Powers' shadow puppets -- Sean is also co-hosting the show with his puppet Bobby Burns."
Playful resident Playhouse artist Lush Newton designed the set with Hildebrandt. Another Playhouse regular, Tim Gray, is supplying music along with Jill Petricca on woodwinds.
Joining the locals: Sebastopol-based duo Conrad Bishop and Elizabeth Fuller, aka Independent Eye, and the San Francisco-based "vaudeville nouveau" duo, New Eccentrics. The latter is led by the eccentric Jasper Patterson, whose act involves something he calls "pop-up cabaret," borrowing from the tradition of kids' pop-up books, but with "weird, scary, surreal, accordion-playing clowns and visuals lifted from the likes of Georges Méliès and Terry Gilliam."
Slam funding comes from the National Puppet Slam Network, which is, in turn, funded by IBEX Puppetry, an organization founded by Muppet master Jim Henson's daughter, Heather Henson, "dedicated to promoting the fine art of puppetry in all its forms." There are scores of NPSN puppet slams all over the U.S. and in Canada funded, at least in part, by Muppet money.
"The Puppet Slam is a great opportunity for local puppet people to flex their creativity," said Ferney. "Since they're only doing a short slot, they don't have to worry about creating and producing a whole show. There's also a freedom that comes with creating for an 'adult' audience, so you don't have to aim your content at young kids."
That's also part of the direction that comes with the National Puppet Slam funding, said Ferney. "They want it to be short-form adult puppetry. They really want to promote the experimentation of this alternate puppet world." He explained further, "That's 'adult' in that it's not for kids, but it's not adult like X-rated, crazy content."
The initial idea for the slam came from a Canadian puppet festival, Calgary International Animated Objects Festival, where Playhouse Arts (and Professor Willikers) performed.
"We're hoping it's something we can do annually," Ferney concluded, "to support the local puppet scene, and to be able to bring touring acts in from places like Portland and San Francisco to help build a circuit. It's almost like the new vaudeville, but for puppetry."
Professor L.V. Willikers Grand Puppet Slam runs two nights, Friday and Saturday, Feb. 10 and 11, at 8 p.m. at the Arcata Playhouse, 1251 Ninth St. Tickets are $10, $8 for students, seniors and Playhouse members, and are available at Wildwood Music, Wildberries Market and The Works. For reservations or further information call 822-1575. For more on the National Puppet Slam Network go to www.puppetslam.com.