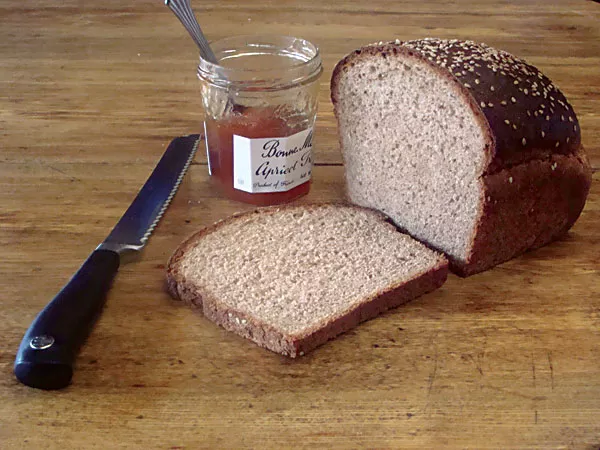 Whole wheat and jam. Photo by Darius Brotman
Waaayyyy back in the day, when God was a boy, I made whole wheat bread from the venerable Tassajara Bread Book. This was a welcome change from the San Francisco sourdough French that was most people's idea of good bread in olden days. Making bread appealed to an idler like me, with its long stretches of time, simple labor, and magical transformation.
The problem was that uplifting and wholesome as they were, these Tassajara loaves were boring. They never seemed to rise enough to become light; eating them seemed like work. The flavor was overwhelmingly wheat -- bracing, but too austere to love. The texture was often crumbly, easily broken and rather inefficient for the purposes of a sandwich loaf. Eventually I changed my bread-making allegiance to "artisan" bread -- beautiful, fragrant, crusty loaves with a tangy, elastic interior -- high-status Euro-bread involving baking stones, very hot ovens, and an ever-increasing list of special techniques and additional steps -- and white flour.
But it's now become clear that we'll all be better off eating less refined carbs, particularly sugar and white flour. And ultimately I missed the earthy, connected flavor and texture of whole grain. And I wanted a sandwich bread -- a neat square as smooth as an English lawn, offering strong but unobtrusive support to cold butter, peanut butter or mayonnaise; sardines and watercress; cold roast pork and thinly sliced red onion; melted Vermont cheddar with crushed garlic and paprika -- stop me before I eat again.
So I went back to my basic recipe, but this time I tinkered, applying a whole series of "artisanal" procedures. I think I've finally got the goods. The dough starts with an overnight sponge, a batter that ferments slowly at a cool temperature. It's flavored with honey, toasted wheat germ and rolled oats, also fermented in the sponge. A fresh dough is made in the morning, with a second infusion of yeast. The sponge is incorporated into this gradually, and the dough is well-kneaded, with a resting period called "autolyse" that, they say, allows the gluten strands to relax and therefore stretch better. The dough is allowed to rise fully, twice, in the bowl and in the loaf pan. The loaf is formed carefully, with a smooth body and a tightly stretched top. It's completed with an egg wash, which improves both the texture and the appearance of the loaf, and sprinkled with sesame seeds (the egg wash makes them stick), which add a lot to the whole experience. The end result is delightful: a hearty but not forbidding loaf, light and airy, very flavorful, but not overly assertive, with a perfect structure -- no holes or dense areas -- and strong enough to slice very thinly. It's long keeping -- I've never had any trouble finishing a loaf. It toasts beautifully. Being 100 percent whole wheat it has a naturally slightly grainy texture. The crust cannot compare to that of a fine baguette, but it's still good.
Of course, you have to enjoy making bread. You have to start the night before, and be around most of the day. And you can get a good and virtuous 100 percent whole wheat sandwich loaf, such as Rudi's, from the store for less than $4 -- but there are no locally made ones, as far as I know. Long ago, the Co-op Bakery made a severe whole wheat loaf, but they discontinued it, I was told, because not enough people bought it and those who did often returned it because of spoilage.
Use a finely ground flour, such as Bob's Red Mill or King Arthur. Some bulk-bin whole wheat flour is very coarse, and the bread will not rise well.
Store-bought toasted wheat germ is just fine, but freshly toasted raw wheat germ is even better. Store raw wheat germ in the freezer. Toast the amount you need by stirring it in a dry pan until it just starts to turn golden brown -- careful, it burns very quickly after that.
100% Whole Wheat Sandwich Bread
The night before:
1 Tbs. honey
1 c. warm water
1/2 tsp. yeast
1 c. whole wheat flour
3 Tbs. rolled oats
2 Tbs. toasted wheat germ
Dissolve honey in warm water in a ceramic bowl and add yeast. Let stand until yeast starts to bubble.
Gradually add whole wheat flour, stirring, and the oats and wheat germ. Beat thoroughly with a large wooden spoon. Scrape down sides of bowl. This is a "sponge." Cover and let stand in a cool room overnight.
Next morning:
1 Tbs. honey
1/2 c. warm water
1 tsp. yeast
about 2-3/4 c. whole wheat flour
2 tsp. salt
2 Tbs. melted unsalted butter
1 egg yolk, beaten with 1 tsp. water
1 Tbs. sesame seeds
In a new large bowl, dissolve honey in warm water, add yeast and let stand until bubbly. Mix salt with 1 c. flour. Combine flour and liquid, and beat.
Beat melted butter into sponge. Then, bit by bit, gradually beat all the sponge into the morning dough.
Gradually add another cup of flour, turning the dough out onto the counter and kneading when it gets too stiff to beat. Knead in more flour just until the dough doesn't stick to the touch (about 1/4 to 3/4 c.). Let dough rest for 10 to 20 minutes, and then continue to knead, vigorously, for 10 minutes. (This can all be done in a stand mixer -- finish with a few turns by hand.)
Put dough in a large warm ceramic bowl, cover with a damp dishtowel and leave to rise in a warm place for 2 hours.
Turn dough out onto the counter, knead for half a minute, and form into a smooth loaf, repeatedly tightening the surface across the top, trying to make an even loaf that fits the proportions of the loaf pan and does not have gaps and folds. (The surface forms a "gluten cloak" that is strong enough not to tear open when the bread rises.) Put in a standard loaf pan -- I have good luck with a light-colored aluminum one.
Paint the surface with the egg wash -- avoid dripping egg into the pan bottom. Sprinkle generously with sesame seeds.
Cover with a damp dishtowel and let rise in a very warm place until it is risen high, about an hour (or more). Preheat oven to 350° with rack in middle. Make sure oven is hot before putting in bread. Bake undisturbed for 1 hour. The top should be quite dark, which adds a lot to the flavor. Take bread out of pan, freeing the sides with a knife, and cool on a wire rack for an hour before slicing.