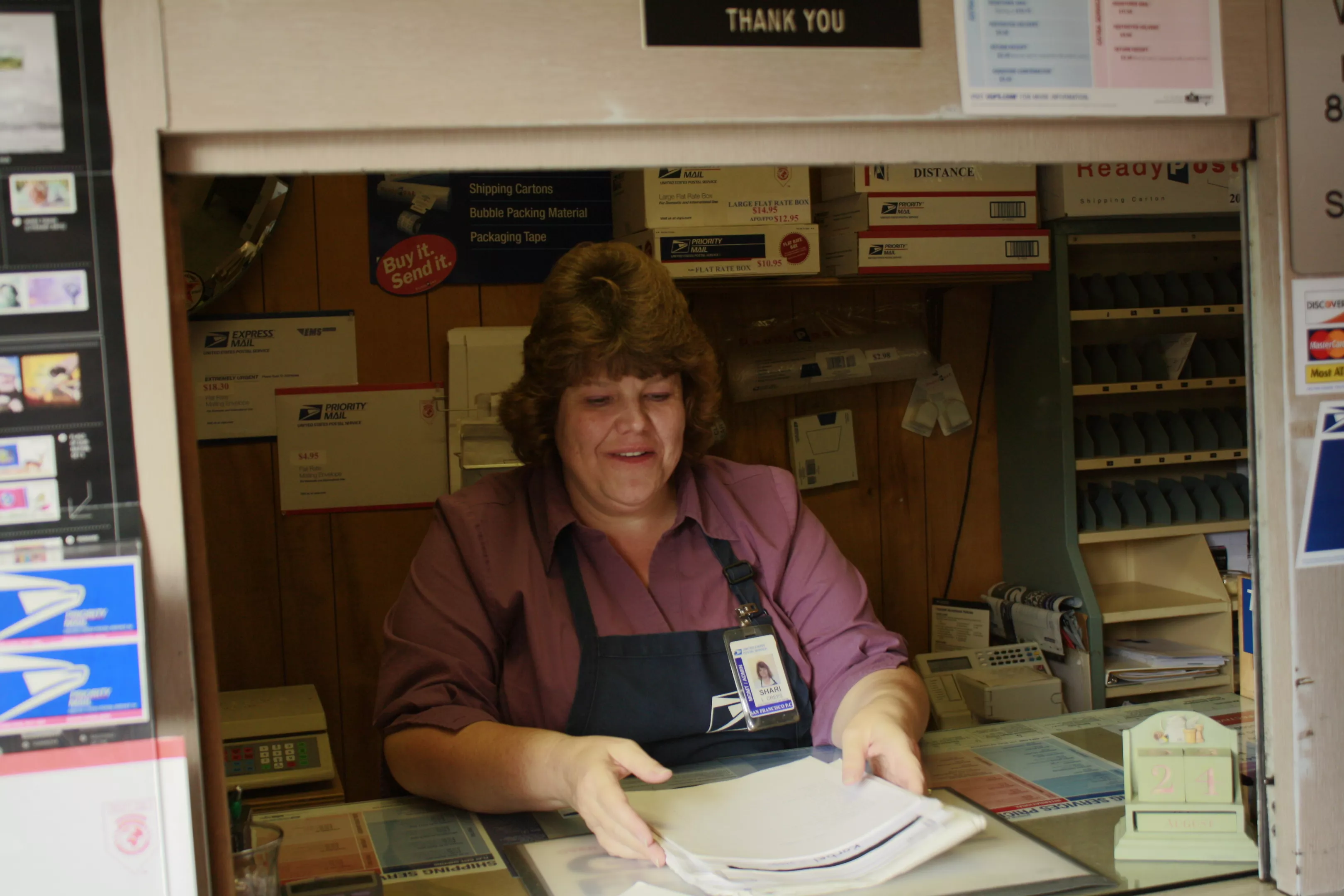 Zach St. George
Shari Creps has been working at the Korbel post office for 13 years. It's the last remnant of a formerly booming town, she said.
Korbel doesn't have a church or a school. There aren't any hotels and or bars, no stores or gas stations. It would be a stretch to call it a town at all -- if not for the post office.
Korbel is one of seven towns in Humboldt County faced with the prospect of losing their post offices. The U.S. Postal Service, beleaguered by falling revenues and rising costs, is considering cutting 3,700 post offices nationwide, possibly including those in Blocksburg, Honeydew, Kneeland, Korbel, Phillpsville, Redcrest, Samoa and Weott. Small town residents, however, say that shuttering the local post office would mean major inconveniences, problems for home businesses , and perhaps another push toward oblivion.
The small green Korbel post office building sits across from the Green Diamond lumber yards. Forklifts and loaders maneuver, hissing forward, beeping backwards, between stacks of milled lumber. The air smells like sawdust.
Sheri Creps leans over the counter inside the post office. She's been working there for 13 years, switching off occasionally with the Blue Lake office, and she's the sole full-time employee. Kreps has lived there for more than 20 years, and has watched the town wane. There used to be a hotel, a gas station, all the amenities. Those are gone, and now it's mostly just Green Diamond Co. housing, with a couple hundred people scattered up and down Maple Creek Road. Fewer than 50 people stop by the post office each day, she said, and only half of the office's 140 post oOffice boxes are rented out.
Even so, it's convenient for a lot of people, Creps said. About 18 people showed up to voice their support for keeping the office open at a meeting last month hosted by post office representatives from San Francisco. "There were emotions," Creps said. "Some people here have had their P.O. boxes 30, 40 years. One person had it three generations." Still, Korbel residents do have a viable alternative -- the Blue Lake post office is only two miles away, on a well-marked, paved road.
"It wouldn't be a hardship," said Ryan Bourque of McKinleyville, a Green Diamond biologist, who bought a sheet of stamps from Creps. "But I'd be disappointed."
Close to 100 people turned out in Honeydew on Aug. 24 for that community's meeting with post office representatives. Honeydew is about 15 miles southeast of Petrolia, which is the nearest town that would still have a post office. Terri Heady, the sole employee at the Honeydew office, said residents don't see Petrolia as a good alternative.
It would mean a half hour drive one-way from the Honeydew to the Petrolia office, she said, on top of all the miles people in outlying areas must drive to reach in Honeydew in the first place. Plus, figure in fog, rain, mudslides and snow.
The Postal Service is touting something it calls village post offices as a cost-saving alternative to traditional post offices. Village offices would set up shop in pre-existing retail outlets, such as drug stores, gas stations or convenience stores.
The trouble with that, Heady said, is that village offices would only sell flat-rate, pre-paid boxes, forever stamps and envelopes. They wouldn't offer money orders, which many rural residents rely on to conduct their business.
Even though the Honeydew post office window is already inside the Honeydew general store, she added, it wouldn't be the same -- she wouldn't have any place to hang out in town and talk to people.
Weott post office employee Victoria Bigger said that closing that office would force residents to drive five miles each way to Myers Flat for their mail, meaning increased fuel costs immediately, and possibly lowered property values in the long run.
Farther off the beaten path, the outlook is more dire.
"The closing of the post office could mean the death of the town," said Kristin Windbigler of Blocksburg. Blocksburg is roughly 10 miles north of Alderpoint and 20 miles south of Bridgeville. The only road in and out of town switchbacks up steep grades and past washed-out stretches where only one car can pass at a time. Heavy rain and mudslides are common, as is snow and ice in the winter.
"I think when [post office officials] look on the map, they say geez, Alderpoint's only 10 miles away, and Bridgeville's only 20. ... That's not much if you're used to driving on the freeway," Windbigler said. Some of Blocksburg's 400 or so residents worry that seniors who get prescription medications by mail can't realistically drive themselves to Alderpoint to make a pick up.
A village post office integrated into a store wouldn't help Blocksburg, says resident Jim Lamport, because there is no other store. That could mean big problems come voting time, he said. Blocksburg residents are already forced to vote by mail. If they then have to drive 10 miles to drop off their vote, it's possible some people simply wouldn't bother.
Proximity and ease of use of other post offices are some of the key factors the Postal Service is looking at when it considers which post offices to close, said spokesman James Wigdel. All the post offices under consideration are relatively small, with low revenue and a low number of visits. Most have another post office fairly close by.
The Postal Service doesn't have much choice, Wigdel said. It doesn't receive any federal funding, and relies completely on the revenue it raises from postage and P.O. boxes. Online bill paying has taken a huge chunk out of the service's cash flow, he said -- mail volume has fallen 22 percent in the last two years alone, leaving the Postal Service $8.5 billion in the red last year, and with few options other than cutting back. No decisions have been made so far on which post offices will be cut, Wigdel said. That likely won't be announced until at least the end of the year.
Kneeland residents, however, will get a preview of life without delivery even sooner. Their office's lease is up, and the landlord declined to renew it. It will close on Nov. 2, temporarily, or for good, depending on what the Postal Service decides. Residents will drive the twisty road down the hill to Bayside for their mail.