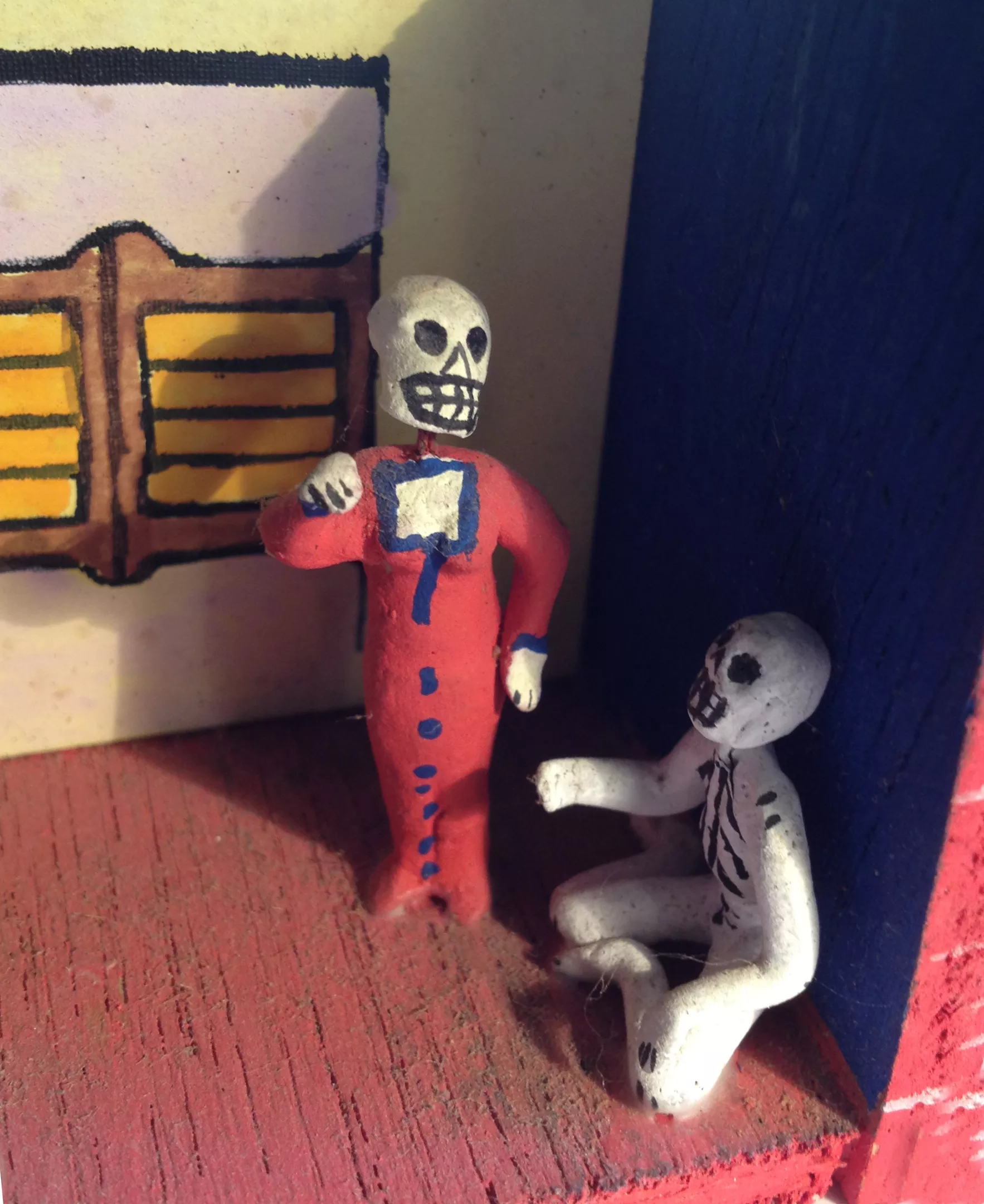 photo by Bob Doran
Mexican Day of the Dead tableaux
Humboldt is a place where day-to-day fashion statements, say wearing kitty ears and a tutu when you go to the store, make it seem like it could be Halloween year 'round. But toward the end of October the admonition to dress up for seasonal events ramps up. This year, with All Hallows Eve falling on a Wednesday, it's extended. Watch for zombies.
But first let's look at some none-Halloween-related music events.
The Arcata Playhouse has back-to-back shows this weekend featuring cutting-edge neo-traditional touring bands. Saturday it's San Francisco's Crooked Jades, a band on a self-declared mission "to reinvent old-world music for a modern age, pushing boundaries and blurring categories." Founders Jeff Kazor and Lisa Berman revive the dark and hypnotic sounds of what Kazor calls "pre-radio music," aka old time, from a 21st century perspective using the expected guitars, ukes and banjos but adding harmonium and other unusual sounds. The Jade's latest project/CD, Bright Land, found the band creating a new old time score for a modern dance piece by the Kate Wear Company.
Sunday, L.A.-based Fishtank Ensemble returns to the Playhouse with more of its "world class world music," an amalgam defined by its worldly membership. French fiddler Fabrice Martinez and opera-trained vocalist Ursula Knudson met Serbian standup bassist Djordje Stijepovic while traveling in Eastern Europe in a real gypsy caravan. Guitarist Doug Smolens adds a touch of flamenco. The title of the ensemble's album-in-progress, Edge of the World, pretty much defines the Fishtank style.
The SoCal country-folk-rockers The Nitty Gritty Dirt Band were ahead of their time melding old time tunes with rock back in the '60s. The band convinced country icons including Maybelle Carter, Earl Scruggs, Roy Acuff, Merle Travis and Doc Watson to play on its groundbreaking 1972 album Will the Circle Be Unbroken. NGDB is still at it and will be at Cher-Ae Heights Saturday to play a sold out show.
Redwood Jazz Alliance continues its season of modern jazz with Chris Lightcap's Bigmouth playing Tuesday in HSU's Fulkerson Recital Hall. In 2011 Chamber Music America awarded Lightcap a "New Jazz Works" commission grant; Bigmouth premiers the new piece at the Earshot Festival in Seattle this weekend, just before coming here. Bassist Lightcap fronts the jazz quintet with Tony Malaby and Anthony Bishop on tenor saxes, keyboardist Matt Mitchell and drummer Ches Smith.
Lukas Nelson will probably always be referred to as Willie's son, but he's making a name for himself with his band Promise of The Real, lately playing the late night talk shows (Leno, Letterman, Kimmel) as well as the Bridge School Benefit and Farm Aid. The Trouble opens for Nelson's Friday night show at Humboldt Brews. (The Trouble also plays a Halloween show at the Eureka Inn on Wednesday, the real All Hallows Eve, with quirky songwriter John Ludington.)
Speaking of country icon relations, Lucky Tubb, great nephew of Ernest Tubb, plays with his honky tonk country band The Modern Day Troubadors on Saturday night at the Riverwood Inn. (He's good.)
Six Rivers Brewery has The Pine Box Boys Saturday night playing bloody alt. country murder ballads (seasonally appropriate).
Friday you have an Arcata reggae collision: Ex-locals Synrgy (now based in Ashland) are at the Jambalaya joined by the Hawaiian band Guidance and locals Elephant Dub Band. They're up against a much bigger show at Arcata Theatre Lounge with Bermudan reggae crossover star Collie Buddz and his trio New Kingston. DJ Selecta Prime opens.
Keyboard wizard Brian "Swiz" Swislow celebrates his birthday Sunday at the Red Fox Tavern (where he's one of the owners) doing what he loves best: playing music with his friends. Among them: The Speakeasy Saints, Naive Melodies, Vidagua, Moo-Got-2 with Pete Ciotti on drums, DJ Just One and Swizlo's own Acid Jazz Experiment with members from a bunch of local bands. It's not a costume party. "You do not need to dress up," says Swiz, "but ties are required for women and men alike; wear your coolest tie!"
With the close ties between Burning Man and EDM, costumes are not unusual at electronica shows like World Famous' dance concert Thursday at the Arcata Theatre Lounge with Portland soundsmith Eprom (who appropriately records for Frite Nite) plus Slugabed from England, KiloWatts and MikeyDataBlend. On Halloween proper, next Wednesday, World Famous returns to ATL with Salva, owner of Frite Nite, plus Russ Liquid, Clicks and Whistles and Thriftworks. Travis Turner, who says he'd like to divert people from the Arcata Plaza, helped organize an all night afterparty, Dawn of the Bass, at the Arcata Flake Board Plant (4700 West End Road) with a mess of local EDM artists.
Wednesday the 31st, the Red Fox features an ad hoc band, Black Alice, that only plays on Halloween and only plays Alice Cooper and Black Sabbath covers. The shifting lineup: Terry Henkel from Triple Junction handles lead vocals on the Cooper portion and bashes drums on the Sabbath tunes. Tyler Lusk of Eyes Anonymous plays Alice drums. Martian Bishop from Eyes switches from guitar on Alice songs to lead vocals on Sabbath. Rico Von Rabenau from Triple Junction and Eyes Anonymous plays guitar and keys throughout. Bassist for both sections is John Murdoch from Speakeasy Saints, Triple Junction, etc. He's also in Cell, which opens the show. Gruesome theatrics and props: check. Hard rock: double check.
Elsewhere on Wednesday, Humboldt Brews has a Halloween party with looping guitarist/soul singer Zach Deputy. The Jambalaya has Bay Area psych band Monophonics plus DJ Rickshaw.
Jello wrestling and comedy? Why not? Sherae O'Shaughnessy from Bad-Dum-Chh serves as host for Friday's Jello Wrestling Halloween Edition at the Red Fox. Sherae is also part of Savage Henry's C-U-Last Tuesday Ladies Night (with one dude) at the Jambalya on Tuesday, Oct. 30. Kate Willet, Stafani Silverman and Matt Lieb are here from S.F. O'Shaughnessy and Sarah Godlin rep Humboldt.
Halloween-themed benefits? Take you pick:
The annual Northcoast Environmental Center's All Species Costume Ball usually happens in conjunction with the North Country Fair, but this year it's moved to Thursday at the Arcata Playhouse. Come dressed as your favorite plant or animal and dance to music by Sour Mash Hug Band, Kindred Spirits and in demand Missing Link DJs Matt 'n' Adam. (M&A also host a sold out one-year anniversary Soul Night Fright Saturday at Humboldt Brews.)
Friday and Saturday at Blue Lake Casino, local Burners present Sea of Flames: Fire for the Arts, a benefit for Coastal Grove Charter School's parent teacher organization and the F Street Warehouse featuring assorted fire artists -- and music. Friday they have Saint John and the Sinners (7 p.m.) and the new Afro-jam-funk combo Motherlode (9 p.m.), Saturday it's funky hip hop by Acufunkture (9 p.m.) followed by EDM from DJ Touch, OnHell, Treemeista, @udiogasm and Alien Lounge.
KMUD's annual Halloween Boogie at the Mateel has an eclectic array of dance music with three bands up from the Bay Area: the genre-leaping Diego's Umbrella (mariachi meets African-tinged jamrock), ska veteran Curtis Meacham and his band Monkey, and electro-cumbia combo Candelaria.
Companion Animal Foundation is calling its annual fundraiser Saturday at the Arcata Community Center The Fur Ball, "a Howl-aween Extravaganza." Food, drink, auctions, raffle, photo booth etc. support a spay/neuter program. Saint John and the Sinners supply the rockin' music.
There's a little bit in this week's calendar about Eureka's dueling zombie walks, but it does not mention the Red Cross' Dawn of the Dead-esque Zombie Invasion Preparation disaster fair Saturday noon-6 p.m. at the Bayshore Mall with first-aid demonstrations (useless for zombies) and instructions for making a zombie apocalypse disaster kit (Swiss Army knife, bowling ball?) plus zombie face-painting and fun for kids. That should get you ready for Nocturnum's Zombie Apocalypse Dance of the Dead Saturday night, promising "a night of blood and brains with some of your favorite deadly DJs fresh from the grave," specifically Masta Shredda, Deft and MikeyDataBlend. They're also collecting (cash) donations for the Red Cross blood drive. Dance, zombies, dance.