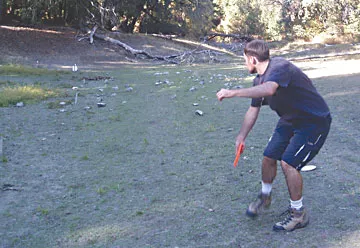 Adrian Fitzhugh takes an approach shot during the first round of the All Hallows Heave on Saturday at Ammon Ranch.
In a serene meadow in the Willow Creek hinterlands, where wispy pockets of early-morning moisture hang just overhead, a raucous cry cuts through the dreamy stillness: "Man rammin'!"
This is the All Hallows Heave, Humboldt County's premiere disc golf tournament. We are at Ammon Ranch, a lush piece of National Forest Service land about a half-hour's drive off Friday Ridge Road down 299. Dense forests of rugged Ponderosas surround a sprawling field of gold dotted with donkey droppings. (The herd of free-range asses that call this place home usually holiday on Heave weekends.) Apple-scattered orchards and verdant seasonal-lake beds make Ammon a place unlike any you'll find this side of Middle-earth.
The tournament attracts some of the best disc golfers in NorCal and beyond -- 2008 World Champion Dave Feldberg of Springfield, Ore., is a regular attendee, and last year Danish national champion Karl Johan played in the two-decade anniversary of the tournament. The player field has steadily increased in size since local disc golf club Par Infinity started holding the Heave at Ammon in 2002. Forty-four people showed up that year and 87 played in 2005. This year's field was bursting at the seams with more than 100 players and a waiting list of dozens.
People come to the Heave for a lot of reasons, jaw-dropping scenery and high-level competition topping the list. But by many accounts, something else keeps people coming back year after year -- the ramming. "Ramming" a beer, for the uninitiated, is what is more commonly known as shotgunning, that is, poking a hole in the base of a beer can (preferably Olympia), wrapping your lips around it and submitting to the combined powers of gravity and carbonation forcing the can's contents down your throat. A proper ram is done cleanly and quickly, usually starting with a brief speech or dedication and punctuated with an emphatic spiking of the emptied can on the ground (which is promptly recovered and recycled -- players receive multi-stroke penalties for any litter left behind). Any ram done anywhere on the course is immediately made public as it is customary for everyone in the ramming vicinity -- usually the rammer's golf group -- to shout "Man rammin'!" and listen as the chant spreads like a wave from group to group across the vast wilderness. An exercise in alcoholic excess, perhaps, but a fraternal ritual in the fields of "Rammin' Ranch."
With or without the rams, Ammon Ranch is a staggering disc golf course. Tournament director Jim McIntosh says the course itself has made the Heave so popular: "It's probably one of the best courses in the world," he says. Pros who visit name it among their favorites because of both its stunning landscape and its unique design. Ammon's designer, Gabriel "King Skin" Coke, says the course represents a step in "the evolution of disc golf." Eighteen-hole disc golf courses traditionally have a par of 54, or par 3 on every hole. But, Coke says, as disc technology advanced and throws grew ever longer, the par-3 model became less relevant. So he designed Ammon with an 18-hole par of 65, casting an eye toward the "super long holes" found at courses in Norway and Sweden. An oil painter by trade, Coke says: "I wanted every hole to look like a painting. I wanted it to be huge."
The nuances of course design may not interest everyone at the Heave -- some just came to party. Many arrived on Thursday, practicing golf and limbering their minds before Saturday's players' meeting at 9:30 a.m., Humboldt time. Saturday morning buzzes with nervous excitement; players try to work the last-minute kinks out of their putting games, nibbling from the baggie of M&M trail mix included in the player's package. Tee-off comes sometime before noon as groups of five begin the first of two six-and-a-half-hour rounds of 27 holes of disc golf.
Darkness falls. A Halloween-costumed bunch plays a casual game of night golf with glow-in-the-dark discs and glow sticks. Sunday's final robryund ends just before dusk as players mill around recounting tales of missed putts and glorious drives, waiting for a final score tally. Shaun Bryars of Nevada City takes the pro title with a 54-hole score of -27, edging out local favorite Jesse Williams for the second year in a row. A few lucky winners take home cash prizes. For others, the ram count is the weekend's only meaningful score.