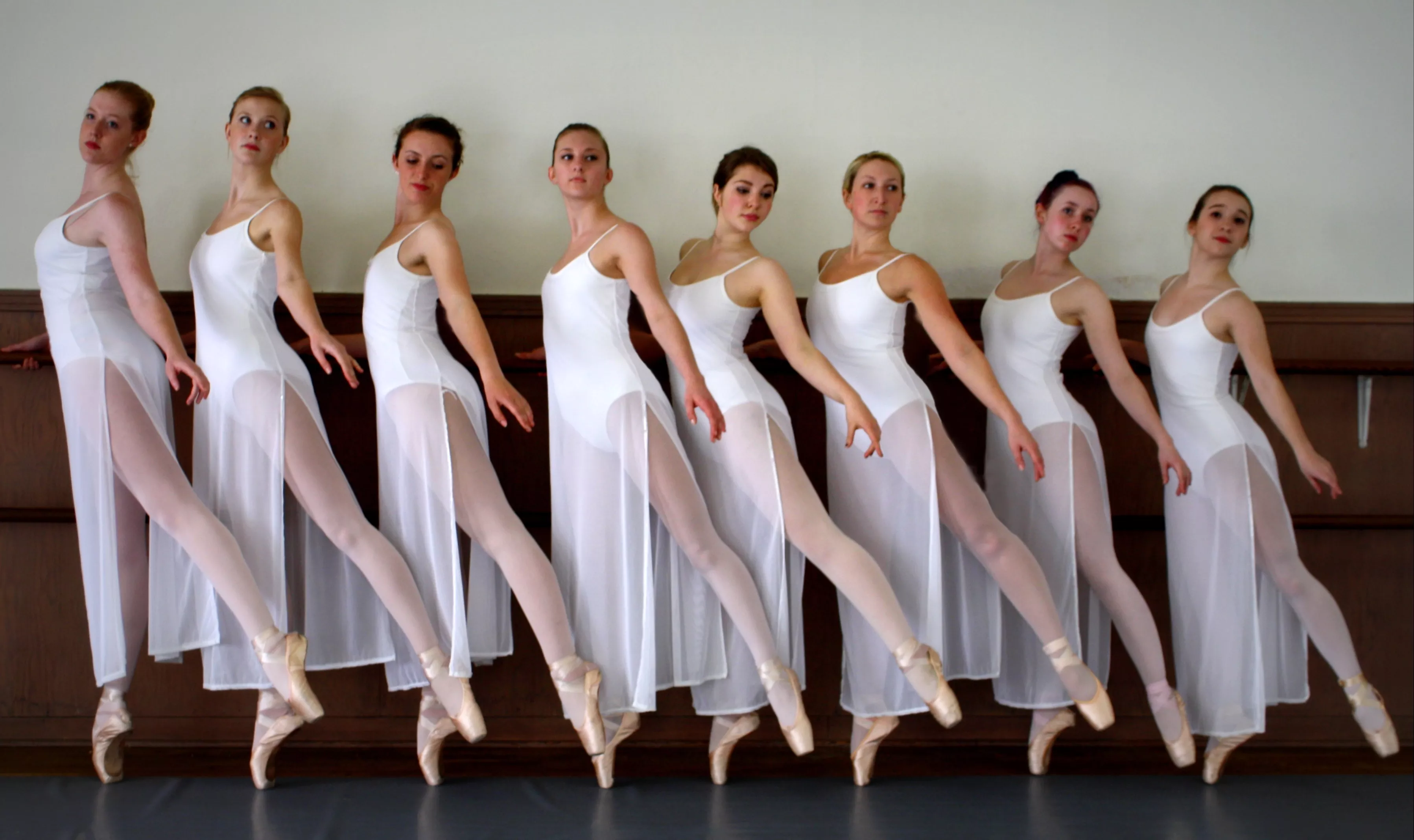 courtesy of Dancers Studio
From the Dancers Studio (l-r) Erin Knight, Alia San Giovanni, Dana Fergusen, Rachael Green, Ceylon Baginski, Carrie Maschmeier, Julia Hjerpe and Jazzmin Martinez.
Springtime! Baseball for some. Dance recitals for others. (With no chance of being rained out.) In local studios all over the county a host of teachers are diligently rehearsing, readying their students to be on-stage. Producing shows takes a tremendous amount of planning and labor, add kids to the mix and whoa -- there's an undertaking of epic proportions, the anticipation shooting through the roof.
Many dance schools have a range of students from pre-K through high school, with a pre-professional program of advanced teenagers, along with young adults and faculty forming small dance companies. This is always a boon for the youngsters who get to see where the training may lead, and for the adults in the audience, who just ardently watched 15 dances in a row of emergent ballerinas disguised as prancing teddy bears, whirling bumblebees and leaping fairies.
The focus of most of these concerts is on the kids, who are at all stages of technical development. Some of the shows tend to be long, reflecting the popularity of these studio-schools, since students from all the classes perform in different dances, often in more than one. Grandparents, friends and relatives come from far and wide to see the kids hoofing away. These fetes are always great outings for the children in the audience, who enjoy watching other kids perform. Many directors work to make the recital into a cohesive dance event with concepts that tie the works together, along with company level pieces.
The first concert of the season, Brava! Dances, May 18 at the Van Duzer, directed by Virginia Niekrasz-Laurent of the Dancers Studio, will no doubt culminate in a piece she premiered at Dance Ink Day last month, Allegro Molto to the first movement of Felix Mendelssohn's Violin Concerto in E. Like a baseball team whose seniors all graduated, many of Brava!'s company members have gone on to college, leaving Laurent working with many ballerinas who are in the acolyte stages. Three of her four principal dancers are accomplished teens, led by the experienced, enigmatic Carrie Maschmeier. When asked about her process of making dances Laurent says she's "basically inspired by the desire to combine different technique levels in a cohesive, contemporary work." She succeeded in this abstract, elegant dance, giving her nascent corp work that is doable, while urging their young instruments to push against the limits of their training -- a wonder to behold. The program also includes classical and contemporary pieces, and collaboration with the Redwood Chorus under director Kathe Lythe, and guests from the Dance Art Studio from Crescent City. (Brava! guests in their show June 2 and 3.)
Brava! Dances, Friday, May 18, at 7:30 p.m. HSU's Van Duzer Theatre. Tickets $12, available at the door or at The Dancers Studio in Eureka, 442-7770.
North Coast Dance's spring school performance, **Once Upon A Time, is designed to highlight all levels of the studio' s program, from pre-ballet students to full-on ballerinas like Iris Van Atta and Beth Posten. Who doesn't love fairy tales? NCD brings the classic characters to life. Artistic director Danny Furlong choreographed a series of mini-ballets to be accompanied by the live music: Snow White for the kids in the school and company members, and a teen-agers' Madhatter's Tea Party, sure to be filled with the characteristic speed and wit of Furlong's phrasing, along with Unicorns, a pointe piece for company apprentices that promises fantastical costumes. The faculty has composed more fairy tale dances for the littlest Red Riding Hoods and Miss Muppet's, on up to Nancy Call's Ballet 4 students who will dancing variations from Sleeping Beauty.
Once Upon A Time, at the North Coast Dance Studio, 426 F St., Eureka, Friday, May 18, at 7 p.m. Saturday, May 19, at 2 and 5 p.m., and Sunday, May 20 at 1 and 4 p.m. One night only at the Arkley Center for the Performing Arts in Eureka, Wednesday, May 23, at 7 p.m. Tickets $12, 12 and under, $10. 442-7779 www.northcoastdance.org.
New World Ballet, directed by Victor Temple with Nadine Cole, is leaving for Santa Rosa. Cole, who studied with the iconic New York City ballet director, George Balanchine, opened the studio in 1994, handing over artistic directorship to Temple in 2005. Dance Theater of Harlem and Oakland Ballet alum Temple brought much to the local landscape, not only with the guest artists he invited from the professional ballet worlds of the Bay Area, New York City and Richmond, Virginia, but his deep connections to the international African dance and drumming community. Temple will be remembered for giving us our own Humboldt Cinderella, replete with Uggs, tie-dye and a stoner Prince Charming, along with coming out of retirement at 40 to dance a stunning grand pas de duex with a prima from Oakland ballet as the Sugar Plum fairy. Historic. See NWB's swan song to Arcata, a concert in their studio in the old Creamery Building, 824 L St, Arcata, Saturday, May 19, at 7 p.m., 824 L St, Arcata, 822-4947, info@humboldtdance.org. You may want to get there early; the performance is a parting gift, free admission.
Always a treat, Trillium Dance Studios (formerly Dance Class with Erin Fernandez) has its springtime show June 9 and 10 at the Van Duzer. The kids adore Erin McKeever and love to be onstage in this yearly extravaganza. With a cast of over 200, "Dances of the Redwood Forest" is a mix of ballet, modern and Latin dance in front of a redwoods scene painted by Rachel Robinson. McKeever has developed a knack for working with a theme, which is not only meaningful to the kids, who proudly bubble-over about their parts, but for the audience, who have a sense of coherence while experiencing a barrage of dances. The redwood forest theme is ripe with possibilities. Look for skunks, raccoons, otters, red tailed hawks, egrets, trillium flowers, berries, a salmon run dance with a mountain lion, and deer on pointe. The studio boasts a cadre of strong on technique 20-something teachers who perform as Trillium Dance Ensemble. And any day, you get to see McKeever dance, is a good day; long-limbed and lithe-footed, she performs a barefoot solo as a great blue heron. Ahh...
Trillium Studios *presents, Dances of the Redwood Forest,*** Saturday June 9 at 2 and 6 p.m. and Sunday, June 10, at 2 p.m. at Van Duzer Theatre. Tickets at the door.
The Studio of Dance Arts, directed by Jane Morgan, presents A Night on Broadway and Spring Dance Recital, a dance production in two acts. Act one showcases jazz, modern and tap dances choreographed to popular Broadway musical numbers, like Stephanie Carter's re-staging of the gutsy "Cellblock Tango" from Chicago. The second act covers an array of styles including contemporary ballet, modern, Middle Eastern and the troupe's award-winning Irish step dancing. Tuesday, June 19, 7 p.m. at the Arkley Center for Performing Arts. Tickets are $15, at the door and at the box office, 412 G St., Eureka. 442-1956, www.arkleycenter.com.
The Ferndale Dance Academy's original production, Cinderella Liberty, written by Michael and Laura East, and narrated by Kevin Sharkey, follows three Navy gals on a 12-hour shore leave in New York City. As the trio romps around the Big Apple seeing the sights, Times Square, St. Patrick's Cathedral, Fifth Ave, Lincoln Center, Coney Island, they encounter a mix of styles from ballet and jazz to hip-hop and tap, danced to Mozart, Gershwin and classic American standards. Choreographed by FDA director Laura East with Kelly Wortman, this is an all-school affair with performers aged three through adult. Gershwin and tap -- what could be finer?
The Ferndale Dance Academy in Cinderella Liberty runs June 22 and 23 at 7p.m. at the Arkley Center. Admission $15, 12 and under $12, kids 3 and under $8. Tickets through the Arkley box office or at the door. Information at 496-0805 or www.ferndaledance.com.