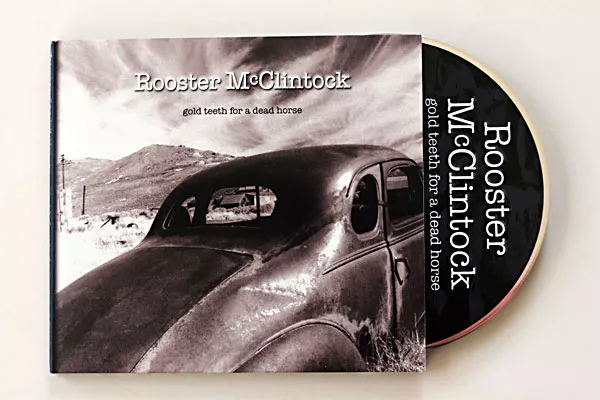 Humboldt County is a rural sort of place and as such, there's a fair amount of country music hereabouts ... whatever that means. For some -- fans of Big Red Country KRED for example -- that might mean the latest from some mainstream Nashville artist like Taylor Swift or Brad Paisley. Then you have musicians the local band Rooster McClintock, who count among their influences deep country old timers like Hank Williams, Bob Wills, George Jones, Johnny Cash, Buck Owens, Merle Haggard, Willie Nelson, Doc Watson and Earl Scruggs, along with current alt. country stars like Dwight Yoakam, Wayne "the Train " Hancock and Hank Williams III.
The McClintock boys might have KRED set as one of the buttons on the radio in their beat-up truck, but as R.M. rhythm guitarist Jereme Stinespring writes in his song, "Trouble," they get tired of waiting for the "damn pop country deejay to play a real country song." In the song, the bad radio solution shifts from the relatively mild ("Turn the radio off, roll the windows down; gonna sing them old tunes all the way to town") to the extreme ("Gonna burn that station -- there's gonna be some trouble tonight").
The song is one of a dozen twang-laden tracks on Rooster McClintock's fine new album Gold Teeth for a Dead Horse. (You'll have to ask them what that title means. I have no clue.)
R.M. lead guitarist Jake Wiegandt supplied details on a celebration of the record's completion: "We are so happy that this day is finally here! It's been three years in the making. We ran into so many kinks and log jams along the way -- fitting for the kind of music we play. But anyways, we will be having our CD release party on Saturday, Aug. 22, at the Portuguese Hall. The Delta Nationals will be there playing an all-country set, but will be missing Dave Ryan on keys. In his place they got Michael Proctor on pedal steel. That's right buddy, two pedal steels, one night! It's going to be a hoot."
Showtime is 9 p.m., but they'll open a couple of hours early for some barbecue and beer with bar proceeds going to Humboldt Surfrider Foundation.
Speaking of D-Nat Dave Ryan, he called today seeking semi-official confirmation of the cancellation of the Dimmick Ranch's Live on the County Line alt. country fest with Dwight Yoakam, etc. It seems the Delta Nationals had been enlisted to serve as back-up band for one of the other acts, rockabilly star Wanda Jackson. (They turned down a gig playing at the big beer fest in Fortuna that weekend to take the job.) They'd heard rumors that the organizers pulled the plug, but had not heard from them. In fact, said Ryan, when they told Wendell Goodman, Jackson's husband/manager, yesterday, he knew nothing about the cancellation and said "that's news to me."
A band called Tribute to War plays Friday at Six Rivers, but it's "not another tribute band" (as they note on their MySpace) and thus has nothing whatsoever to do with the SoCal funk band of All Day Music fame. Instead it's a three-piece playing rather generic alt. rock.
On the other hand, San Francisco's Dead Souls is a tribute band, one focusing on music by ~~~70s Brit post-punk band Joy Division. The band, which includes members of two earlier Joy Division tributes (Leaders of Men and The Ghost of Curtis) plays Saturday night at the Alibi with San Diego gal garage rockers The Glossines.
Meanwhile around the corner at Arcata Theatre Lounge, Panache presents an alt. pop showcase featuring John Dwyer's pop-folk-psyche band Thee Oh Sees, two San Fran noise pop groups (Sic Alps and The Baths) plus our favorite boy band, Eureka Garbage Company, who were once erroneously declared disbanded here. (Sorry Chris, how was I to know you were just on an extended hiatus?)
Also on Saturday night, the first of what's planned as an annual event: Redwood Rhythm Review at Redwood Raks is a benefit for Samba da Alegria, the dance/drum troupe that parades around the Plaza every year for the North Country Fair (coming up Sept. 19 and 20). Drummer/band leader Jesse Jonathon put the show together, modeling it after percussion prof Eugene Novotney's year-end ensemble shows. This one will feature young brother and sister duet Taj and Mira Obarr, Trask (a marimba soloist), marimba duo Behind Bars, African drum ~~~n' dance by Dun Dun Fare with Company of African Dance Arcata, and a grand finale samba showdown with Janky Mallets and Samba na Chuva vs. SambAmore.
Remember the freaky funk bassist called Freekbass? He's back at Humboldt Brews Saturday night. Sunday HumBrews has Taarka with David Tiller and Enion Pelta-Tiller playing music they describe as "toxic acoustic explosions splattering off the wall." HumBrews keeps rolling with a Monday show featuring Flogging Molly bassist Nathen Maxwell and the Original Bunny Gang, a reggae-rock combo that sounds pretty cool. Extra bonus, Ishi Dube and Massagana open. (Ishi also plays Friday night at the Pearl Lounge.)
Over in Eureka Saturday night the Lil' Red Lion has drunken punks The Barfeeders plus semi-Irish punks The Smashed Glass, hard rockers The Hard Ride, Straitjacket Striptease and one-man-punk-band The Bored Again.
For the danceaholics you have Deep Groove Society at the Red Fox Saturday with electro-grooves by Jsun, The Middle Agent and Jan Van Lier.
Nocturnum has a double shot of dance music that night, a new monthly thing with different sounds in each room that they're calling Northern Nights. This week Opio from Hieroglyphics, Z-Man, Bay Area hip hoppers Bored Stiff and Equipto and Nocturnum's regular VJ Itchie Fingaz are all in the big room, with DJ Daneekah and DJ Green B, two SF-based "hot gyal selectahs" (female reggae DJs) in the reggae room.
Coming to Nocturnum on Wednesday, Aug. 26 -- a Bad Kitty show with Eureka native dirty bluesman Lightnin Woodcock on tour with Bloodhook. Says Norm from Bad Kitty, "When I told Lightnin Bill he would be playing at what used to be OH's Town House, he chuckled and said 'Wow, my grandma used to manage that place for like 25 years.' Well, I guess now it's Bill's turn to work the room. I'm hoping grandma will show up too." Norm adds, "Bloodhook is tearing it up big time right now. Their drummer, Dusty Watson, plays with many notable acts, including Dick Dale, the Supersuckers and Agent Orange." The band has recently been touring with Agent Orange, Fear and Total Chaos, aka the SoCal Punk Invasion Tour. The local gig sounds like a wild night, although it's actually "nights": Next Thursday, Aug. 27, Lightnin Woodcock and Bloodhook move over to The Boiler Room, then on Friday they're at the Jambalaya, helping to kick off a weekend with too much music.
Benbow's Summer Jazz Series is back, bringing two more weeks of jazzy music to SoHum. It starts Thursday, Aug. 20, with the Daugherty, Maez and Wilde Trio. That's bassist Geoff Daugherty, trumpeter Sam Maez and guitarist Jim Wilde, who works at Benbow and helps put the series together. Friday it's a "Blue Note Tribute" with saxophonist Francis Vanek and Dent Hand Quintet. Saturday, bassist Chris Amberger returns with Magenta. Sunday, S.F.-based drummer Jimmy Gallagher plays with a quartet. There's more next weekend: SoHum faves Humboldt Time on Thursday, Aug. 27; Sam Maez Quartet with special guest Lisa Baney on Friday, Aug. 28; a Charlie Parker Birthday Tribute on Saturday, Aug. 29, with sax queen Yolanda Nickell. Closing things out Sunday, Aug. 30, sultry chanteuse Mary Jo Casasanta.