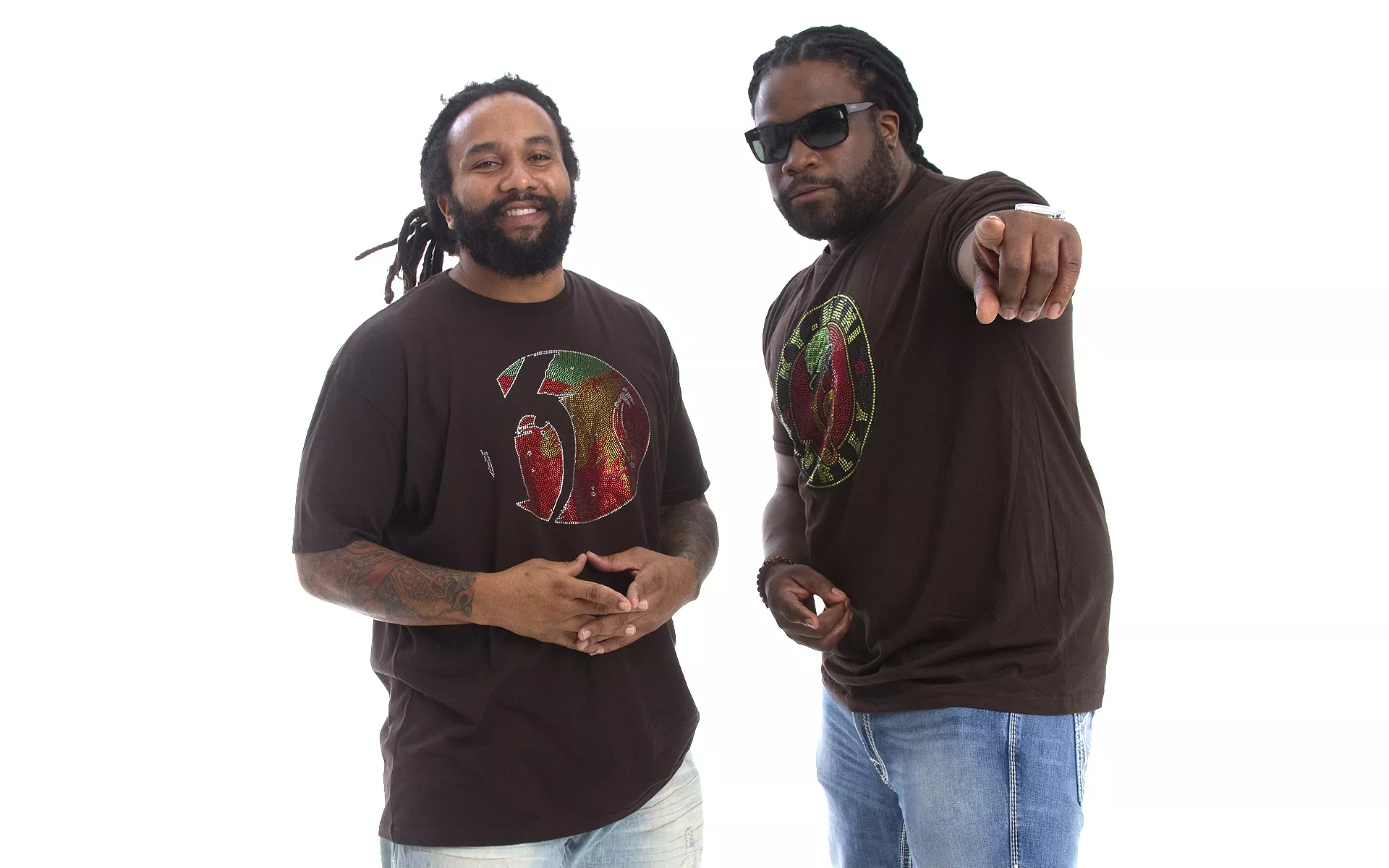 Ky-Mani Marley and Gramps Morgan
It's time. The Mateel crew is putting the finishing touches on Benbow Recreation Area, getting everything ready for this weekend's 27th annual Reggae On The River. The Reggae War is finally over and no matter how you slice it, the Mateel came out on top. And as that chapter closes and a new one opens, we have a new, improved Reggae, a bit different from last year with a couple of key changes.
The most obvious change is the addition of a second stage at the far end of the long meadow along the Eel River. "That was a move we made to utilize the full park," said Mateel lead staffer Justin Crellin. "It basically doubles the number of acts we can book. This is the first year we've been able to approach the scope of the line-up we have this year, adding in more local and regional acts."
The new River Stage will make for a nearly continuous music flow and, Crellin figures, should lead people to the food and craft vendors arrayed along the sides of the meadow as they go from stage to stage.
The other big change is an improvement in sight lines. If you've been to a show at Benbow you know that it was best to grab a seat by the Redwood Stage early because an earth berm blocked the view of the main stage for all but a small circle. The berm had provided raked seating during the days of Shakespeare at Benbow, and Crellin is happy to say it's now gone.
It's good to see the state doing improvement work, particularly because Benbow was among the state parks on a tentative closure list released by Gov. Brown's office earlier this year.
Crellin said after looking into it, the Mateel folks are not worried about losing the venue for Summer Arts and Reggae. "The latest we've heard is that since Benbow has a federal grant for some work they're doing on the river, [the state] won't legally be able to close Benbow."
That said, Mateel staff is still looking into potential sites where they might relocate Reggae on the River. "We're in the middle of a feasibility study to find a place to move to, a place where we can have overnight camping and run the show later," said Crellin. (All shows at Benbow have a 10 p.m. curfew.) They would also like to increase capacity. "We want to see it grow, but not to the numbers [Reggae] was up to in the biggest years," he continued. "We really want to have various flavors musically but still keep it all conscious and family-oriented."
This year's show already fits the "various flavors" description, from Saturday's opening with Trinidad Goodshield's indigenous soul to Sunday's closer, the young Afrofunk master Seun Anikulapo Kuti, son of Fela, with his father's band Egypt 80. Of course there's plenty of reggae in between, including a couple more famous sons, Ky-Mani Marley (Bob's boy) and Roy "Gramps" Morgan from Morgan Heritage (son of Derrick Morgan) Saturday night on their Reggae Revolution Tour. The rest of the schedule:
Saturday, July 16
Redwood Stage:
10:15 a.m. - Opening Prayer w/ Goodshield
10:30 a.m. - Mystic Roots Band
Noon - Native Elements
1 p.m. - Pashon Minott
2:05 p.m. - Perfect
3:20 p.m. - Annette Brissett
5 p.m. - Bushman
6:15 p.m. - J Boog
8 p.m. - Reggae Revolution Tour
with Ky-Mani Marley and Gramps Morgan
River Stage:
11:00 a.m. - Ambush
12:45 p.m. - The Impalers
2:30 p.m. - Zili Misik
4:15 p.m. - Indubious
6:00 p.m. - Sahra Indio
6:35 p.m. - Edi Fitzroy
8:25 p.m. - HR (Human Rights)
Sunday, July 17
Redwood Stage:
10:30a.m. - Jade Steel
12:00 p.m. - Zili Misik
1:40 p.m. - Clinton Fearon
3:30 p.m. - Gondwana
5:15 p.m. - Queen Ifrica
6:35 p.m. - Tony Rebel
8:30 p.m. - Seun Kuti & Egypt 80
River Stage:
10:15a.m. - 7th Generation Rise
11 a.m. - Sahra Indio
Noon - Indubious
1:40 p.m. - The Alliez
3:20 p.m. - Jah Sun and Ishi Dube
5:10 p.m. - SILA
6:50 p.m. - Army
8:30 p.m. - Rootz Underground
The 27th annual Reggae On The River takes place Saturday and Sunday, July 16 and 17 at Benbow Lake State Recreation Area, about two miles south of Garberville. Gates open at 10 a.m. Parking at Benbow is limited. Take a free shuttle from Redway or Garberville or any of the nearby campgrounds. Admission is $55 for a single day, $95 for both days. Check for availability in advance; the show is getting close to sold out and there may not be tickets available at the gate. For more details go to www.reggaeontheriver.com or call the Mateel Community Center office at (707) 923-3368.