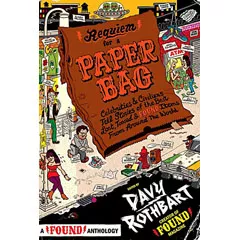 There have already been two book compilations from Found magazine, and editor Davy Rothbart is constantly on the road with his crew, reading and performing everywhere from major TV talk shows to little out-of-the-way places. He's also an acclaimed short story writer, so it was only a matter of time until he merged the concept of Found with a collection of narratives, both fiction and non-fiction.
This collection consists mainly of two types of pieces: ones that take the unearthed letters and objects featured in Found and use them as an inspirational springboard for stories, musings or poems, and those that are personal accounts of interesting finds that were important and life-changing to those who found them.
The lineup Rothbart has assembled for the book is impressive. He commissioned pieces from musicians, actors, fiction writers, poets, rappers, comedians and cartoonists. They include Sarah Vowell, Tom Robbins, Chuck D., Miranda July, Patton Oswalt, Dave Eggers and Billy Bragg. The fiction ranges from a fully formed psychological short story by Charles Baxter to an elliptical experimental piece by Aimee Bender. The varied voices in the book are a big part of its charm.
Jonathan Lethem and Paolo Coehlo both vividly describe found objects that act as creative talismans: Lethem finds his inspiration in a half-literate sentence found in a thrift store typewriter, and Coehlo finds a feather that he takes as a sign to write his first book.
Perhaps the most fascinating piece is by David Simon, the creator of The Wire. In the course of an investigation as a reporter for The Baltimore Sun, he came across a police file that originally contained a letter from Bob Dylan, long since gone missing, requesting information on the case that eventually became the song "The Lonesome Death of Hattie Carroll."
Rothbart also admirably gives space to those who question the very premise underlying Found magazine, and the possibility that it appeals to middle-class readers as some kind of slumming. In the title piece, Drew Daniel from the band Matmos wonders if the paper bag he's found with a list that begins with "CRACK COCAIN" that functions for him as street poetry is ultimately just a form of classist voyeurism providing a cheap thrill at someone else's expense, a question that could also be asked of a reader of Found as they chuckle at someone's anonymous subliterate letter. Despite the book's colorful cartoon cover, it's not all fun and games.
As in the magazine itself, the questions posed are often more interesting than the answers. Part of the allure is the mystery -- who are these people whose fragments we're reading, and what became of them? The best stories in this collection engage with that mystery and deepen it.