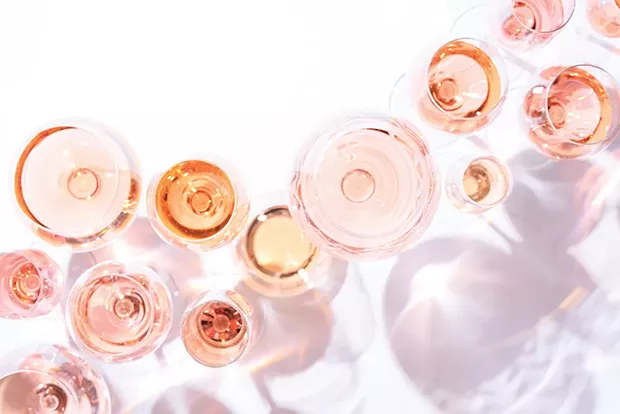 Shutterstock
Rosés vary substanitally in color, flavor, sweetness, acidity and more.
Spring has (finally) sprung in Humboldt. Every year the parting of the clouds and blooming of the daffodils gets me inspired to wear obnoxious vintage floral prints, Marie Kondo my house and sip on some refreshing rosé.
I, like many others, have lived the majority of my life believing that rosé just wasn't good. Perhaps it was instilled in me at a young age by my grandma, who referred to it only as "pink shit." Or maybe it was the room temperature, pink Franzia that we drank straight from the box in college. Whatever it was, it left a bad taste in my mouth. But after much convincing to give it a second shot, I am happy to say that I was terribly, terribly mistaken.
If you're of that same mindset, I would love to help you break free from the dogma that all pink wine is crap.
To start with, no, there is no such thing as a pink grape. Rosés are wines that are made from red grapes but the juice spends very little time in contact with the grape skins, which is where red wines get their color. Therefore, rosés can be made with a wide assortment of red grape varietals (i.e. pinot noir, sangiovese, zinfandel and others), all of which have different flavor characteristics.
For that reason, rosés vary substantially in color, flavor, sweetness, acidity and more. And the great news is that people are jumping on the bandwagon, so there are a ton of them to choose from. Though, with so many choices, how do you know what to buy? Well the answer is to drink a lot of them. But if you don't have time for that, I did some drinking for you.
First, it may not be for everyone, but white zinfandel has shaped the U.S. market like none other and is deserving of mention. Second, I'll give you an example of the French style, which couldn't be more different. And finally, I would be remiss not to recommend a couple of our incredible local rosés.
Let me preface this conversation by saying a wine isn't "bad" if you enjoy it. Everyone tastes differently and if you like it, don't let someone tell you that you shouldn't. That being said, white zinfandel is wildly popular and sells like mad, yet it has garnered a plenty of criticism from wine snobs everywhere. Sutterhome is the originator and continues to sell out of this wine each year, so clearly people are enjoying it. It does have some very unique flavors — including gumballs, watermelon and strawberry jelly — which are appealing to many but unpalatable to some. If you are someone who enjoys this style, stay strong. But if this style isn't for you, take solace in the fact that the majority of rosés are nothing like it. In fact, there are even rosés of zinfandel made in different styles (like Margarett's Vineyard from Mendocino) I encourage you to try.
Still, when many people think of pink wines, it triggers thoughts of white zin, both good and bad. But the truth is that rosé had been around long before these cotton candy, sugary wines hit the market. France produces wonderful rosés that are light, crisp and delightfully refreshing. And the OGs of the French rosés come the Provence region of southeastern France. The example that I picked up is a 2016 rosé from Chateau la Rouviere in Bandol (Appellation Bandol Controlee). Bandol is the crème de la crème of Provence and produces some of the world's best (and often most expensive) rosés made from mostly mouvedre and often blended with grenache and cinsault. This wine is a light pink with a copper tint and has notes of raspberries, lilac, cantaloupe and fresh grass, and it finishes with a bright acidity reminiscent of Meyer lemon. In short, it's bomb. I picked this up for $29 at Libation, where there are similar, more affordable selections that are perhaps just as good.
Though you may certainly find excellent options overseas, you don't need to look very far at all to find superb rosés here in Humboldt. Local winemaker Wil Franklin offers one of my all-time favorites called Merganser. It is a gorgeous ballet-slipper pink rosé of 100 percent sangiovese from Mendocino. It's bright with notes of fresh peach, tangerine and honeysuckle. The best part is that this 2018 vintage retails for a cool $16 at Murphy's Markets. Another excellent selection is Briceland Vineyards' rosé of pinot noir. Winemaker Andrew Morris does pinot like nobody's business in a way that exemplifies Humboldt County's unique climate and this rosé is no different. It's smooth with flavors of strawberry, honeycrisp apple and a hint of wild arugula. You can find this and others from Briceland Vineyards at new shop and wine bar the Wine Cellar for $21.
The moral of the story here is: Don't judge a wine by its color. Rosés have so much to offer and no two rosés are exactly the same. So go forth and drink, my friends. Carry your pink wine with confidence at that bougie garden party. Or just drink it in your sweatpants on your couch like I did. You do you. But if you're wary, I encourage you to expand your horizons and give rosé another shot. I think you'll be pleasantly surprised.
Erin Young is a wine educator, consultant and Wine & Spirit Education Trust student. She lives in Eureka.