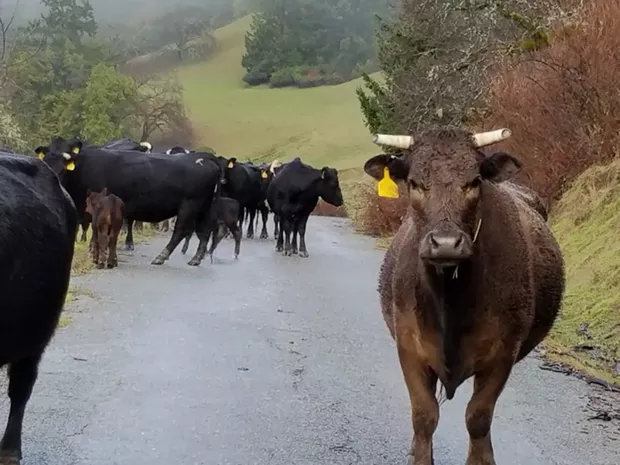 Photo courtesy of Marianne Odisio
Cattle on Old Briceland Road will have to share their grazing ground with impatient travelers later this month.
After workers discovered a failing culvert on Briceland Thorn Road just west of Redway, State Parks and Humboldt County Public Works decided to upgrade the only detour: Old Briceland Road. When those improvements — currently underway — are completed later this month, Briceland Thorn Road — one of the most traveled rural roads in Humboldt County — will then be closed for repairs.
Commuters, schools, residents, emergency vehicles and delivery trucks will all be affected as thousands of trips through the area are rerouted each day for the estimated two weeks needed to complete the work.
Steve Finch, the county's road division manager, estimates each day sees some 2,000 vehicle trips over the road, which serves Shelter Cove and Whitethorn, among other coastal communities. When heavy rains drench the ground this winter, the damaged culvert, which is approximately 1.5 miles west of Redwood Drive, could completely fail and compel a long-term closure of the road, he said, forcing all that traffic to come to a screeching halt or be diverted across Old Briceland Road, which had fallen into disrepair.
Supervisor Estelle Fennell, whose district encompasses the affected area, agreed that the road across the culvert is vulnerable. "We want to avoid a catastrophic failure in the middle of winter," she said. "[The culvert repair] has to happen and it will be much shorter if we fix it now."
Photo provided by Estelle Fennell
A culvert area in Whitmore Grove west of Redway is failing and undercutting the asphalt.
Now the race against the coming winter rains is on.
The first step, according to Finch, is to pour approximately $600,000 of reconstruction work into Old Briceland Road. "Some areas are being completely repaved and other areas are just having spot paving done," he said. "We're putting out about 3,000 yards of hot mix."
After the repairs are finished, Old Briceland Road will not have any stretches of dirt left. "Any vehicle," he said, "is going to be able to go across the road" once repairs are completed. And, Finch said, the road "should be in good shape" for the residents who live along it after the need for a detour has ended.
Marianne Odisio, who drives Old Briceland Road almost daily for her job delivering mail, reports that construction has already begun, describing it as a "real transformation."
"I hate seeing the bush bunny habitat destroyed but my truck's suspension has been getting a break," she said. Odisio worries that animals in the area are in for a rough time as traffic surges through the detour after the upgrade is complete and while repairs are being done to the main road. She wanted to warn drivers to be careful as they make their way through the working cattle ranch that lines much of the road.

Photo courtesy of Marianne Odisio
Calves from a previous year watching a vehicle pass along Old Briceland Road.
"The cattle normally have a very serene life there," she said, pointing out that it is also calving season.
"For the first few days of a calf's life, they are pretty clueless about vehicles," she said. "Sometimes ... a newborn calf will be standing on its wobbly little newborn legs in the middle of the road and you will have to slow down or stop until they get safely out of your way."
Odisio also worries about the deer, the cats and the dogs in the neighborhood that are not used to so much traffic. She asks travelers using the detour to please keep the animals in mind. Odisio also asks folks to keep an eye out for her as she delivers the mail along the narrow roadway.
After the more than 7 miles of Old Briceland Road are repaired, work will begin on the Briceland Thorn Road. Those repairs will be mostly handled by contractors working for the state, according to Finch.
School bus service for the students who travel into Miranda will not be available past the detour, said Karl Terrell, transportation director for Southern Humboldt Unified School District. During a Nov. 7 interview, he said more than 30 students will likely be affected by the decision. The current plan is to have parents meet the bus in Garberville at 7:20 a.m. while the detour is in place.
Humboldt County Public Works will attempt to mitigate the situation as much as possible, Finch said. "We'll run pilot cars 24/7 from each side," he explained. "Traffic will be running both directions." He acknowledged the road is narrow but said, "there are places [traffic] can pass on some of the wider sections." He said travelers should expect delays of up to an hour.
Cheryl Antony, spokesperson for the Shelter Cove Volunteer Fire Department, worries about the extended response times.
"It will mean the ambulance will be delayed," she said. "Any kind of trip will be delayed by quite a bit."
The county is working to minimize issues for emergency vehicles, Finch said, adding "emergency traffic will have priority. ... If there is an ambulance coming out, all traffic stops and the ambulance goes."
Finch said the last time Briceland Thorn had to be shut down "we had a lot of issues with flaggers being threatened." But the plan is to have extra law enforcement in place to assist workers.
"State Parks is going to have their rangers out as often as they can," he said. "Hopefully, there will be law enforcement where needed."
Once begun, construction work on Briceland Thorn Road will go around the clock, Fennell said. "It is a gigantic project [and] time is of the essence ... ."
Finch says he hopes to have the start date for when the detour will begin soon but he speculated that travelers might expect to have to deal with the situation beginning around Nov. 22.
Editor's note: This story first appeared at www.kymkemp.com on Nov. 8 and is reprinted here with permission.