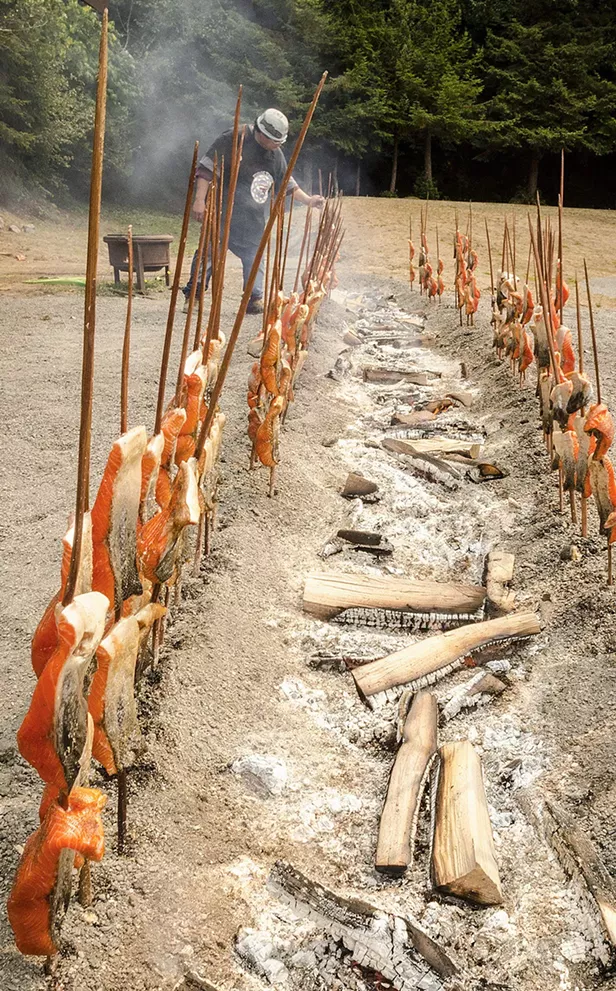 Mark Larson
Sam Gensaw, of Klamath, placed the redwood skewers of salmon around the fire and monitored their cooking.
Mark Larson
Seasoned and skewered salmon cooked over the pit.
Mark Larson
Teams of 7-, 8- and 9-year-old boys started the traditional stick game tournament under the watch of adult coaches. Here, a "center" boy holds the "tossel" in his mouth prior to dropping it to start the action. The players used their sticks to hook the tossel and throw it toward their team's end line (either "up river" or "down river").
Mark Larson
Players from opposing stick game teams lock wrists and arms, sticks in mouth, awaiting the drop of the tossel. Players try to wrestle down their opponents until another player hooks the tossel across the end line.
Mark Larson
A stick game player tries to hook the tossel to toss it toward his "up river" goal line.
Mark Larson
Hand game players on the "hiding" team drum and sing in support of their leader, distracting the "guessing" team.
Mark Larson
A hand game leader rolled his game sticks in his hands prior to hiding them.
Mark Larson
A hand game leader holds his sticks up in victory.
Mark Larson
The sixth annual Classic Car Show, organized by George and Marla Smoker, drew a crowd to the "up river" end of Klamath Boulevard. Peter Portugal, of Eureka, brought his 1936 Dolphin Roadster which he paneled using old-growth redwood, as well as a replacement fender. He's been restoring the car since a 2002 crash.
Mark Larson
Sophia Myers, 9, of Hoopa, dressed in traditional brush dance regalia made by her mother.
Mark Larson
Roxann Dowd, of Crescent City, was one of many shoppers at the nearly 100 vendors at the festival.