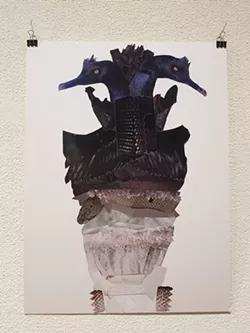 Submitted
Skylar Ritter's "Value Exercise: Birds," magazine collage, 2019.
The juried student exhibition that just opened at College of the Redwoods Creative Arts Gallery brings together a range of student artworks produced in this year's classes, from fantasy landscapes to lively nature studies. Juried by Susan J. Bloom from the department of theatre, film and dance at Humboldt State University, the exhibition keeps works executed in traditional media at center stage while showcasing outstanding student works that, in many cases, transcend their origins as classroom exercises.
Skylar Ritter's "Value Exercise: Birds" is a collage assembled from cut-out magazine scraps in subtly patterned shades of gray, lighter shades at the bottom and darker ones above. It culminates at the top of the page with a flourish of heraldic fancy — a striking double cormorant head in profile. From across the room, the piece looks like a military decoration fit for one of the warring chieftains in Game of Thrones.
Kaya Lines's drawing "Perspective," made in Dean Smith's drawing class, uses fine blue contour lines to render a chasm receding into deep space; inside this chasm hovers a compound object that seems to be part femur, part dirigible and part one-point perspective exercise, rendered in red ink at the same level of detail. This austere two-color topography evokes the appearance of landscapes familiar from first-person shooter computer games as well as the look of first-generation computer graphics from films like TRON, without relying explicitly on either source.
Ceramic pieces are notable both for their technical proficiency and their thematic range. Works in clay run the gamut from functional vessels to animated claymation narratives. Ro Lozano's cheery animated short "TRANSFORM," from David Zdrazil's Experimental Ceramics class, features colorful, crudely modelled characters who take a psychedelic trip in the redwood forest — a subject that I'm pretty sure qualifies as social realism in these parts.
Marlo Varley carves miniature landscape reliefs into smooth, vertical ceramic cylinders that look like updated versions of ancient Sumerian cylinder seals. Rachel Goggin and Paige Goodwin are making bulbous, colorfully glazed ceramic sculptures based on crab, cactus and sea urchin forms. Joe Fox's wood- and-soda-fired bottles have tall, graceful shapes built from smoothly curving stacked units; their lustrous sheen comes from the use of an ultra-refined clay slip called terra sigillata, in use since ancient Greek and Roman times.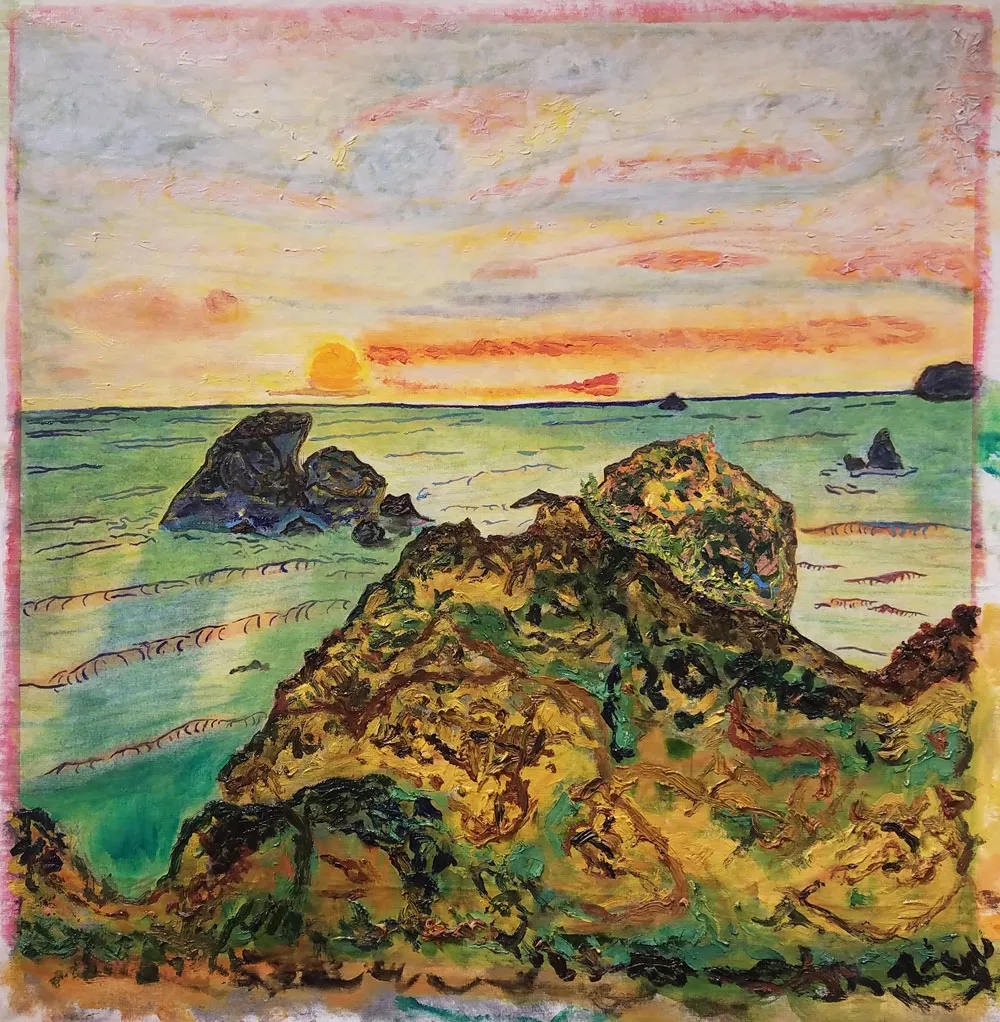 Photo by Gabrielle Gopinath
Daniel P. Roscoe's "Me'stsek: Meadow above Camel Rock," oil paint on canvas wallpaper, 2019.
Daniel P. Roscoe's large painting "Me'stsek: Meadow above Camel Rock," completed in Cynthia Hooper's painting class, restores the ancient Yurok place-name to the oceanside bluff that overlooks that popular surf spot. Much of the landscape's lower half is handled with a thick earth-tone impasto that resolves into wormlike squiggles of paint when viewed up close. At the margins of the canvas, areas of ocean and sky are painted in a totally different way, rendered in broad swathes of luminous wash interspersed with passages of cursive line. This is an expression of landscape still under construction, one that seems novel and personal. The piece is hung with grommets so you can see the raw edge of the canvas wallpaper support, which makes it look like the generative energy that roils the meadow is still radiating from the center of the picture. The intensity of the paint handling recalls earlier works of the American tradition of visionary landscape, from the midcentury paintings of Charles Birchfield to those of former CR faculty member Floyd Bettiga (1932-2018), whose luminous and trippy 1975 watercolor "Desert" hangs in a conference room next door to the gallery.
Student works offer windows of observation into the processes through which mastery is acquired. Looking at these paintings, drawings, sculptures, ceramic pieces and metalwork objects, you can sense artists getting out of their comfort zones in productive ways — marshalling their energies, trying out new skills and surmounting technical challenges. The best pieces here are characterized by a freshness and directness born of creative experimentation. Overall this spring show exudes a lively vibe that might just make you want to go back to school.
The Juried Student Exhibition will be on view at College of the Redwoods Creative Arts Gallery April 23 - May 9. The gallery is open Tuesdays through Thursdays, noon to 4 p.m. and by appointment. Call 476-4100, ext. 4869, or go to www.redwoods.edu/artgallery for details.
Gabrielle Gopinath is an art writer, critic and curator based in Arcata.