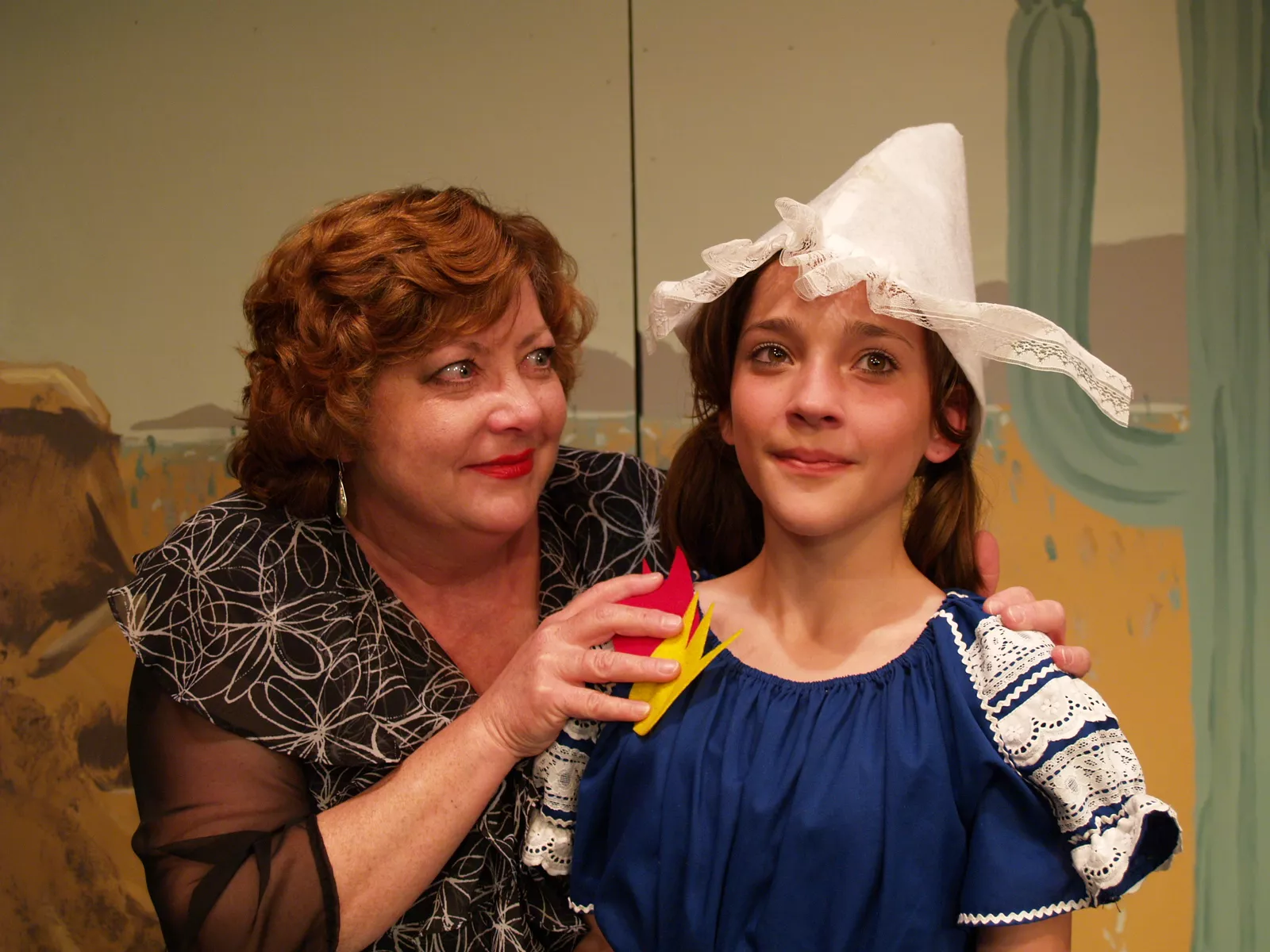 courtesy of NCRT
Dianne Zuleger as Rose and Sydney Stephens as Baby June in NCRT's Gypsy
The musical Gypsy, now on stage at North Coast Repertory Theatre in Eureka, is the story of Rose, often called the "ultimate stage mother," and her daughters, June and Louise. Rose sets her sights on making June a child star in vaudeville during its waning days in the 1920s and '30s, and when June rebels, Rose turns to the lesser talent, Louise. Louise eventually becomes Gypsy Rose Lee, the burlesque queen and show business legend whose memoirs formed the basis for the musical's story.
Gypsy is one of the most acclaimed American musicals, with rabid fans and distinguished critics who call it the best ever. It was specifically developed for Ethel ("There's No Business Like Show Business") Merman in 1959, and she was followed by other powerhouse actresses in the part of Rose, including Rosalind Russell, Angela Lansbury, Bernadette Peters, Patti LuPone and Tyne Daley. The show was created by a one-time combination of Broadway legends: music by Julie Styne, lyrics by Stephen Sondheim and book by Arthur Larents (West Side Story), who also directed two of its subsequent Broadway productions. The original and revivals were showered with awards. Several of its songs became standards.
Apart from hearing Ethel Merman sing its best-known tune, "Everything's Coming Up Roses," on every conceivable TV variety show (the natural heir to vaudeville) as a child in the early '60s, I knew nothing about this play. I suspect Merman played Rose more heroically than Dianne Zuleger does in this North Coast Rep production, and to her credit and that of director Xande Zublin-Meyer, neither softens the edges of the character or the story. Rose is relentless and hard-driving, with a selfless dedication to her children that is ultimately selfish, and the product of her own frustrated dreams.
She has moments of appearing admirable, as when she complains to a producer that he interrupted her in the middle of a sentence. "You're always in the middle of a sentence," he retorts. But the costs paid by her children are also on view. While Rose is a character that remains relevant -- check out those child beauty pageant videos, or just go to a Little League game -- I couldn't respond to this treatment, which by now felt familiar, mawkish and tediously extended.
The production does try to give a sense of vaudeville, that classic American amalgamation of song and dance, comedy teams, novelty and animal acts. There's even an old fashioned theatrical curtain across the North Coast Rep stage. Zublin-Meyer and everyone concerned get extra credit just for managing the logistics of it all, with a large cast of children, seniors and all ages in between, plus a dog, a very large cow with very large eyes, and a duck (I loved the duck -- the best Vaudeville trick trotted out in the often entertaining but sometimes baffling set pieces between scenes).
But for all the show biz, the play seemed a creaky and tenuous platform. There's a joke in Rose sending her daughters out with basically the same cheesy act for years, but that doesn't make it easier to sit through variations of it several times, even with different charming performers. The 90 minute first act feels very long, and it doesn't create any real musical sparks until Louise (Christina Comer) and June (Nanette Voss) sing "If Momma Was Married," which for me was the single musically thrilling moment of the evening -- the kind of moment that's unique to live musicals.
There are some fine voices in the cast, so it was frustrating that Comer and David Powell, as Rose's long-suffering partner Herbie, didn't have more to sing. Comer's Louise transforming from supposed ugly duckling to teasing swan was a highlight, though I would have appreciated it more if it had occurred about an hour sooner.
North Coast Rep regulars like Adina Lawson, Anders Carlson and Evan Needham were solid, and Kyle Ryan's dance number with Comer was gracefully executed. The opening night crowd was enthusiastic, but I didn't feel the show itself generating much energy. The live band had flashes of adequacy. Perhaps a faster pace and tighter production will evolve during the run.
Tom Phillips is musical director (with effective attempts to suggest the '20s and '30s), and Heather Sorter the choreographer. Daniel Lawrence designed scenery and lights. Gypsy runs weekends until June 19.
For the curious: In reality, Gypsy Rose Lee had a singular career. After beguiling international audiences with her sophisticated strip-teases, she appeared in a few movies and became a Hollywood celebrity, mystery novelist, humanitarian activist and San Francisco TV talk show host. She died in 1970. Her sister, the actual runaway daughter June of Gypsy, became June Havoc, movie (My Sister Eileen, Gentlemen's Agreement) and TV actress (a regular on Search for Tomorrow and briefly on General Hospital) as well as an author, playwright and Tony-nominated director. She died in 1991.
Coming Up: The 1970s comedy Same Time Next Year opens at Ferndale Rep on May 27.