MArk Larson
Stilt walkers from the Arcata Playhouse, including Ray Feral (left), Blue Lake, Amira Wanden, Arcata, Nyrie Broderick, Arcata, Isabel Wiley, McKinleyville, and Carolyn Van Mantgen, Arcata, helped out at the lighting ceremony.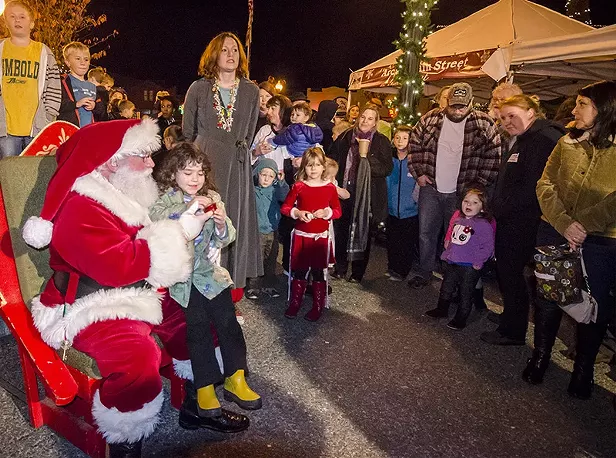 Mark Larson
A large crowd of children lined up around the McKinley statue to greet Santa.
Mark Larson
Children romped around the statue of McKinley as they waited their turn to meet Santa.
Mark Larson
Asher Neyra, 1, McKinleyville, found the tradition of meeting a jolly bearded fellow dressed in red a little unsettling.
Mark Larson
Arcata Main Street elf Talvi Fried, Eureka, emceed the ceremony.
Mark Larson
Iris Szanto, McKinleyville, got a better view on the shoulders of her father, Tom.
Mark Larson
JeTeo Bazen, six months old, Arcata, got his first introduction to the "Season of Wonder and Light" on the shoulders of his father, Turner.
Mark Larson
Santa and Mrs. Claus (Mike Slavin and Kate Hagen) greet a large crowd of children after arriving in a horse-drawn carriage.
Mark Larson
Sienna Long, McKinleyville, converses with Santa.