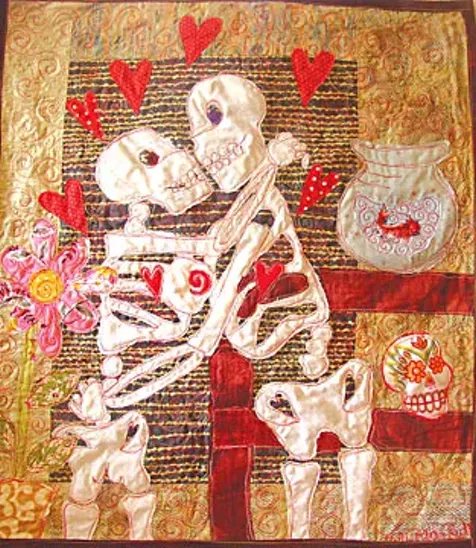 6 slides
Arts! Arcata is Arcata Main Street's monthly celebration of visual and performing arts, held at more than 30 participating locations in Arcata. Visit www.artsarcata.com for even more information about the event or call 822-4500.
1. East Side Deli and Market 420 California St.
2. Big Pete's Pizza 1435 G St.
5. Hempsown 1101 H St. Libby Yee, paintings.
6. Bubbles 1031 H St. Bluegrass music by Clean Livin'.
7. NuGames 1075 K St.
8. Garden Gate 905 H St. Wine served as a benefit for Humboldt Bay Housing; Analisa McLaughlin, paintings; Karan Collenberg, etchings.
9. Meridian Fine Art Gallery 833 9th St. Wine served as a benefit for Veterans for Peace; Ken Jarvela and Michael Harris, new works.
10. Renata's Creperie 1030 G St.
11. North Coast Co-op 811 I St. 4 on the Figure, painting figures.
12. Caravan of Dreams 893 H St. Tina Helton, ceramic fish.
13. Arcata Artisans 883 H St. Wine served to benefit the Breast Health Project; Holly Garbutt, quilts; Oceana Madrone, quilts and beadworks.
15. North Soles Footwear 853 H St. Mallory Garcia, mixed media; Jeremy Davis, landscapes.
16. Simply Macintosh 837 H St.
17. Arcata Exchange 813 H St. Wine served to benefit Planned Parenthood; Open Heart Quilters; music by Bossa Passatempo.
18. Natural Selection 708 9th St. Sara Marina.
19. Dottie May's Closet 632 9th St., #A1.
20. US Bank* 953 G St. Kristen Rahner, American Indian paintings; 2 Mom's, party planning and supplies.
23. Umpqua Community Gallery 1063 G St. Accident Gallery group show.
24. Big Blue Café 846 G St. Lauren Sarabia, photographs.
25. Moonrise Herbs 826 G St. Dr. Marion Nachshon, Village Life, photographs; music by Lisa Sharry.
26. Plaza Design 808 G St. Wine served as a benefit for Arcata Main Street; Linnea Tobias, mixed media.
28. Willow and Rags 791 8th St. Juliana Tong, photographs, paintings and drawings; music by Lorna Brown.
29. Libation 761 8th St. Music by Duncan Burgess.
30. Bon Boniere 791 8th St. Sandy Factor, mosaics and sculptures; soft rock and folk music by Dale Winget.
32. Essence of Humboldt 632 9th St., #A2.
33. Cafe Brio 791 G St. Jazz music by Weather Machine.
34. Arcata City Hall* 736 F St.
35. Arcata Marsh Interpretive Center* 569 G St. Charles Thissell and Elden R. Knauf, Birds of Humboldt County, photographs.
36. Fire Arts Center 520 South. G St., #A. Ceramics, fused glass and jewelry.
38. New Image Salon Sunny Brae Center. Dora Astacio, photographs.
39. Grandma B's Fudge Shop 887 H St. Live music.
40. HSU Student Galleries HSU. Foyer Gallery: Seana Burden, Colorful Chaos; Karshner Lounge: Kristen Clohessy, Dream Series; SBS: Wayne Knight and students, graphic design.
44. Adventures Edge 650 10th St. Andrew Johnson, art collection.
45. Prosperity Real Estate 839 9th St. Artists3, watercolor paintings.
48. Arcata Playhouse 1251 9th St. Horror Experiment. 822-1575 or arcataplayhouse.com.
49. Far North Climbing Gym 1065 K St.
50. Great Spiral Gallery 930 Samoa Blvd.
53. Plaza Grill Jacoby Storehouse. The Slugs are Taking Over, NorCal Community Blood Bank Fundraiser; Terrence McNally, Martin Swett and Sheldon Sabbatini, photographs.
57. Wildberries 747 13th St.
60. Arcata Photo Studios/S&S Events Jacoby Storehouse. Chris Tuite, rock and roll photos from Rolling Stone internship.
61. Redwood Raks 8th and L sts. WoMama CD release party.
62. Muddy's Hot Cup 1603 G St. Music by Chubritza and Bump Foundation.
64. Hunter Plaid Gallery and Studio 550 S. G St. Ste. 28. NuRoma, live art and installations; music by Pretty Hemp Princess.
65. Shoe Shangri-La 1011 H St.
66. Arcata Presbyterian Church 11th and G sts. Music by Redwood Coast Children's Choir.
*These venues are open only during regular business hours.