Nestled in the back of Mind's Eye Manufactory & Coffee Lounge in downtown Ferndale, behind the counter where barristas serve up lattes and muffins, lies a wall of windows where customers can peer into a workshop. It's here that Marc Daniels runs True North Boats, building traditional skin-on-frame ocean craft of the far north.
Daniel has been creating one-of-a-kind custom-made sea kayaks and teaching skin boat building workshops since the 1980s, and is "committed to helping traditional skin boat building thrive in the Native communities where it was invented and developed."
Recently, he brought Inuit kayak builder, instructor and kayaking champion Maligiaq Johnson Padilla from Greenland to lead a skin boat building workshop at the shop. Padilla was raised in Greenland Inuit tradition by his father and grandfather, hunting seals, birds, walrus and whale from his kayak for subsistence. Maligiaq noticed kayaks and harpoons were becoming a rare sight as motorboats and rifles took over. Fearing this traditional knowledge would be lost Maligiaq shared what he had learned with others, playing an instrumental role in the rejuvenation of traditional kayaking in Greenland and the world. Winning a total of nine Greenland International Qajaq Championships, the first when he was just 16, helped make Padilla a celebrity in the world of kayaking. He now travels the world guiding, teaching rolling and kayak skills, leading building workshops and generally spreading the good word of Greenland kayaking wherever he goes.
A bona fide kayak nerd, I've been around quite a few skin-on-frame kayaks but I had never paddled one, let alone participated in its construction. Before this workshop, I thought the only reason anyone would want a skin-on-frame boat was aesthetics or nostalgia. But while the boats are definitely beautiful works of art, they are not primitive by any means. Kayak technology was developed and perfected by Inuit peoples over the last 9,000 years. It's only in the last 60 years or so that the modern world has had any influence on their design and construction, and despite advancements in materials and technology, the hull designs of modern sea kayaks themselves have changed very little. The biggest change has been in materials like polyethylene, fiberglass, kevlar and carbon.
In Greenland and other Inuit cultures, kayak frames and paddles are made from driftwood and bone, and the exteriors, like traditional waterproof clothing, are made from seal skin that must be conditioned with seal or whale blubber after each use. None of that, except for driftwood, is readily available in America. Ballistic nylon saturated in polyurethane is typically used as a substitute, waxed nylon cord is used for lashing instead of sinew and neoprene is used for clothing. For this workshop, builders chose Alaskan red and yellow cedars for their light weight and flexibility in the frame and keel. They steamed and bent hard oak to make the kayak's ribs, providing strength and rigidity to its structure. Milled and shaped driftwood made up the "masik," or thigh brace, in the cockpit.
So does one have an advantage over the other on the water? Not really. Everything is a trade off. Plastic withstands abrasion from rocks and barnacles over time better than ballistic nylon or seal skin, but It's also heavier and louder when paddling. Damage to composites such as fiberglass can be repaired but a skin can be replaced. The real advantage comes from fit. Modern, mass produced kayaks typically come in three sizes: low, standard and high volume. Foam is typically used to outfit the cockpit to provide a tighter fit and take up extra space. Daniel remarked, "Imagine there was only one size shoe manufactured in the world, it was a size 14, and everyone had to stuff foam in it to make it fit. How well do you think people would walk or run?"
Skin-on-frame kayaks are made specifically for the intended user. The tighter the boat fits to your body, the easier it is to initiate a response from the boat, or get it to do what you want. This makes controlling the boat and rolling much easier than most store-bought kayaks.
I noticed the difference as soon as I carried it from the top of my car to the beach. The skin made the boat incredibly light — just 29 pounds compared to my 60-pound polyethylene kayak. The difference was stark on the water, too, accelerating and responding to my movements quicker and with less effort than I'm used to. The snug fit and low volume made rolling easier than any other kayak I've rolled before. As I paddled this beautiful piece of high performance art through the swell and wind waves, I began to realize the real advantage of a traditional Greenland skin-on-frame kayak: It's the satisfaction of building it yourself and the intimate bond created between boat and paddler in the process.
See more photos of crafting and paddling Greenland kayaks in the slideshow below.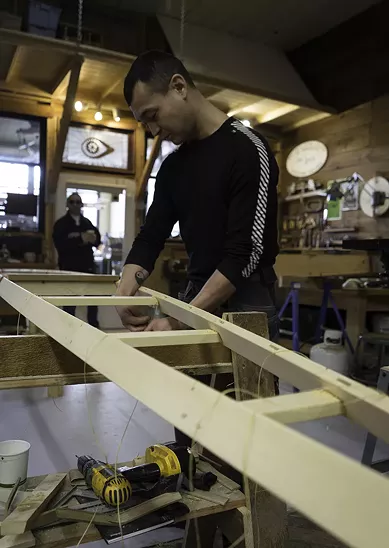 20 slides
Jason Self is an avid sea kayaker, guide, coach and owner of Kayak Trinidad, which is online at www.kayaktrinidad.com.