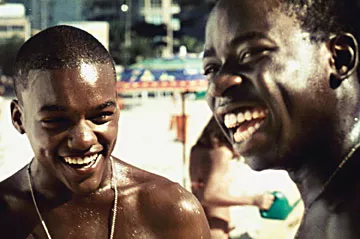 Note to readers: This will be my last column until early May as I'm going on hiatus to spend about six weeks in Portland, Ore., where, among other pleasures, I may get to see a greater variety of films. I realize that "hiatus" is TV-speak for "to be canceled at a later date," but hopefully that fate won't befall me. Of course, I never know what's on my editor's mind. [Hurry home, Charlie! — Ed.]
Previews
Wouldn't you know it: I leave town and we finally get The Other Boleyn Girl, which opens Friday, March 21, the story about two sisters, Anne Boleyn (Natalie Portman) and Mary (Scarlett Johansson), who vie to be another notch on Henry VIII's (Eric Bana) belt. History tells that winners end up losers, but Henry's good fortune is my loss. Rated PG-13 for mature thematic elements, sexual content and some violent images. 125 m. At the Broadway.
Tyler Perry once again plays Madea in Meet the Browns, based on Perry's play. In the latest of these popular films, single Chicago mom Brenda goes to Georgia for the funeral of a father she never met, and meets the rowdy Brown family. Rated PG-13 for drug content, language including sexual references, thematic elements and brief violence. 110 m. At the Broadway.
Owen Wilson is featured in Drillbit Taylor, a film that sounds as ridiculous as its title. This comedy is about three school kids who hire a bodyguard on the cheap to protect themselves from a playground bully. Rated PG-13 for crude sexual references throughout, strong bullying, language, drug references and partial nudity. 112 m. At the Broadway, Mill Creek and Fortuna.
In another remake of an Asian horror film, this one Thai, Shutter is about newlyweds who honeymoon in Tokyo, where the photographs they took of an accident start to generate scary images. Sometimes, looking for the truth doesn't pay off. Rated PG-13 for terror, disturbing images, sexual content and language. 95 m. At the Broadway, Mill Creek and Fortuna.
From Israel comes The Band's Visit, a cultural differences comedy about a band composed of Egyptian policemen who, on the way to Israel to play at an Arab cultural center, end up in the wrong town. Rated PG-13 for brief strong language. 97 m. At the Minor.
Finally, the British crime comedy In Bruges concerns two Irish hitmen (Colin Farrell and Brendan Gleeson) who travel to the Belgian town of Bruges to carry out some very unclear orders from their boss (Ralph Fiennes). What to do while waiting for things to clear up? Rated R for strong bloody violence, pervasive language and some drug use. 117 m. At the Minor.
Reviews
DOOMSDAY: With the iota of optimism I still possess, I thought things couldn't get worse after I'd hit movie bottom so many times already this year. But then, along came Doomsday. The fact the film was so awful is a bit of a surprise since I thought it had two things going for it: director/writer Neil Marshall and actress Rhona Mitra.
Marshall wrote and directed 2005's The Descent, one of the better horror thrillers I've seen in recent years. Unfortunately, none of the qualities the earlier film possessed seem to have carried over to Marshall's most recent effort.
Set in 2035, the film's narrative depends on an event that occurred in Scotland in 2008, so a significant amount of background needs to be filled in. Taking the easy way out, the first part of the film is a tedious voice-over "history" of the virus that attacked Glasgow accompanied by selective images. All of Scotland was subsequently quarantined using a fence; the residents are presumed to have sickened and died off.
A little girl, wounded in one eye, is rescued by the British military and in 2035, having obviously grown up, she is the film's badass protagonist, Eden Sinclair (Rhona Mitra). As the story opens, the same virus has broken out in London and cameras have picked up images of people still alive in Scotland. The rest of the film consists of Eden leading a military team into Glasgow, ostensibly to find Kane (a ridiculous Malcolm McDowell) and a cure for the virus.
But the plot is simply an excuse for scenes of graphic violence, including cannibalism in a scene where we get to see a British soldier roasted medium rare and carved up for the unruly survivors accompanied by the Fine Young Cannibals' "Good Thing."
The general anarchy is a generic copy of any number of other doomsday films, and when the story switches to a rival group, the director must have used outtakes from Ivanhoe.
I feel sorry for Mitra, who had decent roles in The Practice, Boston Legal and Nip/Tuck. Here, she's just a buffed-up killing machine in the service of an exploitive film. As for Bob Hoskins, he must have wandered through the wrong movie set.
At the screening, I nicely asked two women to please stop talking out loud. One of them called me an asshole. That seems a fitting final word. Rated R for strong bloody violence, language and some sexual content/nudity. 115 m. At the Broadway.
BE KIND REWIND: I'm a fan of director Michel Gondry's slightly offbeat work, particularly Eternal Sunshine of the Spotless Mind and The Science of Sleep. It was somewhat disappointing, then, that Be Kind Rewind seemed so flat for much of the time. Even Jack Black seemed to be spending a lot of effort trying to tone himself down and Mos Def must have believed he was in a stoner comedy. I'm at a complete loss as to what Mia Farrow thought she was doing with her character; it must have gone over my head.
Nonetheless, I could at least see where the film intended to be funny — I chuckled a few times, particularly in the second half of the film — and I did appreciate the underlying, somewhat subversive theme of the movie.
The story takes place in Passaic, N.J., at a rundown video rental store owned by Elroy Fletcher (a genial Danny Glover) that hasn't made the conversion to DVDs. Threatened with demolition by city authorities, Fletcher goes off to see how the competition does it, leaving his employee Mike (Mos Def) in charge.
Unfortunately, Mike's anarchic friend Jerry (Black) becomes magnetized when he tries to sabotage the local power station, and unknowingly erases all the rental tapes. In order to satisfy long-time customer Miss Falewicz (Farrow), who returns her ruined tape and threatens to tell Fletcher, Mike comes up with the idea that he and Jerry can make their own version of films like Ghostbusters. This clever idea is the core of the narrative, but, in an example of the slipshod nature of the film, Mike's realization of this central scheme is barely shown.
Ultimately, the homemade tapes, called "Swedeing" for the shortened remakes of famous films, become incredibly popular and the reshootings come to involve the whole neighborhood, including the young Alma (a refreshing Melonie Diaz). The message here is that we don't need formulaic commercial films to satisfy our craving for art; we can make our own using local resources, talent and imagination.
Of course, the whole enterprise comes crashing down when the store is busted by a film industry lawyer (Sigourney Weaver in a throw-away role), giving Gondry a chance to comment on the industry's relentless but perhaps losing battle against pirating. I like the film's message but not its execution. Rated PG-13 for some sexual references. 111 m. At the Minor.
CITY OF MEN:When a film opens at a place called Dead End Hill, the viewer immediately knows that the subject matter will not be happy. The hill in question consists of a shantytown overlooking a beach in Rio de Janeiro.
Although the first people we see are members of the gang that controls the hill, the real subject matter of City of Men has to do with fathers, in particular the absence of fathers, an absence that renders the film's title somewhat ironic.
The film's central focus is on 18-year-old Ace (Douglas Silva), who already has a son by his wife Cris (Camila Monteiro) — a son he lacks the maturity to care for (he leaves his barely walking son unattended on the beach). The other main character is Ace's best friend, Wallace (Darlan Cunha). It is Wallace's search for his missing father and Ace's struggle to take control of his life that provides the film's main throughline.
But they must cope, as well, with the violence fueled by a gang war fought over control of Dead End Hill. Initially, the hill is controlled by a gang led by Midnight (Jonathan Haagensen), but when he is betrayed by Fasto (Eduardo "BR" Piranha), control passes to another gang after a firefight.
In almost documentary style, director Paula Morelli's film paints a grim, desperate picture of life around Dead End Hill. No police make an appearance during the extended gun battle; residents hide behind corrugated metal doors in businesses and houses. But the film's redemptive note is the ultimate persistence of friendship and Ace's growing sense of responsibility for the son he fathered.
Silva and Cunha played 11-year-old boys in City of God, a film directed by Morelli's friend and movie partner Fernando Meirelles, which makes City of Men a sort of companion piece to the earlier film. City of Men deals with a serious subject in what seems to be a truthful fashion. That makes it a film worth seeing. In Portuguese with English subtitles. Rated R for strong language and scenes of violence. 115 m. At the Minor. ENDS THURSDAY, MARCH 20.
Continuing
10,000 B.C.Cavemen on epic battle quest. Rated PG-13. 109 m. At the Broadway, Mill Creek and Fortuna.
THE BANK JOB.Smart British caper flick, with layers of intrigue. Rated R. 110 m. At the Broadway and Mill Creek.
BUCKET LIST. A corporate billionaire and a working class mechanic, who have developed a strong bond while sharing a hospital room, embark on the road trip of a lifetime. Rated PG-13. 97 m. At The Movies.
COLLEGE ROAD TRIP. Girls-only road trip turns into nightmare adventure when one girl's police chief father tags along for the ride. Rated G. 86 m. At the Broadway, Fortuna and Mill Creek.
HORTON HEARS A WHO.Mocked do-gooding elephant attempts to rescue a microscopic civilization. Rated G. 87 m. At the Broadway, Mill Creek and Fortuna.
NEVER BACK DOWN. Teen joins underground "fight club." Rated PG-13. 114 m. At the Broadway.
PENELOPE. Black magic makes rich girl grows pig's nose; she seeks redemption. Rated PG. 89 m. At The Movies.
SEMI-PRO. Semi-pro basketball team on the verge of folding is purchased by one-hit-wonder musician trying to fulfill his life dream. Rated R. 90 m. At Mill Creek and The Movies.
SPIDERWICK CHRONICLES. The Grace family moves into the Spiderwick estate, the home of a dead ancestor, and discovers the evil creatures that already reside there. Rated PG. 96 m. At The Movies.
VANTAGE POINT. Chaos ensues when the U.S. president is assassinated in Spain. Rated PG-13. At the Broadway, Mill Creek and Fortuna.