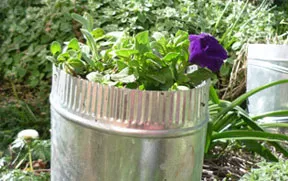 I have never been much of a container gardener. People who are able to fill their porches and balconies with blowsy, overflowing, well-designed, regularly-watered containers are, in my opinion, nurturers. They know how to take care of things and they enjoy doing it. I am not one of those people; I want to admire plants on their own terms, when they are actually in the ground, battling it out with Mother Nature with very little help from me. I do not want a flock of horticultural ducklings demanding my attention every time I step out to the porch. Now, I know that containers have gotten much easier -- there are now patio-sized drip irrigation systems, self-watering reservoir inserts and other such innovations to help containers fend for themselves. None of that has won me over.
But now I've found the ultimate low-maintenance container option, and it's perfect for early spring, when the garden's still pretty bare and we're all just dying to run out to the nursery and snap up whatever's in bloom.
Here's what you do: You get a big flower pot, something that's maybe a couple of feet tall, and you knock the bottom out. Then you stick the pot in a bare patch in the garden, embedding it into the soil a little bit so that it's anchored in place. Fill with potting soil, plant right into it, and there you have it: a container that isn't a container. The roots can grow directly into the ground if they want to. Your garden gets some color and height while things are still looking bare. And because it's still raining, you won't have to water it much at all this spring.
Then, when summer rolls around, you've got a choice to make. You can pull the pots out of the garden entirely, returning them to their places when the rainy season starts and the garden is once again looking bare and bedraggled. Or you can leave them in place, and either water them with a hose or connect them to your irrigation system. Think about it: Even in a very low-water garden, you could have a few islands of blooming annuals that get watered a few times a week while everything else stays pretty dry. The reservoir inserts I mentioned earlier could be put to use here. Basically, they hold a small amount of extra water at the root level, and you fill them through a small tube at the top of the container.
So that's the idea. Now you've got two decisions to make: What kind of container to use, and what plants to choose.
I started down this container-that-isn't-a-container path last summer when I noticed all the silver ductwork for sale at the Arcata Recycling Center. (I guess people in Humboldt County go through a lot of ductwork. Go figure.) It was hip and shiny and industrial-looking, so I immediately started wondering how I could use it in the garden. That's when I hit upon this idea of using it like a container, in among the other plants, with no bottom so the roots could grow straight into the ground.
I bought all the ductwork they had, picked up a few bags of potting soil on the way home, and had the whole thing in place within a few hours. The ductwork has held up beautifully for the first year, showing no rust and very little wear. But recycled ductwork isn't going to appeal to everyone. I've also used a wooden planter that happened to have a broken base, and a cracked clay pot. While you might not want to deliberately break the base out of an expensive glazed Italian pot, setting partially damaged pots out in the garden like this is a great way to recycle them. And once you start looking for containers that are open at both the top and the bottom, you'll see them everywhere -- in hardware stores, in junkyards, in thrift shops. Go for some color if you can -- if you're using a wooden container, for instance, slap a coat of turquoise paint on it first. This is all about brightening up the garden.
Now all you have to do is choose some plants. If I'm going to bother with a container, I want some thrills: the show-stopping annuals that can't possibly fill your whole garden, but can really make an impact in small doses. In shade, I'd go for an assortment of the new varieties of coleus, which now come in chartreuse, burgundy, black and hot pink. (Many new coleus varieties do well in sun, too.) In the sun, you can really select whatever appeals to you -- geraniums, pansies, nasturtiums, bush-style sweet peas or maybe the newer long-blooming "Wave" petunias. I'm considering planting tulip bulbs in mine this fall so I can look forward to bouquets of them in the garden this time next year.
And really, putting a container out in the garden is kind of like putting bouquets in a room: it's a little shot of bright, temporary color to liven things up. So -- give it a try. Good luck. Enjoy the spring.