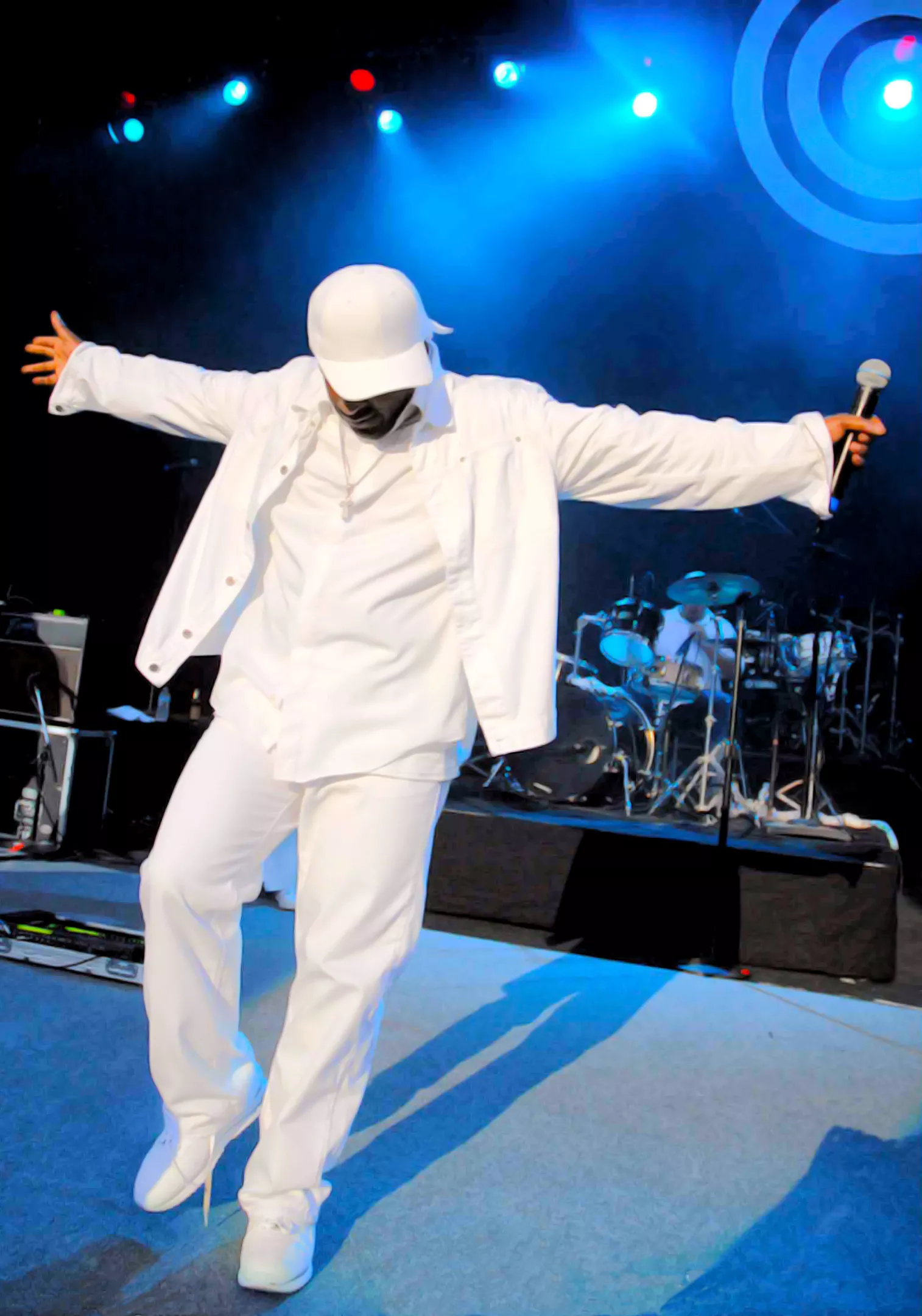 photo by Gary Greene
Pato Banton
Does Humboldt move to a reggae beat? My esteemed colleague A. Goff suggests as much discussing the Kiwi reggae band Katchafire, which plays an AS Presents show at the Depot Tuesday (see our Calendar section). Reggae trivia side note: The band took its name from the title of the first American release by The Wailers.
What Andrew did not mention is the plethora of other reggae shows this week, starting Thursday at the Jambalaya with a two-fer: Trinidadian singer Marlon Asher is all about the Rasta vibe with songs like "Blessings," "Give Thanks and Praises" and "Love of Jah," but he's best known for his hit, "Ganja Farmer," to the point that he's aka The Ganja Farmer. He's on tour with Jamaican dancehall deejay Owen Ricardo Brown aka Al Pancho.
Then on Saturday, Just 'Cause brings the "Building An Ark Tour" to Arcata Theatre Lounge featuring educational reggae by Groundation, a band that actually came out of a college class at Sonoma State on the "History and Culture of Reggae Music." Back in 1998, course instructor Harrison Stafford, who plays guitar, assembled a band that included students Ryan Newman on bass and Marcus Urani on keys; the aggregation added more members over the years and has traveled around the world spreading a positive consciousness message. Opening the show: Kevin Kinsella, formerly of John Brown's Body and 10 ft. Ganja Plant, with DJ Dub Cowboy spinning between sets.
Then on Monday at the Jambalaya, the usual rocksteady night with Pressure Beat Sound expands with Pato Banton and The New Generation. Born in Birmingham, England, Pato came up in the British reggae/ska scene, scored some hits over there, then relocated to Cali. Never really a Rasta type, he embraced the teachings in The Urantia Book. In a recent post on Facebook he poses this question: "As human beings we have five senses that are known to us: Touch, Sight, Hearing, Taste and Smell. The Urantia Book says that in our next life we will have access to 70 senses. Does anyone have any ideas what some of those new senses could be or what they would allow us to do/experience?" Hmmm, I'll think about it.
Sometimes Madi Simmons writes and sings reggae tunes, in fact most of the time. He's also one funky dude, as you'll see Saturday night at the Jambalaya when he lets his inner JB loose in a tribute to James Brown featuring an all-star lineup of Humboldt funksters. "I Feel Good," already. (I'm guessing some of those local funksters will be found at Six Rivers Friday night where Bump Foundation gets funky for y'all.)
Also funky: Dãm-Funk, aka Damon, a funkmeister who hosts a Monday-night "funkmosphere" party in L.A. featuring '80s style galactic funkiness. His tour behind a new Stones Throw release, Love, Peace and Funky Beats, hits The Depot Thursday. It includes live accompaniment from Mazter Blazter and as an extra added bonus the return of the infamous Thanksgiving Brown, a Humboldt hip hop legend back in the day.
Mo' funk, on the G-Dead jammy side, on Friday at Arcata Theatre Lounge when Passion presents Melvin Seals and JGB, as in old school funk organist Seals and the remnants of the Jerry Garcia Band. As Melvin explains it, "Jerry is not here, and we know that. But I was there to understand the music, and I look for musicians with the vibe and flare, to where you can close your eyes and feel the warmth that you felt with Jerry, because that's about all that's left. ... We don't want to lose it."
Also semi-funky: guitarist/multi-instrumentalist Tim Reynolds who is taking a break from his day job with The Dave Matthews Band to tour with a trio, TR3. The trio returns to Humboldt Brews Wednesday, Sept. 6.
Yes, Saturday is Arts Alive! night and yes, there will be art -- and music -- all around Eureka. Scotch Wiggly holds court on the big stage of the Eureka Theater. In a recent chat bandmember Franko Mancinelli described the SW's rock sound as "old school," explaining, "except for Jackson, the drummer, no one in the band is under 50, and we draw a lot on '60s psychedelia. Oh, and of course, Stevo plays the Theremin on a coupla songs," which sets them apart. "I always thought we have really good original sound," said Franko. "Our songs don't all sound the same after three tunes like a lot of original bands, mostly cuz we've got four different songwriters and four different lead vocalists." He describes the band's amalgam of styles as "superhybridity," explaining further, "Man, I'm so genre'd out... It's the magic that comes out of the musician and the instrument that gets me -- the spell of the music, before your mind starts to analyze it." OK, no analysis, we'll just listen and absorb the Wiggly magic.
Seeing that The Preservation is playing Thursday at Humboldt Brews, I thought, I know that name, who is it? Then I remembered, it's the new (ish) band fronted by former local Mario Matteoli, formerly of The Weary Boys, with Mario's lovely wife Cayce sharing vocals doing "cosmic American music" in a country/Americana vein. Good stuff.
Fiddler Blake Ritter is back in town, now teamed with Bucky Walters mandolinist Rich Kearns as Blake and Rich, mixing Celtic and bluegrass with Americana. The duo has a few gigs coming up starting with one on Friday at Mosgo's. Check it out on ReverbNation (/blakeandrich) or better yet, in person -- truly fine pickin' and fiddlin'.
Hip hop heads alert: Aesop from Living Legends, Friday at the Jambalaya, nuff said.
Ready to rock (and roll)? Two local power trios, Ninabis and Silent Giants offer what's describes as a "ground shaking night of rock" Saturday at HumBrews.
Remember the question posed a few weeks back about where to put the alt. shows scheduled for the shuttered Eureka Alibi? Well, the Sunday night show featuring RTX and Nashville rebel rock girl group Heavy Cream moved to Nocturnum, and if people turn out, that may be the location for more shows along those lines. Regarding RTX, that's the new band name for Jennifer Herrema, formerly of Royal Trux, with Neil Hagerty. That duo played a key role in indie/alt. music history: They were instrumental in getting the record labels Drag City and Domino Records going, and they worked as producers for many bands including The Kills and The Palace Brothers. Herrema went on to a career in rock journalism, art and fashion (she has her own denim line), but she still rocks out, now as RTX. Opening the show, U-tweaka's favorite boy band, Eureka Garbage Co.
Check Muse for a preview of the North Country Fair's annual Samba Parade with Samba da Alegria next weekend. It's a volunteer thing, but there are expenses, thus the benefit Sunday night at the Arcata Playhouse with SambAmore (part of the parade) plus local rockers Children of the Sun and The Small Axe.
So, this coming Monday is Labor Day. Workers of the world cast off your shackles and head down to Los Bagels in Arcata for the 26th Annual I Block Party, once again raising funds for the Arcata-Camoapa Sister City Project. There's always a killer barbeque, local brews, a silent auction with cool stuff from local businesses as well as Nicaragua (that's where Camoapa is), and of course, music. Specifically, they'll have a stripped down Striped Pig Duo, Gordissimo, a jazz quintet with vocalist Rose Armin-Hoilland and Aber Miller on keys among other (also playing Tuesday night at Six Rivers), and for your dancing pleasure, Vintage Soul, whose name says it all. Incidentally, some of the same players make up Vintage Jazz, who play vintage jazz at Libation Friday night.