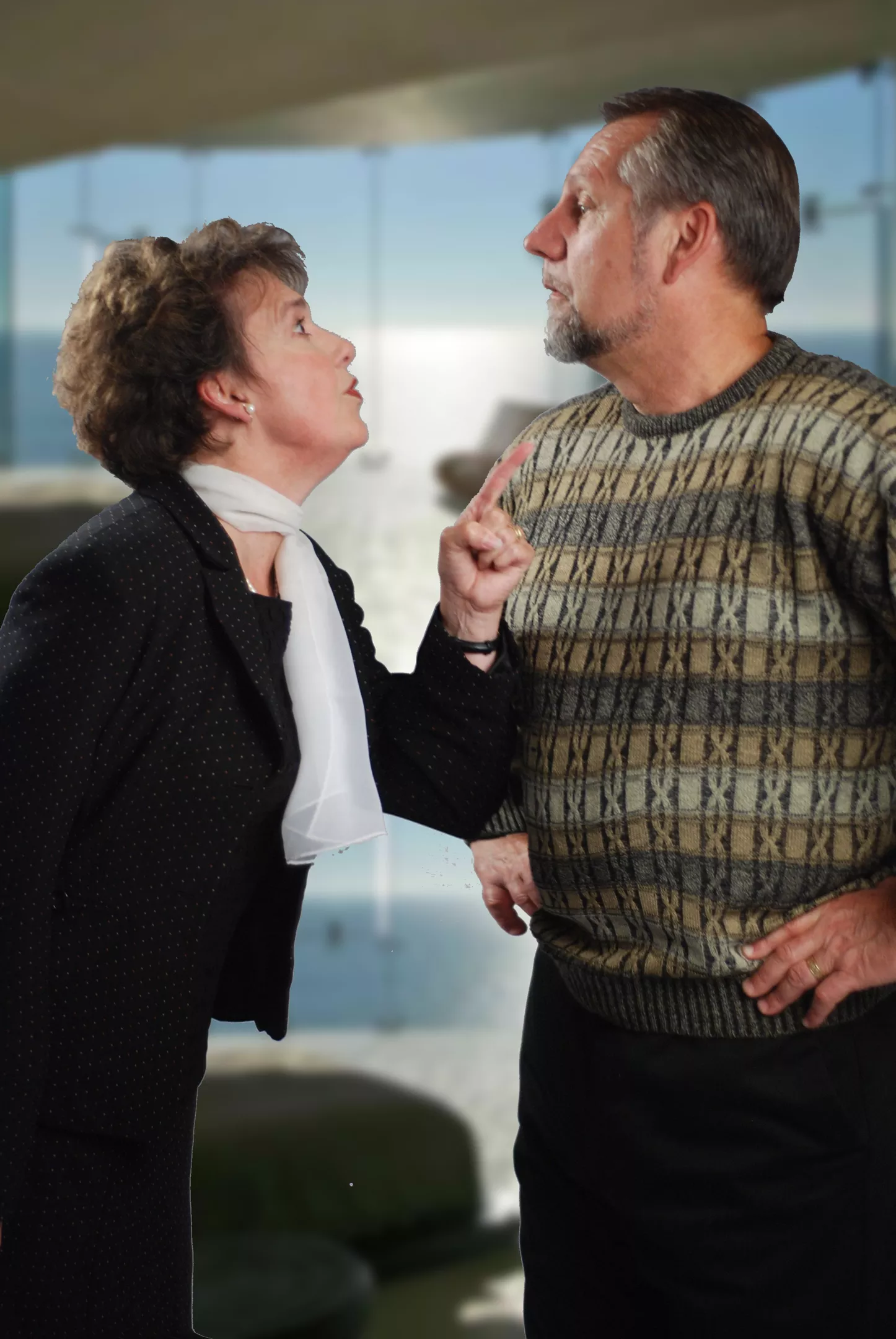 courtesy of Redwood Curtain
Bonnie and Ron Halverson play Marnie and Jerry in Show People
In Show People, the contemporary comedy now on stage at Redwood Curtain in Eureka, the middle-aged acting couple of Marnie and Jerry (played by Bonnie Halverson and Ron Halverson) begin their latest performance. But it's not on stage, where they haven't worked in a decade: it's at a posh vacation home with an ocean view. All they know about Tom, their employer (Nathan Emmons), is that he's a software entrepreneur currently negotiating a huge buyout by Microsoft. They're supposed to play his parents, for the benefit of his soon-to-be fiancé, Natalie (Nanette Voss-Herlihy).
Any ethical questions are bypassed for the work of improvising convincing characters, as well as to the sorely needed payday. From here the plot moves quickly but in directions that it would be unfair to divulge, in deference to potential audiences. A first act revelation only complicates the possibilities, leading to a buzz of intermission wonderment. Though the second act wanders a bit, it does resolve neatly.
Apart from clever plot twists and turns, the thinness of the play is counteracted by the characterizations and performances, with room to grow. Bonnie and Ron Halverson play the realities rather than the stereotypes of professional actors. Nanette Voss-Herlihy plays Natalie's earnestness and vulnerability. But none of it would work without yet another superior performance by Nathan Emmons, who again proves he can be subtle as well as powerful.
In the course of the play, we learn of Jerry and Marnie's dappled careers as a Broadway couple who never quite achieved stardom, including an opening night Jerry believes could have taken them to the next level, but it was ruined by a backstage mishap. That night will return to haunt him one more time.
We learn of the strong crosscurrents of their marriage, as well as Natalie's youthful ambitions and doubts, and as the play strays into Who's Afraid of Virginia Woolf? territory, shards of Tom's family background are sent flying. But the play pulls back from any real engagement, leaving us to ponder the subtext of powerful yearnings for the conventionally perfect family and perfect life.
Though not at the level of the theatrical in-jokes of Shakespeare in Love (for instance), there is some sardonic commentary on theatrical history and contemporary practice. There is also a version of a famous Hamlet soliloquy that is a slightly exaggerated version of an all too familiar approach.
The credibility of the plot depends on the seductive mystique of the garage-to-riches techie billionaires and their potential position as the wealthy eccentrics of the age, especially as combined with the quiet desperation of financially as well as emotionally vulnerable actors dependent on capricious outside forces for their sustenance and their opportunities to perform.
The result is a mostly clever though convention-riddled diversion, conveniently packaged in a nice two hours. It would be nothing more than this except for the humanity that these actors bring to roles that reviews suggest have been interpreted much differently elsewhere.
Playwright Paul Weitz first attracted attention as a screenwriter and director, beginning with American Pie in 1999. He followed up his successful romantic comedy film In Good Company (2004) with three stage plays, including this one in 2006. He continues to work in film, directing Little Fockers in 2010.
Show People is very capably directed by Clint Rebik, with an attractive and functional set by Liz Uhazy, lighting by Greta Stockwell, sound by Jon Turney and costumes by Sarah McKinney. It continues at Redwood Curtain Thursdays-Saturdays at 8 p.m. through July 28, with a 2 p.m. Sunday matinee on July 22.
Coming Up:
Parents who enjoy an outdoor show with the family at the Mad River Festival, but had doubts about explaining Mary Jane: The Musical to their children, can confidently bring the kids to Dell Arte's The Fish in My Head this coming weekend, July 12-14, at 7:30 p.m. and Sunday July 15 at 4 p.m. in the amphitheatre out back. It's a self-created, circus-style fantasy about "the untold stories that swim around in our dreams," complete with music, acrobatics, physical comedy, masks and stilt-walking. There are special family-friendly admission prices, too.
The Berserker Residents, an ensemble from Philadelphia, will perform their "burlesque cabaret meets three-ring circus" production of The Jersey Devil at the Arcata Playhouse on Friday and Saturday, July 13 and 14, at 8 p.m. There's an opening act at 7:30 p.m., too: San Francisco clown Summer Shapiro.
Speaking of cabaret, Ferndale Repertory Theatre opens the famed musical Cabaret on Friday, July 13, at 8 p.m. Though this show set in 1930s Berlin has been revived and revised several times since its 1966 Broadway debut, many probably still know it from the 1972 film version with Liza Minnelli and Joel Grey. However, the stage play is different from the film to an even greater degree than usual.
On Saturday, July 14, North Coast Repertory Theatre holds a fundraiser at the Wharfinger Building in Eureka. It's the 2012 Pirate Ball, with music by The Delta Nationals and performance by the Ya Habibi Dance Company, among other swashbuckling features. Doors open at 7 p.m.