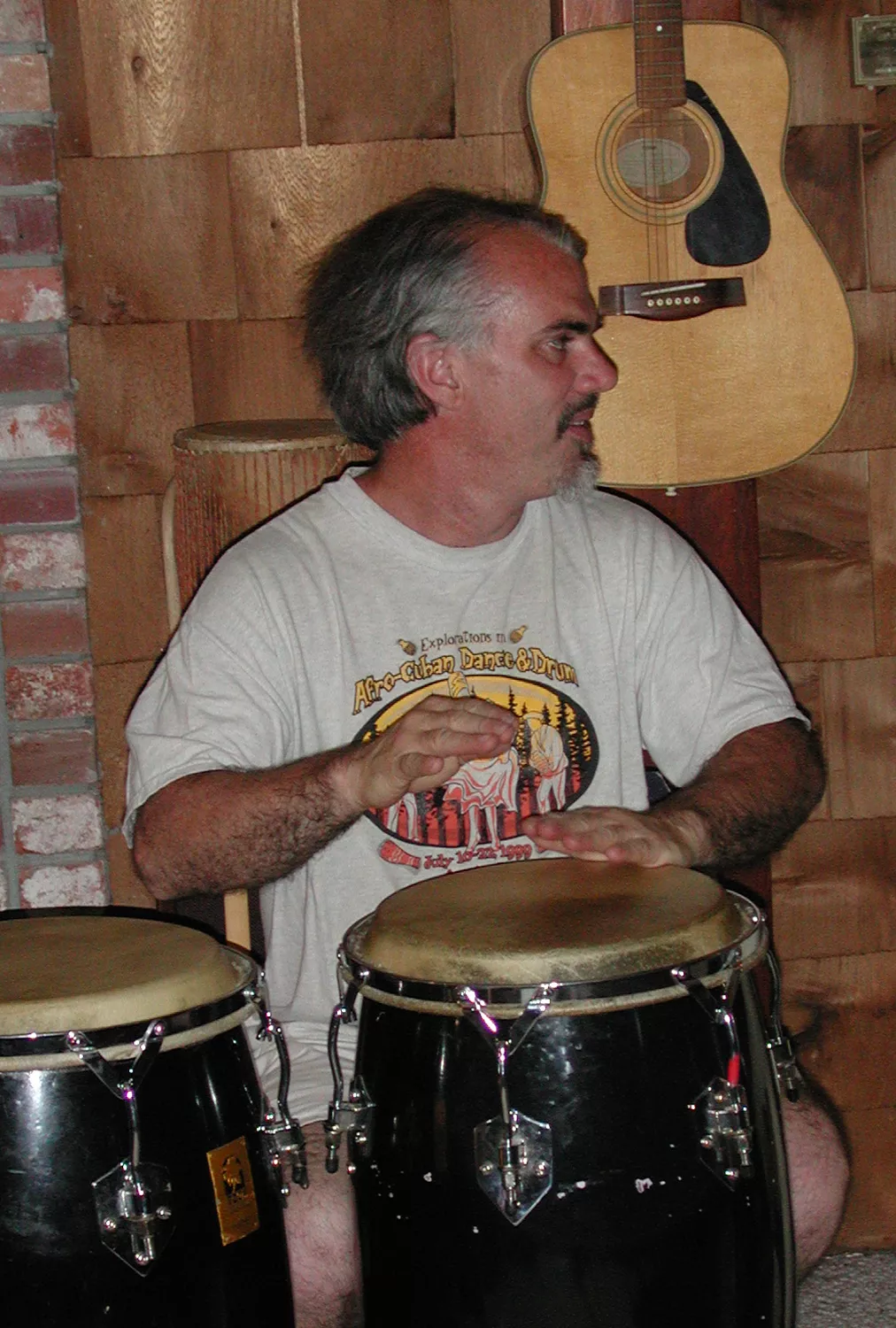 photo by Bob Doran
David Peñalosa
Unless you were up on the Humboldt State campus this week and heard the drumming, or perhaps stopped by the Jambalaya on Saturday for Ponche's set, you were probably unaware that some of the world's top AfroCuban folkloric dancers and drummers are in town. Since 1996 local music teacher/musician Howie Kaufman has led Explorations in Afro-Cuban Dance and Drum, a workshop series at HSU that brings teachers and students from far and wide. As reported in a Journal cover story, "The Cuban Connection," 10 years ago, the passion for the clavé rhythm led some seriously dedicated Humboldters to find ways around the U.S. blockade of the Caribbean island and bring Cuban music and musicians here.
"Howie has created something that's pretty remarkable," said David Peñalosa, a workshop teacher who helped kick off the local obsession when he moved to SoHum in the '70s. "It's the biggest assemblage of Afro-Cuban folkloric masters in the country and it's right here in Arcata."
Among the drummers is Havana native Lázaro Galarraga who helped found the Conjunto Folklorico Nacional de Cuba. "Some of our faculty members are as important in folkloric music as Miles Davis is in jazz," said Kaufman. "Those who know anything about this music honor the abilities of Lázaro Galarraga as you would a Miles Davis. And some of the other drum teachers are just as highly respected." That would include S.F.-based John Santos, a five-time Grammy nominee from the disbanded Machete Ensemble.
On the dance side, there's Ana Pérez Herrera, vocalist and principal dancer for the world-renowned Los Muñequitos de Matanzas. As an Explorations participant who came up from the Bay Area explained, the workshops are all the more amazing since the accompaniment for the dancing is live, with the world-class percussionists playing the music. Classes are wrapping up this week; the students and teachers will be heading home Sunday.
But first there's Saturday night's faculty concert at HSU's Van Duzer Theatre, your opportunity to hear some of the finest Afro-Cuban folkloric musicians around and see some truly amazing dancing. Be forewarned: The beat is infectious, you might feel compelled to learn more, or at least get up out of your seat and dance.
Speaking of infectious beats, Big Sam's Funky Nation bring the rhythms and brass of New Orleans to the Jambalaya Monday night. Funky Nation founder Big Sam Williams started playing trombone in The Dirty Dozen Brass Band while still a teenager, later played on the Grammy-nominated Elvis Costello/Allen Toussaint disc River in Reverse and showed up in a recurring role on Treme. The Nation's self-described "Nola-delic powerfunk" comes to the Jam straight from headlining the Volcanic Funk Fest up in Bend.
One of my faves among the many, many great acts at Saturday's Humboldt Folklife Festival was the rock/folk outfit The Trouble, who dropped in last minute to replace Kenny Ray, who was hospitalized following a serious tractor accident (get well soon, Ken). Catch The Trouble this Saturday at the Jambalaya where they share the bill with (classic) rockers Sour Cream in a benefit for the Humboldt Crabs.
Got an email the other day from traveling musician Tom Smith. Like many artists coming this way (he's at Mosgo's Saturday night), he was looking for some press. As I do on occasion, I replied with some generic questions: Who are you? What do you do? Why that? Often folks will simply respond with a link to some website, MySpace or Facebook -- Mr. Smith did that, then took it a little farther.
"Who are you? Wow' that is a cut-to-the-chase kind of question. The elevator answer would be that I am a guitarist, banjo player locating out of Nashville. I also build and repair guitars. Who I am is a father who is an artist, who has realized that probably the most important thing I can demonstrate as a father is that you can achieve your dreams, not simply say it is possible, but ride the pony. You know as well as I do that art reflects life, not really the other way around. That life, no matter what you want to achieve, be an architect, a graphic artist, a really brilliant plumber, requires that extra mile to be satisfying.
"Why do what I do? Great question! I think it is possible to have an original viewpoint and make a living from exchanging it with the world. As jaded as this world sometimes seems, I think people really are, well, people. The world is full of people with dreams, you can see those dreams, you can see all of that stuff that makes up life, and you can communicate some of it. You can touch people's hearts, and understand your own."
Same who-are-you routine for Mishey from The Touchies, who share a bill with Splinter Cell Saturday night at the Arcata Alibi. His response: "My name is Mishey Touchie, bassist for the San Diego punk rock-n-roll band called The Touchies. We were formed a few years ago on Halloween night by lead singer and guitarist Stanze Touchie, drummer Gigo Touchie, and [me]. We had all been in other bands in San Diego in the past and were thinking about forming a band that was more about getting together and having pints with friends, having a good time and playing fast, fun rock 'n' roll, instead of trying to take ourselves too serious like some bands do... This is our first tour, and we are very excited about playing for different people. We will have CDs [Friends of the Friendless and Best Local Recording] and merch at the shows. Please go to our Facebook/ReverbNation/website/ for more news, music and pics."
That's one of two shows this week for local "fun punk" trio Splinter Cell, who also open a Tuesday show at the Jambalaya for Buffalo Killers, a Cincinnati-based guitar rock trio with two brothers, Zach and Andrew Gabbard, on tour behind their third album, appropriately titled 3. Chris Robinson of The Black Crowes befriended the band and invited them on tour, and Dan Auerbach of The Black Keys produced BK's sophomore CD, which may gives you some hint of their sound.
Speaking of killers, Bret from Drifter Killer writes to say, "We're playing Thursday the 28th at the E-town Alibi with Ash Reiter. If you haven't heard them, they're kind of a folk/indie/pop band from Berkeley. I've been listening to their album Paper Diamonds, and it's pretty infectious bubblegum -- in a good sorta way. Also on the bill, Arcata folkies Gunsafe, who have frequently played at Little Shop of Hers on Arts Alive!"
That same Thursday, mad cellist Rushad Eggleston brings his Tornado Riders to the Red Fox to share a bill with Judgment Day.
Coming to the Fox Sunday, the tres funky all-star collective Lettuce (remember them from the Black and White Ball?) along with (Afro)funky semi-locals Afromassive. As the late great James B. used to say, "Gonna have a funky good time."
Sunday's Deep Groove Society session at the Jambalaya (aka Sundaze) features veteran house music master Doc Martin, celebrating 25 years of electro with a three-and-a-half hour set, preceded by Derek Watts, who has been with DGS since 2000.
Dead guitar god Jerry Garcia would have turned 69 on Aug. 1, had he not died. As we all know, his legend lingers and Dead cover bands abound. Two local ones play soon. Broken Wheel with Don Barry on guitar, Gary Davidson bass, Tofu Mike drums and two singers, plays Friday at the Clam Beach Inn. The Miracle Show plays Monday, Jerry's b-day at the Red Fox. Play on.