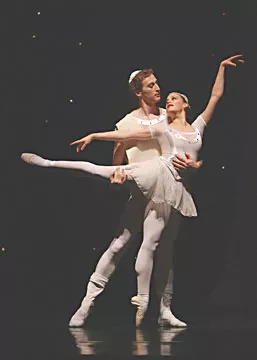 I wanted to be dazzled. Christmas ballet programs are high-tech, high-quality entertainment. I wasn't looking to be moved, only pleasantly distracted. From the start, Smuin Ballet's The Classical Christmas wasn't going to deliver. Although the requisite dance chops were present, the troupe's unisons and executions were not piquant. The thing about great ballet: it has to be flawless, perfection so smooth it isn't noticed.
The biggest problem was the number of pieces -- 15 of them, set to 15 different pieces of music -- leading to the second problem, undeveloped choreography. There were too many ideas, not allowing the dancers to dig into their artistry. Even when dancers completed spectacular lifts, I did not feel their relationship to each other, to the music, to the movement or to us. It takes more than striking a classical pose and staring out to pull me in. There were some great partnerings -- a woman spiraled around a man's body as he carried her from upstage diagonally downstage -- but like other interesting relationships, it jumped in, leading nowhere.
Puzzling were the three exquisite separate duets, onstage at the same time, to some version of Silent Night (unfortunately, I can't tell you which: None of the 30 pieces of music used in this behemoth of a concert was credited with the artists who recorded them). I cannot understand how director Michael Smuin could have made this postmodern dream of a dance and put together the rest of the program. There was striking energy; the dancers committed to every aspect of performance. Why didn't he give them work that could draw this type of dancing out more often?
During intermission I overheard, "Some of the pieces were good." Some? We should have to wait for some? The second half, The Cool Christmas -- set to popular music and danced in heels or jazz shoes -- explained Smuin Ballet's great popularity (annoyingly touted in the program notes). The dancers are great at Broadway movie-style dancing, with alotta leg and alotta crotch, utilizing their ballet technique rather seamlessly. Again: overkill. Another 15 dances set to 15 pieces of uncredited music.
A trio of men with martinis, dancing to a swingin'-singles version of Jingle Bells, blew me away, coming together for a hilarious, dance-driven romp. Many of the dances in this section showed promise but went nowhere. Smuin is funny but expects his dancers to cover every possible genre, not giving them time to grapple. The amount of work that went into this concert is unimaginable, so maybe I should not be so critical. Perhaps I should go back to wanting to be moved.