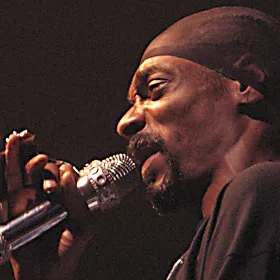 Snoop Dog at the Eureka Muni, Oct. 25, 2007

In concert Thursday, Oct. 25., 2007
At the Eureka Muni.
I was convinced that the Snoop show, which went down Oct. 25 at the Eureka Municipal Auditorium, would be a total sausage fest (mostly dudes I mean). I thought said sausages would shed tears and scream and jump up and down excitedly, kind of like those audience members you see in footage of Beatles' concerts.
Boy, was I wrong. Turns out, a Snoop show is quite the family event. Families with kids that looked to be 11-12 years old and groups of autonomous teens were lined up to get in. I asked Bob D., "Do you think Snoop's still gonna say 'hos' and 'bitches'?" He laughed at me and said "Of course."
And yes, there were drunk and stoned adults too, with the ratio of men to women being quite balanced. Silly me, I had forgotten that the Dogg is totally a sex icon, wanted by thousands, maybe millions, of women worldwide.
Potluck opened the show, and they were friggin' awesome. The duo, 1 Ton and UnderRated, who are from Humboldt County, have managed to take themselves far with their love/promotion of marijuana culture. They had some badass merchandise going on too — bootie shorts that say "Stoner Bitch," for example. The Snoop merchandise, on the other hand, blew ass. Only dark green t-shirts with Snoop in a plaid golfer's cap were available for purchase for $25. No thanks.
By the time Snoop and his crew hit the stage, the crowd was super hyped up. He and his team launched into a set list that did not seem very fresh. At first, they seemed to be just going through the motions. There was an extensive segment of the show dedicated to Tupac, who was murdered in 1996. Snoop seemed irritated when the crowd didn't chant Pac's name loud enough, but the crowd was so young I can't imagine that too many of them were up on that shit.
The set did have many classics, including "Gin and Juice," "Lodi Dodi," "Beautiful" and "Murder was the Case." They also did a cover of the House of Pain song "Jump Around." Didn't see that one coming.
The pot thrown on stage started as a small trickle, but the flow picked up about halfway through the show. Bags of weed, joints, blunts and loose buds were hurled onto the stage throughout the performance. It didn't take too long before the performers started smokin' the goods. It was then that they really seemed like they were having fun. Eventually, the massive colas started to appear, and Snoop held them up proudly as he declared his love for Humboldt County. He also made sure the audience knew that the best weed he's ever smoked was from here. It was certainly a proud moment for everyone in the crowd.
Snoop covered his bases, which were Tupac and his love for ladies and weed. Aside from some sound problems, the show went off without a hitch. 'Twas legendary.