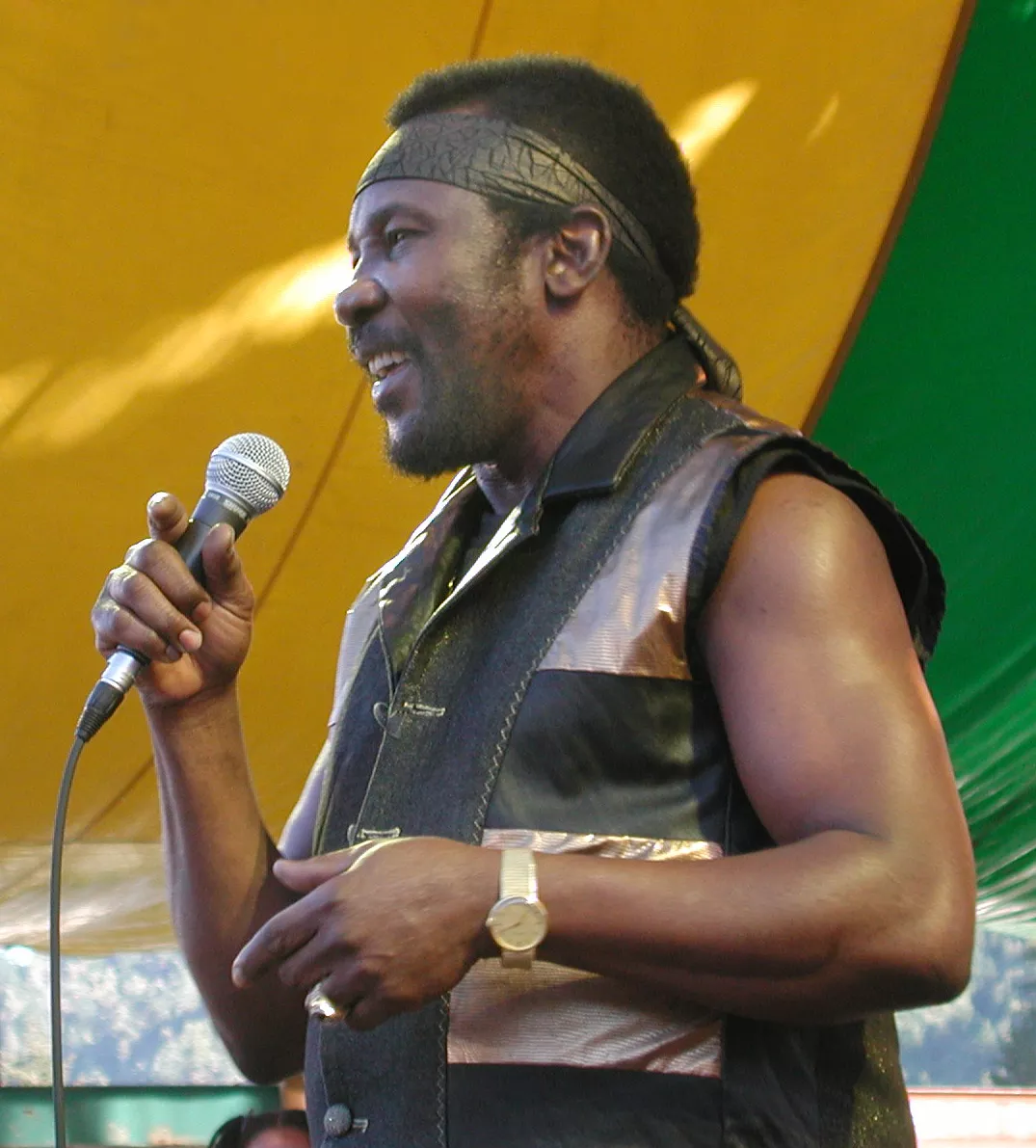 photo by Bob Doran
Toots Hibbert at Reggae on the River 2005
Another year, another Reggae on the River: Saturday and Sunday at Benbow Lake State Recreation Area south of Garberville the Mateel Community Center will host its 28th annual reggae and world music festival. This one's another step in what the Mateel folks are calling "the continuing evolution of MCC's grassroots reclamation of the great Reggae On The River tradition," biding farewell to Benbow "as the event gears up for a big return home to its original French's Camp venue in 2013."
Explaining how this year fits into the twists and turns in the history and future of Reggae on the River is, as they say on Facebook, "complicated." Going home to French's will be complicated, too. We'll get to that in a minute. First let's take a quick look at the music lineup for this weekend.
Headliner Frederick "Toots" Hibbert and The Maytals closes Saturday night's show with a set starting at 8:30 p.m. on the Main Stage. The soulful Toots, who has a music career stretching back 50 years, is arguably the man who gave reggae its name with his song "Do the Reggay." Added bonus, his son, Junior Toots, plays earlier that day (4:25 p.m.) on the River Stage.
Closing Sunday's show is Midnite, led by the Benjamin brothers, Vaughn and Ron, the top band in the St. Croix/Virgin Island reggae movement. Other islanders at the fest include St. Croix songstress Lady Passion (4:50 Sunday) and Bambú Station with Reemah playing Saturday (6:55).
While Midnite is on the Main Stage Sunday, Jamaican dancehall queen Lady Saw closes out the River Stage. Known as a female pioneer in slackness, she has apparently left her nasty ways behind for conscious music.
What would RotR be without a Marley? Young Daniel Bambaata Marley, son of Ziggy, grandson of Bob, plays Sunday (7:05 p.m.). Other progeny: Nkulee Dube, daughter of the late great South African reggae icon Lucky Dube, plays Saturday (3:55).
Speaking of Bob and The Wailers, a band of Jamaican all-stars led by bassist Fully Fullwood offers a tribute, Tosh Meets Marley, Saturday (2:35) with Tony Chin and Vince Black on guitars.
Taking things international: the awesome Zimbabwean guitarist Oliver "Tuku" Mtukudzi and Black Spirits Sunday (3:30); five-time Calypso Queen from Tobago Calypso Rose backed by Yellow Wall Dub Squad Sunday (1:50); Argentinean reggae/dancehall/hip-hop star Alika Saturday (1:30); and London-born reggae/ska vet Pato Banton (who now lives in Cali) Sunday (5:10).
Representing Humboldt reggae, two bands open the show (at 11 a.m.) on the River Stage: Saturday it's Synrgy (who left us for Ashland); Sunday, JUCE, who add touches of hip hop and dub to the mix. And that's just a few of the 30-plus acts playing.
You may notice that the closers start fairly early -- there's a 10 p.m. curfew at the park. Those who want to party into the wee hours have Awake Nation's Cooks Valley Late Night Dancehall Dome down the road. This separate party at Keith Bowman's Cooks Valley Campground (with separate admission) starts Friday at noon and promises music all night ranging from harder dancehall to dub and dubstep. Among the performers: Cocoa Tea and Lutan Fyah backed by The Caution Band, Norris Man, Rocker-T and Humboldt's Lion Camp crew with Jah Sun, Ishi Dube, Stevie Culture, etc. plus DJs galore with Bass Craft providing the bottom-heavy sound system. A shuttle will take you from one show to the other, but the Mateel is not involved.
"They're kind of riding our coattails," said Doug Green, president of the Mateel board. It's not clear what role Cooks Valley may play next year when, if all goes according to plan, RotR moves back upriver to French's Camp near Cooks.
Green is working hard on getting the required permits to return to French's in part because Benbow is less than ideal. He says he doesn't exactly want to "go back to the good old days," but there are things people miss. The older model, he says, "is about creating community. ... People want to camp together and have that experience -- and we'd like to go later than 10 o'clock." Green also notes there is "insecurity about whether the park will stay open" caused by trouble in the state park system.
Green actually put of a couple of rock concerts at French's in 1980 and '82 and had started developing the property into a venue before the first Reggae on the River was held as a fundraiser to rebuild the Mateel Hall after a fire. The festival grew and grew over a couple of decades, then blew up a few years ago after expanding across the river to Dimmick Ranch, the property next door to Cooks Valley.
What became known as the "Reggae War" followed with a divided SoHum community taking sides and an alternate fest, "Reggae Rising," rising and falling amid a brutal, expensive legal battle that left Dimmick Ranch owner Tom Dimmick deep in debt.
After Dimmick defaulted on a $1 million loan with Redwood Capital Bank, it looked like the ranch would be auctioned off to the highest bidder. Green and Mateel GM Justin Crellin showed up for the auction. "I was interested in who might be interested in buying it," said Green. But the auction didn't happen: At the last minute, Dimmick staved off foreclosure by filing for bankruptcy.
Working with a new owner on arranging an easement to get into French's would make it easier to get a crowd into the festival. However, "We have no arrangement and there's none possible because the property is in foreclosure," said Green, admitting that he knows little about the legal issues involved. He's still uncertain how everything will work next year, how attendees will enter the property for example, but he's feeling positive after meeting with some of the government agencies involved.
Another complication comes with the stated desire to return Reggae on the River to the first weekend in August. The Gaia Festival on Black Oak Ranch took over those dates when Reggae Rising fell. Will the two festivals go head-to-head? Green said he's hoping to discuss the timing with Gaia's organizers, but again, how it will work out remains uncertain.
What is certain is that the Mateel folks have a reggae festival to run this weekend, and it should be a good one.