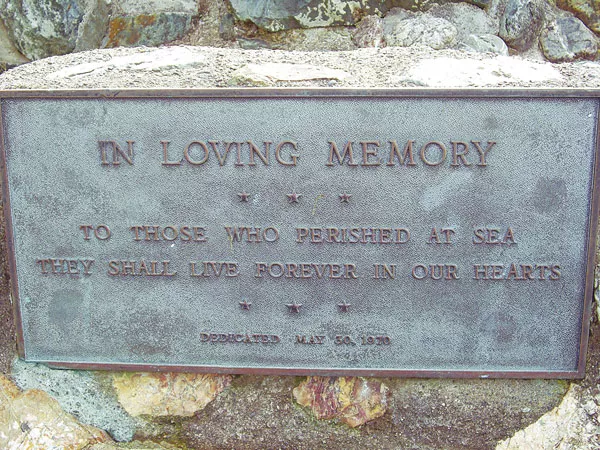 Trinidad memorial to those lost at sea, about 2000 feet from the crash site, photographed by Milushev's mother. Photo courtesy of Richard Collier.
It was largely a coincidence that the interview took place on March 1, a year to the day from when the single-prop airplane occupied by 30-year-old Florida pilot Vladislav Milushev and his 60-year-old passenger, Rick Gustafson, plunged into the cold Pacific less than a mile from Trinidad Head. During that year, Humboldt County Airports Manager Jacqueline Hulsey has blatantly avoided answering questions about the incident -- and, more to the point, questions about the phone call (or calls) that night between her and the airport service worker on duty. Hulsey's subsequent erroneous report to Seattle Air Traffic Control -- that the plane had landed safely at the Arcata-Eureka Airport -- caused a 12-hour delay in search and rescue efforts, a delay that erased any chance the men may have had to be saved ("The Plane That Wasn't There," Dec. 17, 2009).
Hulsey's silence has only intensified scrutiny. Family members of the men who died that night, particularly Gustafson's adult daughter, Sheila Jenkins, have publicly expressed their dissatisfaction with Hulsey's performance. Aviation Advisory Board Chair Dax Williamson said in a recent interview on KHUM that Hulsey's actions represent gross negligence. The Journal has made countless attempts to reach Hulsey, even showing up at her office last week only to be told by a secretary that, while Hulsey's presence in the adjacent room could neither be confirmed nor denied, she was unavailable to answer questions.
Monday morning, at the county public works office, Hulsey sat down with her boss, Public Works Director Tom Mattson, to finally address some of the lingering questions. Foremost among those was the nature of the "miscommunication" between Hulsey and Tom Sobehrad, the airport service worker on duty that night. A September report from the National Transportation Safety Board said only that, "due to significant conflicts in their written and oral statements, the content of their phone conversation could not be positively determined."
When asked for details, Hulsey would only say, repeatedly, "It's all in the report." Throughout the interview, Hulsey was rigid, her responses clipped and defensive. When asked if she remembered the conversation in question, she again said, "I'm telling you it's in the report." Mattson, as he would do several times during the interview, eventually stepped in. "Trying to ask her to remember word-for-word what happened in a conversation a year ago, that's difficult," he said. The important thing, he asserted, is that procedures have changed to prevent something like this from happening again.
Asked why she hasn't responded to the families, the media or the Aviation Advisory Committee, Hulsey responded, "OK. I'm talking to you now." Pressed on the matter, she offered several more excuses -- she couldn't speak until the NTSB report came out; she didn't know how to get a hold of Jenkins; being pulled into "the trenches" that night disqualified her from her usual duties as airport spokesperson. (Mattson described this last as common practice.) She also denied actively avoiding the family members, saying she spoke with Milushev's stepfather shortly after the incident and e-mailed Gustafson's wife Judi in May.
The Journal contacted these family members after the interview. Richard Collier, Milushev's stepfather, said by e-mail, "If I spoke to her as she claims, the conversation had no substance. ... I was referred to the Air Traffic Control Facility." Judi Gustafson said that Hulsey's May e-mail said only that she would be unavailable to meet during Judi's visit to Humboldt County -- "nothing more... no sympathies, no condolences." Jenkins was incredulous at Hulsey's claims of not knowing how to reach her. "Complete Humboldt County strangers e-mailed me, as I placed my contact information in every comment on every article ever written [about the incident]," Jenkins wrote.
Mattson offered a different explanation for Hulsey's curious silence: She was too traumatized by the event. In interviews with the Journal and elsewhere, he's even hinted at deeper emotional troubles. On KHUM, for example, Mattson said he's prevented from discussing disciplinary actions against Hulsey in part because of HIPAA, the Health Information Portability and Accountability Act. HIPAA privacy rules guard against the release of certain personal medical information. When asked how this applies to Hulsey, Mattson said, "There's a lot going on with Jackie that's not public. And I can't talk about it. And she's gracious enough to let me say what I've said, but I'm not going to go into very specific details of the humanity inside her that's hurt."
The Journal asked Hulsey if she'd care to elaborate, but she declined to comment.
Toward the end of the interview, Mattson explained apologetically -- and as if Hulsey wasn't sitting next to him -- that her protective shell was up. When the Journal suggested that a show of humanity might be exactly what people are looking for, Hulsey finally softened a bit.
"I take my job very seriously," she said. "And I take what happened very seriously. ... And if you don't think I've played those phone calls over in my head, every night... ." Voice quavering, she continued: "If you want to know human feeling, that's it. Because I do not know what happened, and I play it over, and over, and over. Every night."
Hulsey declined to relate the exact words that run on that loop. She did say she's working on a response to Judi Gustafson's latest e-mail and that, if the Journal could provide contact information for Sheila Jenkins, she'd be willing to speak with her, too. Asked what she would say to the family members if they were in the room, Hulsey's demeanor changed from rigid to timid. "If they were here?" she said hesitantly. "My heart's with 'em. I feel bad for their loss. I have several friends who fly who have been lost. ... I send 'em my condolences."