Chag Lowry knows some stories need to be told to make way for healing. He also knows some stories have been pushed aside and ignored, recast by outsiders or, worse, simply relegated to the dust bins of history as people pretend they never existed, allowing old wounds to fester.
With his third book Soldiers Unknown Lowry is looking to change that, to re-tell the century-old tale of the American soldier's experience in World War I, but with its omissions corrected, its holes filled. At surface level, Lowry's tale is a typical war story about three young men plucked form their country lives and shipped across the world to fight. But this time the three protagonists are Native men, drafted from Pecwan along the banks of the Klamath River and sent to fight in France in the Meuse-Argonne offensive, which began 101 years ago Sept. 26.
Comic written by Chag Lowry, illustrated by Rahsan Ekedal
Lowry: "I've never seen a scene where Native families are just sitting at a dinner table talking. Now we have one. The dialogue by the mother about how the military was killing her people when her mom and dad were little is meant to convey how recent those events were."

Ekedal: "This is one of those images that needed a lot of back and forth collaboration with Chag. How did Yurok people live at this time? What would the inside of a kitchen look like? What would be on the shelves and tables? One particular detail Chag helped me get right is the hand-carved wooden stools."
"We've never seen ourselves represented like this," says Lowry, who is of Yurok, Maidu and Achumawi ancestry, speaking both about seeing Native people depicted in a comic book and witnessing an honest account of how, just decades after a state-sanctioned genocide, Native men signed draft cards and, in some cases, volunteered to take up arms to go to war for the United States years before they would officially be granted citizenship rights by the federal government.
A work of historical fiction released last month by Great Oak Press, Soldiers Unknown follows the story of three Yurok cousins — Morek, Thomas and Charley — drafted to fight in WWI. While the characters and details are fictionalized, the context is not and the story is the product of some 20 years of research by Lowry and a chance encounter a handful of years back.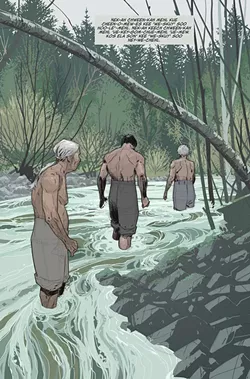 Comic written by Chag Lowry, illustrated by Rahsan Ekedal
Lowry: "Water is an integral part of Yurok life. It's connected to us in all ways. Especially during prayer and ceremony. I chose not to translate either the Yurok or German languages to honor those cultures."

Ekedal: "This page really gained its spirit during the painting process. The pencil sketch was fairly insubstantial, but once I started painting that river landscape and the water itself, I felt something special happening. This might be my favorite image of all."
Lowry was in San Francisco working for the Humboldt Area Foundation in 2013 when he found himself at the same hotel that was hosting WonderCon, an annual comic book, science fiction and film convention. A fan of comics, Lowry thought that if he found a bit of time between his meeting and his flight, he would check out the convention. With only a few minutes to spare, he went to pick one comic artist's name from a list of 60 posted on the convention wall. He decided to look for the most unique and settled on Rahsan Ekedal.
When Lowry approached Ekedal's table, he asked for a sketch of one of his favorite comic book characters, Sgt. Rock, but asked that he be drawn to incorporate a Yurok basket weave design and his grandfather's World War II division patch. The two men chatted over the course of about 20 minutes, with Ekedal telling Lowry he'd grown up between the Mattole and Eel river watersheds as he finished the sketch.
Lowry's head had already been swimming with visions of writing a book about WWI. He said that growing up, he'd always been interested in military veterans, taken by the way they carried themselves, connected and interacted with each other. At ceremonial dances, Lowry always sat with the veterans. By the second grade, he says he was repeatedly checking WWII books out from the school library. But it was while studying journalism at Humboldt State University that Lowry decided to interview his grandfather about his experiences in WWII.
That conversation led Lowry to do a series of interviews with Native WWII veterans and then Korean War veterans, which led to his books Original Patriots: Northern California Indian Veterans of World War Two and Original Patriots: Northern California Indian Veterans of the Korean War. But Lowry said those conversations with Northern California veterans about their war experiences often included the veterans sharing stories of their fathers or elders who served in WWI. Over time, Lowry came to feel compelled to tell a story honoring the more than 10,000 Native men who served in WWI for a country that hadn't yet granted them citizenship rights. The idea captivated him.
"How can we go through genocide and one generation later or two generations later go into the military and be soldiers for the country that tried to wipe us out? And then, who defines that experience?" Lowry says, adding that he came to feel it only right that Native writer take ownership over that story and tell it with the cultural depth that would fully convey these men's sacrifice and the impacts on Native communities.
When Lowry decided that telling these veterans' stories through historical fiction in graphic novel form, figuring it would be a way to hook younger generations into learning about their history, he reached out to Ekedal, with whom he hadn't spoken since their chance meeting at WonderCon a couple years before. Ekedal, a well-known illustrator, says he gets pitched lots of projects and turns down almost all of them because he's "easily bored." But this one was different.

Comic written by Chag Lowry, illustrated by Rahsan Ekedal
Lowry: "I love how Rahsan captured the personalities of each Yurok man. Look how young Morek is, with his cap pushed back. Thomas is linear, lean and tall. Charley is the middle man, the center, strong and hale and the anchor. And I chuckle every time I read that first line, 'You belong to the United States Army now ...' Even though I wrote it, I still laugh. Gallows humor."

Ekedal: "This may have been the first panel I drew of the entire book. I remember reworking it somewhat after I had established the aesthetic elsewhere, to make sure it matched the rest."
"Chag came along with this incredibly unique take on historical fiction and war fiction, and telling a completely unknown story of real Native peoples," Ekedal says. "Truly, there aren't any other comics like Soldiers Unknown. There aren't books like it, or movies. It's entirely unexplored for mainstream audiences. So I was pretty much on board as soon as he described it to me."
But Ekedal also realized the enormity of what he was taking on as a white man now living in Germany — far removed from the North Coast — drawing such an intimate portrayal of Native life and culture.
"How do I say this without exaggerating? I was petrified. Absolutely terrified and filled with trepidation," Ekedal says. "I had to ask Chag a number of times if he was really, really sure he wanted me to do this book."
Lowry was steadfast and the two quickly formed a deep partnership. That was cemented when Ekedal sent Lowry the first thumbnail sketches. Ultimately there were some 700 individual panels in the novel and Lowry says he only requested Ekedal change fewer than a dozen. He still marvels at Ekedal's work on the project.
"It was a gift he gave our people, my people," he says. "We have this weird synergy where he can draw out what I'm thinking. He nailed it every time."
In part to underscore that point, Lowry tells a story. Several years ago, he asked his aunt if he could use her image in the book as an aunt the character Charley gives a fish to and she agreed. A few weeks ago, fresh off the book's release, Lowry tabled at the Yurok Tribe's Klamath Salmon Festival. He ran into his aunt and opened the book to her image. She began crying and left but stopped by Lowry's family home the following day to pick up a copy of the book and gave Lowry a big hug. Seeing herself depicted had just been too much.
"That's a rare experience for Native people," Lowry says.
Making sure the book was culturally and historically accurate was tremendously important, Lowry says, adding that he agonized over seemingly trivial details — like how to spell the sounds of traditional acorn grinding ("shhtk, shhtk") or an obsidian arrow piercing a target ("thhhhp") — because the book needed cultural authenticity. On the historical side, Lowry's work got a noteworthy nod, earning the United States World War One Centennial Commission's endorsement, which only came after it was peer reviewed by a group of academics and military veterans appointed by Presidents Obama and Bush, who ensured its imagery and historic narrative were accurate.
Comic written by Chag Lowry, illustrated by Rahsan Ekedal
Lowry: "Thomas Tucker was a real life Maidu man from my father's people in northeastern California. Charley first views his cultural and spiritual aura as a Grizzly Bear holding wormwood, which is used in ceremony. Again, this is in No-Man's Land. Tucker died in this battle on Sept. 28, 1918. I honored his memory by including him and (hopefully) people will see his bravery and courage and sacrifice in the next couple pages."
"That endorsement on the cover means it can't just be dismissed as a comic," Lowry says, adding that the endorsement was actually one of the last acts of the commission, which was chartered with a five-year lifespan. "I actually sent [the commission] a thank you email. It bounced back, saying, 'This commission no longer exists.'"
For Lowry, the final piece fell into place when he found Great Oak Press, a publishing company founded by the Pechanga Band of Luiseño Indians in 2014 in order to provide an avenue for Native voices to permanently record their knowledge. Lowry had long felt he didn't want to go to a "university press" or some other publishing outfit that would ultimately leave non-Native people in control over the book, how it was distributed and marketed. When he heard of Great Oak Press, he immediately approached it with the book. It had never published a graphic novel before but didn't flinch, and now Lowry is hopeful it may re-publish his prior works.
Lowry says he's still coming to grips with the fact that this book is out, that a decade-long journey is transitioning into something new and that he and Ekedal managed to create something telling and preserving a story that for more than a century had remained untold.
"It's still surreal," he says. "I still honestly hold the book every night, hold a copy of it in my hands every night and look at it."
And the book's impact is just beginning to reverberate. Eureka High School's Yurok language class has agreed to teach the book next semester and Lowry's wife, Rebecca Lowry, an educational consultant, has crafted a curriculum designed to help teachers use it in high school and college level social work, Native American Studies and English classes. (It can be downloaded from www.greatoakpress.com.)
Lowry says he thinks back about his time in school and says he never had any Native people come into his classrooms to talk about basketry, Native culture or Native people's contributions to this country. But now, classrooms are going to be teaching his work, allowing Native students to see themselves reflected in curriculum and images, allowing everyone to see Native communities' sacrifices and contributions. And that has the power to change everything, he says, and recast historic narratives. (Lowry says he personally likes to remind people when talking about current issues, like indigenous water rights, that his grandfather fought Nazis in a foxhole during WWII.)
But mostly Lowry says he views this book as a cultural continuation. Sequential art, like that found in graphic novels, is a uniquely American innovation, he says, but it's also a tool Native cultures have used to tell stories since time immemorial. Through basketry patterns and inscriptions and designs on tools, Native people have long woven history into contemporary context as a way to preserve and understand it, with each generation building on the one before. His greatest hope is that this work will one day inspire some kid in some classroom somewhere to rethink what's possible.
"To me, that's what culture is about, building on each generation's talents and abilities and, hopefully, going beyond or adding or enhancing," he says. "I hope people see we can use this graphic novel as a method to tell our stories now but that we also need to be mindful that it's a continuation, too, of what we've always done."
Soldiers Unkown is available at local bookstores and on Amazon.
Comic written by Chag Lowry, illustrated by Rahsan Ekedal
Lowry: "This is the most poignant page in the book to me. The young men are having a last meal before going to war. The lighting Rahsan uses is perfect: The sun's rays are fading, the men's youthfulness is going away forever. The color shading is soft, the last words are "Brothers." The very next page shows the old man Pershing talking and sending the boys to the fight. Because it's always old men who send young men to battle and death... The battle scenes feature the Native men in central casting. We view the emotions and horrors through their facial expressions, which is something I've never seen in any war movies, comics or books."
Comic written by Chag Lowry, illustrated by Rahsan Ekedal
Ekedal: "This page is literally the fading of the light. From this point on, the color palette drains out and we don't see that color return until the very end."
Comic written by Chag Lowry, illustrated by Rahsan Ekedal
Lowry: "Charley sees our Yurok version of spiritual medicine (or an Angel). I used the design on the basket the young woman is holding as a transition to the same design on page 104's first panel that's on the men's head piece. This design also appears to Charley on the leaf on page 112. Every design or image we have in Yurok and Native cultures has meaning, sometimes multiple meanings."
Thadeus Greenson is the Journal's news editor. He prefers he/him pronouns and can be reached at 442-1400, extension 321, or thad@northcoastjournal.com. Follow him on Twitter @thadeusgreenson.