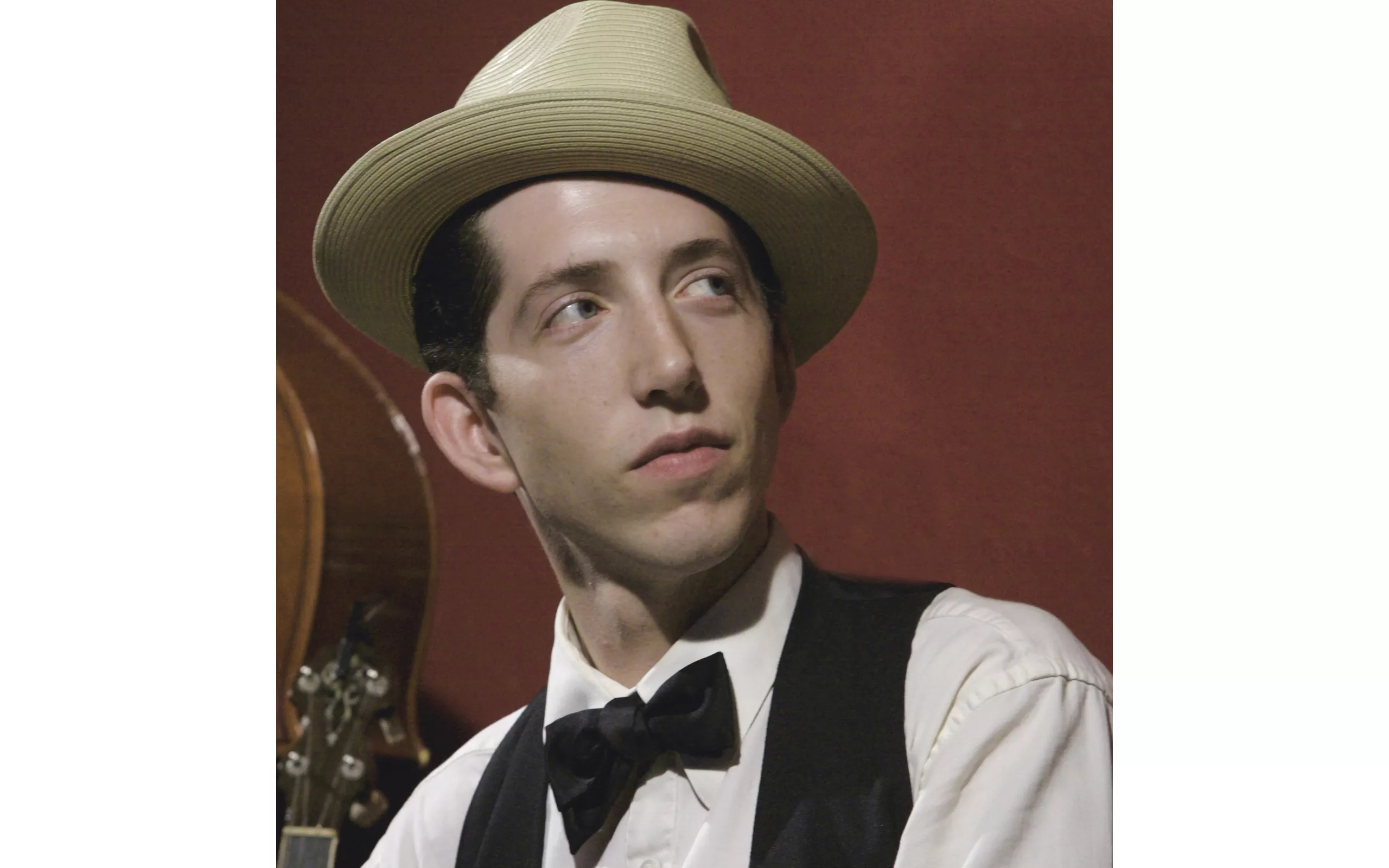 photo by Bill Streeter
Pokey LaFarge
Pokey LaFarge is a 20-something year old, but to look at him, or to hear him sing, you'd think he's a country blues star from the '40s or '50s, maybe even earlier. He called his new album with The South City Three Riverboat Soul -- you can imagine him with garters on his sleeves entertaining gamblers on an old Mississippi riverboat, strumming tunes and blowing his kazoo, playing the blues. Guess you could say he's a retro kind of guy.
He comes from the Midwest, home of old time blues and jug band music. That's where he began his musical archeology. "I started digging my way back -- I heard some modern blues and then worked my way back to the older blues. Like most people, the gateway could be Muddy Waters and Howlin' Wolf -- that's what it was for me.
"Then I was getting into bluegrass at the same time. I went to a couple of bluegrass festivals as a kid. There's one down in Hillsboro, Ill. I went to that and it got me into bluegrass, and I went to Bill Monroe's festival -- getting into the blues and bluegrass. I started educating myself with liner notes and things like that. Once I graduated high school I started meeting more people who played that stuff."
I wondered, how does he take these various streams of American music and make something that's his own? "I don't know if I can say I'm doing that or not," he replied. "I guess at times it's been my intention. That's the whole idea for any artist or musician -- to leave a stamp, your own personal touch on the whole thing. But a lot is just learning to speak the language, having a foundation. A certain amount is learned, a certain amount is inherent."
So the plan is to build on the foundation? "That's right. You progress, add other ideas, all the while trying to stay true to what you feel is real music. You can't try to make the music too new, just to make it -- for lack of a better word, timeless. I don't try to square it too much, just leave it natural as can be. You know what I mean?"
I know exactly what he means. And for my money, he's the real deal -- he's succeeding, as are a bunch of young musicians, putting their stamp on old time music. You can hear some shining examples Saturday at the Jefferson State Old Time Revue, an all-day "musical/foodical/cryptozoological extravaganza" at the Arcata Playhouse assembled by the Missing Link Records crew (with help from Lush Newton). You'll hear locals -- The Vintner's Daughters and Striped Pig String Band -- and some imports: The Blackberry Bushes from Olympia, Hellbound Glory from Reno, The Blair St. Mugwumps from Glenwood, Ore. and, closing the show, Pokey LaFarge and The South City Three. (My plan is to stop by after the Journal's anniversary bash.)
Catch a little Jefferson State preview at the Farmers' Market on the Arcata Plaza that day -- The Blackberry Bushes play starting around 10 a.m. They're also part of a double bill Friday night at Mosgo's with folksinger Josephine Johnson. Josephine, you may recall, is among the stellar cast at the North Coast Journal's massive 20th anniversary bash Saturday on the Eureka Boardwalk, also featuring Samba na Chuva, The Delta Nationals and Magnum.
Reno's top "scumbag country" band Hellbound Glory has a busy Humboldt Indie-day weekend plan: Friday night they play at the Alibi; Saturday, after the Jefferson State show at the Playhouse, they hit the Wave out in Blue Lake. (Across town it's the last night of Dell'Arte's awesome *Blue Lake: The Opera.*) Sunday, the 4th, the Hellbound boys are back at the Alibi for another round of whiskey and whatever.
The Quick and Easy Boys roll in from Portland for a Friday gig at the Jambalaya. I've been listening to their first album, Bad Decisions With Good People, as I work on this column, trying to figure out what they're up to. The disc is almost like a multi-genre mixtape, shifting quickly and easily from style to style, sometime within a song. "Field Trip" slides from stately rock into Chili Pepper-esque wildness. "Q-Tron City" takes them into heavier territory, then they go Latin with "Donde Esta" before a hellbound honky tonk excursion on "Void" and a Tom Waits/Raindogs-style "Whiskey Fever." Their sophomore release, Red Light Rabbit, is just as eclectic, carving out equally wide funk/punk/country territory.
Gary Farmer is probably best known as an actor: He was in First Nations-themed movies Powwow Highway and Smoke Signals, had a couple of roles on Canadian TV and played the sage Nobody in Jim Jarmusch's Dead Man. He also serves as publisher for Aboriginal Voices magazine and co-founded a radio network with that name. All in all, he's a crusader for Native power. Add to that résumé a side career as a boogying bluesman whose songs  -- "Make the Change," for example -- take on social issues. Intrigued? Gary Farmer and the Troublemakers play the blues Friday night at the Wave Lounge.
Got a note from Craige Bradley, drummer for Port Alice, a relatively new local band that I've yet to hear. They're putting out their first disc, an EP called Poor People, and throwing the requisite release party Friday at the Lil' Red Lion before heading out on tour. Who are they? "Well to start, we're not originally from here," says Craige. "Three of us are from New Mexico and the fourth from Salt Lake, but we all live here now and go to HSU. We're a four-piece band, a guitarist/singer (Brandon McDaniel), lead guitar (Colin Gaddy), bass (Jared Pace) and drums (me, Craige Bradley). The easiest way to describe our music (without going too crazy with sub-genres) is alternative rock."
Your weekly reggae dose could come from a couple of Saturday night shows: Santa Rosa-based three-piece The Dirty Dub plays reverb-drenched tunes at Six Rivers Brewery. Meanwhile at the Red Fox, Wassabi Collective, a quintet from B.C., mixes reggae beats in with hip hop, African rhythms and alt. pop. Percussionist Melissa Meretsky is out front with vocals slightly reminiscent of No Doubt (that's not a bad thing). Think Spearhead with a female singer.
Speaking of Reggae, July 1 is the deadline for Tom Dimmick to get his ducks in a row if he wants to pull off Reggae Rising. The Planning Commission gave him until then to produce support letters from various agencies -- the CHP, the Sheriff, CalFire, etc. He has not done so as of press time. "As far as my knowledge goes we have not received any response from the agencies," said Siana Watts, interim clerk for the Commission, although she admitted she's not sure if the agencies are dealing with Dimmick directly and there's merely a lag in paperwork. We'll see on Thursday when they give a thumbs up or thumbs down.
Meanwhile, things are going swimmingly for Reggae on the River, coming July 17 and 18. They're expecting a sold-out show and suggest buying your tickets now -- both full weekend and single day are available.  
As you can see from the piece on Fourth-O events elsewhere in this issue, there's a lot going on on Sunday. The Lil' Red Lion is throwing a parking lot BBQ that day with, count ~~em, five bands: The Hard Ride, I Love Sheep, The Borstal Boys, Future Blues Institute and The King Salmon Duo.
Meanwhile at The Peg House, just over the Mendo border, living legend Ramblin' Jack Elliott, "Last of The Brooklyn Cowboys," strums and sings songs and tells tall tales. (The man tells amazing stories.) Proceeds go to the music departments at Leggett and Southern Humboldt Unified Schools, an extremely worthy cause.
Let's hear it for Independence! See you on the Boardwalk Saturday night.