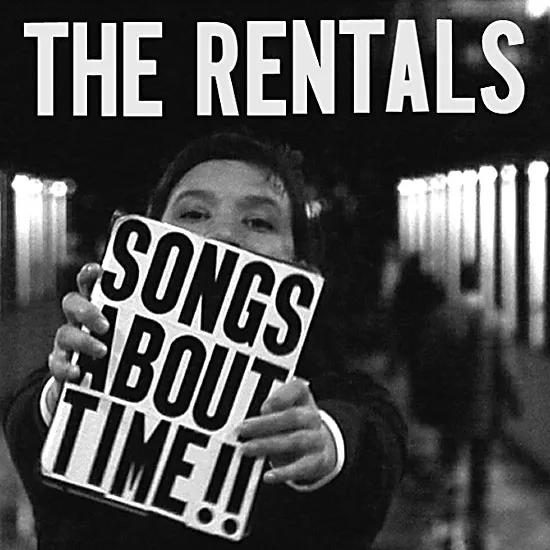 Matt Sharp left the band Weezer in 1997. Weezer has not made a great album since that time. A first-year psychology major knows correlation is not causation, but come on: Something happened. Surely when Sharp left, he took with him the je ne sais quoi that only a goofy, egotistical, falsetto-singing bassist can bring, no?
If only it were so simple, dear power pop-loving reader. Rivers Cuomo of Weezer and Matt Sharp (after two great records with The Rentals) both freaked out in the late '90s; Cuomo retreated to a black-walled L.A. apartment and became a machine, churning out mathematically brilliant, emotionally retarded singles (the latest of which is currently climbing the charts), while Sharp's withdrawal to rural Tennessee yielded hazy sketches of feeling, laconic folk buried under swaths of pedal steel guitar. Result: several years of not-that-awesome records.
Sharp reformed The Rentals in 2005 and their latest effort, Songs About Time, is not only a snapshot of Sharp at his most confident and inspired in years, but also a picture of how pop music could work in a post-MTV, post-CD, post-record-store world.
Songs About Time is an ambitious year-long project involving photographs (daily), short films (weekly) and short albums (quarterly), and it finds The Rentals -- whose membership has never remained consistent, save Sharp -- honing the qualities that have always made the band fun to listen to: complementary male/female vocal harmonies, playful synths, viola hooks, and simplistic, joyful melodies. The second quarterly installment, It's Time to Come Home, is the best, where Sharp's breathy sigh finds a worthy foil in new vocalist Jamie Blake, taking the lumberingly epic "Girls of the Metro" to emotional heights. The final, just-released installment, The Future, is more experimental, replacing full-band sounds with Postal Service-ish drum machines. It's an interesting texture, though the songs feel less meaty than Sharp and co.'s earlier efforts.
Each Songs About Time EP is $4 a download, but if you really want to go whole hog, you can fork over $275 for a zillion value-adds, like backstage passes and an undeveloped roll of film shot by Sharp, shipped to you at the end of the year. An ambitious undertaking, but hey -- if they sell all 365 limited editions, The Rentals will gross over $100k. It's hard to say whether the music biz could survive on this economic model but The Rentals seem to be doing OK. Just take a look at the accompanying films at www.therentals.com; there's a fair amount of black and white brooding, but they offer a compelling look at a musician trying to figure out what to do when the traditional pop infrastructure -- label, records and sometimes the band itself -- disappears.