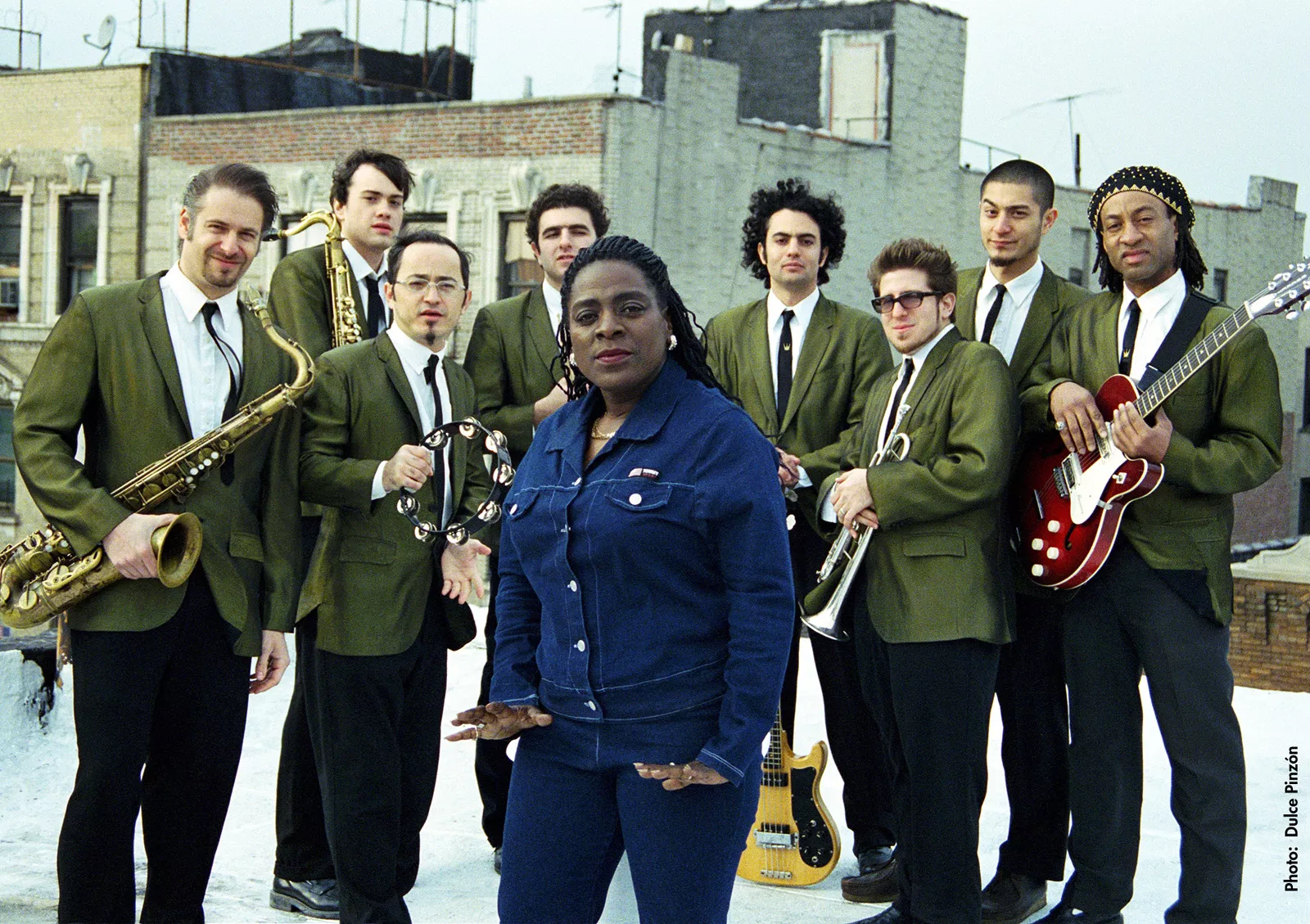 Sharon Jones & The Dap-Kings
There's some major talent coming to town this week, but in my book no show can top next Wednesday's visit by neo-soul masters Sharon Jones & the Dap-Kings, filling The Depot (of all places). Raised on a mix of gospel and James Brown funk, Ms. Jones is a tough cookie who worked for years as a prison guard at Rikers, then as an armored truck guard. In the mid-'90s she made her break in music singing backup for funk/soul singer Lee Fields. She ended up working with a band called The Soul Providers, led by soul revivalists Philip Lehman and Gabriel Roth, guys who preferred analog over digital. When that partnership ended in 2000, Roth formed the Dap-Kings and founded Daptone Records. The rest, as they say, is history. Even if you've never heard of them, you've probably heard them. That was Jones' killer take on "This Land Is Your Land" behind the opening credits of George Clooney's film Up In the Air. The Dap-Kings, who break off into side projects too numerous to mention, were the backing band for most of Back To Black, the mega-hit from the late great Amy Winehouse, including the sad-in-retrospect "Rehab." You'd better hope you bought tickets when I told you about this show months ago; the tiny Depot is totally sold out.
On Monday CenterArts presents an evening with humorist, author and public radio icon David Sedaris at the Van Duzer Theatre. Sedaris is a true product of National Public Radio. Discovered by NPR host Ira Glass reading from his diaries at a Chicago club, his big break came when he read his strange Xmas story "SantaLand Diaries" on Morning Edition in 1992. He then became a regular on Glass' This American Life, parlaying his success into a book deal. His twisted, dry-witted, self-deprecating style is not for everyone, but I like it.
It's a week of icons for CenterArts with a Tuesday show at the Van Duzer by country superstar Wynonna. Back in the '80s, she was Wynonna Judd, cranking out chart-topping country hits with her mom Naomi in a duo called The Judds. When she went solo in 1991 she dropped the last name. She reunited with Naomi last year for "The Judds: Final Encore," a tour documented for an Oprah Winfrey Network mini-series. Her pre-holiday tour includes "Thanks & Giving" meet 'n' greets at every stop. "Thanking each person is always hard to do, but I'm going to meet as many fans as possible and express my appreciation to them in person," she promised on her website.
Friday is the 11th day of the 11th month in Twenty-Eleven, or, as the guys in UKEsperience put it, Eleveneleveneleven. (They strum and pluck their ukes at Six Rivers Brewery that night.) It's not a holiday, just a bunch of ones, but hey, it's as good an excuse for a party as any.
It's a coincidence since the band has been touring all summer, but Brooklyn alt. rock giants They Might Be Giants play a CenterArts show 11/11/11 at the Van Duzer. Formed in 1982 by John Flansburgh and John Linnell, TMBG has 15 studio albums under its belt along with a couple of Grammys, one of them for the song "Boss of Me," which served as the theme song for Malcolm in the Middle. Expect catchy tunes from the latest TMBG album, Join Us, along with old favorites if you join them for the Friday concert. Computer geek/songwriter Jonathan Coulton opens.
Over at the Arcata Theatre Lounge 11/11, World Famous presents British trip hop/ambient producer Tipper plus Nanda from Santa Cruz.
Also playing on the 11th, at Jambalaya, guitarist Rich Robinson, who, with his brother Chris, founded the influential roots rock band The Black Crowes. Rich is touring behind his second solo album, Through a Crooked Sun, and traveling with young songwriter Dylan LeBlanc, who learned to play guitar hanging out at Fame Studios in Muscle Shoals. It's also the fifth anniversary of The Point, and it's celebrating by bringing in the opening act, the winner of the station's Classic Cover Contest. As we go to press the finalists are 101, Eyes Anonymous, Diaz and The Lokals and Silver Hammer. Voting ends with a 3-4 p.m. last battle on Wednesday, Nov. 9.
Tributes? As always. There's locals The Miracle Show 11/11 at Humboldt Brews (Dead), and an import, Mojo Child, a Doors tribute band playing Saturday at Blue Lake Casino.
Friday at the Alibi, it's Kowloon Walled City from SF with "heavy, heavy music," according to bassist Ian. "Some call us sludge metal and compare us to Unsane, but our more recent stuff is more diverse, both melodically and tempo-wise. Playing loud, heavy music is an incredible release. Creating stuff makes day-to-day life bearable. Getting to see new places and playing music for people is also awesome."
That's How We Roll hosts an 11/11 Eve "Scorpio Stingdig" Thursday at Humboldt Brews where you can "celebrate oneness and ring in 11-11-11." Star of the show is Rob Garza, half of the tres cool D.C.-based remix/production/DJ team Thievery Corporation, whose multicultural mixes draw on everything from dub reggae and bossa nova to Indian ragas and lounge music. Good stuff. Russian expat Ivan Ives opens; dancers Sunshine Magik, Luna Moon and B-Boy Xtreme add to the oneness.
The Arcata Playhouse teen program Apprentice Entertainment considers 11/11/11 a "once-in-a-lifetime event" and I suppose it is. The kids are celebrating with an all ages dance party featuring DJ Chopsjunkie with "dance moves, pizza, glow sticks and lots of glitter," plus raffle prizes and "special guests."
Arcata Playhouse presents its annual benefit Club Shampoo on Saturday, a review with comedy and music by Playhouse peeps Jackie Dandeneau and David Ferney plus friends Jeff DeMark, Chris Parreira, Curtis and Julie Thompson of Kulica, Sienna Nelson and "the indestructible puppet" Professor Willikers. Special guest clown Mooky Cornish comes to us from the Circe de Soliel world (and from Canada). Since Mooky's cousin happens to be a local, Jess McGuinty, CEO of the Jessicurl shampoo empire, you can expect some sort of Jess-sketch involving local haircare products.
The Playhouse keeps rolling Sunday with a show by songwriter Corinne West, who has joined forces with ace folk/blues guitarist Kelly Joe Phelps. Tuesday the Playhouse and the Folklife Society bring in the April Verch Band, led by Canadian grand champion fiddler/step-dancer Verch, a Berklee grad originally from the Ottawa Valley (in Canada), where the musical traditions of Irish and French immigrants prevail. Think of her as a Canadian/semi-Celtic version of the Clarridge kids.
HumBrews has back to back ex-Leftover Salmon members next week: Monday it's Vince Herman's Great American Taxi paired with jamgrass by Boris Garcia. Tuesday Ex-Leftover mandolinist Drew Emmitt and Friends join top-flight bluegrass combo The Infamous Stringdusters.
The Hip-Hop & Love Tour hits the Jambalaya Tuesday with MURS from Living Legends along with a big posse including Tabi Bonney, Ski Beatz & the Senseis, Sean O'Connell, Da$h and McKenzie Eddy.
The 21st annual Hemp Fest kicks off 11/11 at the Mateel with three days of hempy fun starting with Dell'Arte's musical comedy review Mary Jane: The Musical, starring Joan Schirle as back-to-the-lander and ganja grower Mary Jane. See the calendar for details on Saturday's all day music and comedy blast and Sunday's panel on the industry.
The Mischief Lab's Burning Bush 2011 starts that same Friday at Dean's Creek Resort in Redway and runs through Sunday. Billed as a celebration of fire arts, visual arts and music, the Burning Man-esque gathering features fiery performances by Department of Spontaneous Combustion and Pyroglyphics, silk work by Aerial Dance Circus, ribaldry from Blue Angel Burlesque (also performing Saturday at the Eureka Theater for the Burlesque for Breasts benefit with Speakeasy Saints) and music by Rooster McClintock, Spilling Nova, SambaAmore, DJ Knutz and DJ Carlos Lobsta. Burn on...