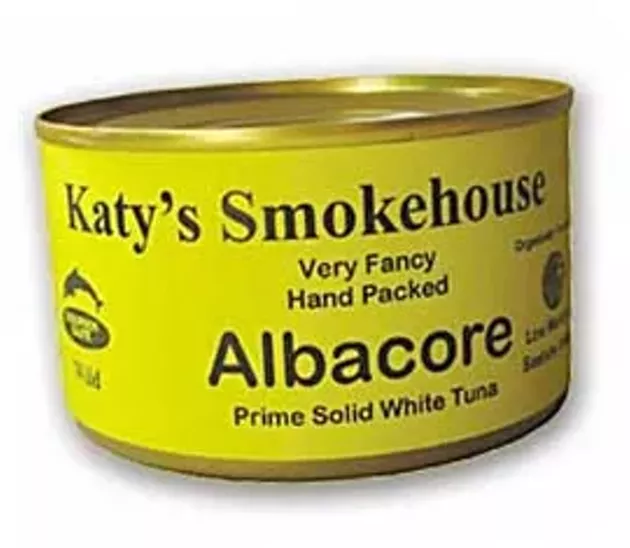 4 slides
As you drive towards Trinidad harbor you can't miss the sign for Katy's Smokehouse, and on my first visit to Humboldt County nine years ago, I didn't. Nowadays a pleasant two-mile walk along shady Stagecoach Road brings me from our house to town, and I have become a regular customer at Katy's. Initially I would buy fresh fish and small pieces of their legendary smoked salmon. Then one day, acting on impulse, I added to my purchases a can of their Very Fancy Hand Packed Albacore to make spaghetti col tonno (with tuna sauce).
It is a dish my mother makes frequently on Fridays for lunch and always on Christmas Eve for dinner, because those are days when, according to ancient rules, Catholics are supposed to abstain from meat. Dinner on Christmas Eve, like meals on other major religious holidays, has an established and immutable menu. Every Dec. 24, supper at my parents' starts with spaghetti col tonno, continues with marinated tiny fish (pescetti) and marinated eel served with orange slices seasoned with a thread of olive oil, and concludes with cauliflower florets battered and deep fried (frittelli). I have no idea what the marinated fish or eel taste like, having from the very beginning of my life refused to put them in my mouth. Everything else on the menu is really good, especially the spaghetti.
Katy's Very Fancy Albacore is packed with a little sea salt and lots of tender loving care: no oil, no water, no chemicals of any kind. While roasting in the can, the sashimi-grade tuna acquires a light caramel color and releases some juice and oil. The tuna bathes in this natural liquid medium until the can opener brings it back to the light of day. After purchasing a sample of such wonder, I told my mother about my plan of using it to make tuna sauce for spaghetti.
As a teenager and young woman I was not very interested in cooking - the fact that my mother was extremely territorial in her kitchen did not help. Contrary to popular belief, a passion for cooking is not a genetic trait of all Italian people: Although I was born and raised in Italy, I learned to cook after moving to California 14 years ago. I am not sure what inexplicable impulse prompts me to let my mother know about my cooking plans, when I know very well what the result will be. My mother is more comfortable using negatives, so to teach me how to do something she lists all the things I am not supposed to do. I will spare you the intimate details of our conversation and give you the translation into positive English statements of her recipe.
Spaghetti col tonno is a flavorful dish and is quick and easy to make - provided you have the ingredients handy. Almost all of them can be stored long-term in your pantry (a note on the exception to this rule will follow). Hence, the only planning needed is remembering to replenish your supplies after each use.
While a big pot with water is happily getting to boiling point, I pour half a tablespoon of olive oil in a small pan over very low heat. I add three peeled cloves of garlic and let the oil absorb the garlic's flavor for a couple of minutes. The cloves will darken in color, but must not become dark brown (aka, burnt). If that happens I recommend to start again from scratch. I add a half tablespoon of anchovy paste and stir it into the oil, but that is optional.
At this point my mother opens a bottle of her homemade tomato sauce. I have decided that in my youth I spent enough time pureeing tomatoes with a hand-powered food mill to last me a lifetime, so, instead, I use a 15-oz can of organic tomato sauce. I add it to the oil, warm the sauce slowly and let it simmer, covered, for five minutes. In the meantime I open the can of Katy's albacore. My nostrils encounter a succulent smell of deep sea -- clean, intense and fresh. I pour the tuna in a small bowl and, following the instructions printed on the label, I flake the fish with a fork and mix to stir the juices back in, then add it to the simmering tomatoes. I stir well, then cover the pan and let the sauce cook over low heat for another 10 minutes.
By this time the water has reached a rolling boil. I toss in the spaghetti (usually De Cecco, the brand my mother has always used, which is available in local grocery stores) and cook it for the amount of time printed on the package. When the sauce is ready, I add 1/4 cup of chopped fresh parsley, turn off the heat, mix well and cover again. "Don't cook the parsley!" says my mother's voice, indelibly recorded in my brain and able to play itself at the appropriate moment. I drain the spaghetti and pour it in a big bowl, then toss it with the sauce, remove the garlic cloves (obeying my mother's peremptory "Don't leave the garlic in!") and serve immediately.
I realize that fresh parsley is not exactly an item that can be stored long-term in the pantry. However, if you can have only one fresh herb at hand, that should be parsley. It is not hard to grow. Italians often use the expression "like parsley" to describe something or someone that tends to be always present, because parsley is an almost ubiquitous ingredient of savory dishes. Hence, having it is a precious asset. The dried parsley sold in bulk at the Co-op has an intense smell that bodes well for its use. It could serve as a substitute. I personally practice parsley freezing, which extends the life of a fresh bunch and, a not unpleasant side effect, makes the chopping extremely easy.
Myspaghetti col tonno can compete with my mother's version: While she uses a tomato sauce I cannot equal (unless I decide to go back to my food mill-powering days), Katy's Albacore provides an intensity of flavor to my sauce that is unlike anything my mother can produce with tuna packed in oil, which, let us not forget, comes also packed with a non-trivial amount of extra calories. A No Salt Added version has recently been added to Katy's line of products to satisfy customers with low-sodium dietary requirements. And to allay concerns about mercury content, the albacore has been tested for the presence of the metal and the reassuring results (just 0.09 ppm) are displayed on the store counter, while the label states "Low Mercury."
After my first rendition of the dish, I described the recipe to Judy Lake, the gracious owner of Katy's Smokehouse. Later on she told me she had tried the recipe and also shared it with customers asking for ideas on how to use the albacore besides the traditional tuna salad. Recently she announced that their product had been featured on The Today Show. It was judged the best in its category, and it was used for a food preparation demonstration during the program. Well, am I not lucky? Just think about all those people watching TV and dreaming (probably salivating) about Katy's Albacore, while I can get it any time I wish by simply walking a couple of miles along a pretty Humboldt County road. Lucky indeed!
Katy's Smokehouse is at 740 Edwards Street, in Trinidad, and it is open daily 9 a.m. to 6 p.m. Call them at 677-0151 or go to www.katyssmokehouse.com for more information. Katy's Albacore is sold also at both Co-op stores and at Eureka Natural Foods.
Simona Carini is a native of Italy who splits her time between Trinidad and Berkeley.
Coming up
The Arcata McKinleyville High School Orchestra presents its 11th annual Gala Dinner and Concert, Une Soirée Dans la Vallée de Loire, a seven-course feast with dishes from France's Loire River Valley centering on Poulet Poele a L'Estragon (chicken in tarragon crème sauce). Soloists and small ensembles drawn from the orchestra provide dinner music. The entire ArMack Orchestra plays for a post-dinner concert under the baton of Maestra Carol Jacobson. That's Saturday, March 31, at 5:30 p.m. at the Arcata Community Center. Tickets are $30. Call 839-8829, 442-7250 or 839-4565 for reservations.
The next winemaker dinner at Hotel Carter's Restaurant 301 is on Thursday, April 5, featuring wines from Trentadue Winery in Alexander Valley presented by winemaker Miroslav Tcholakov. Call 444-8062 for reservations and details.
And don't forget, this Thursday, March 29, from 5-8 p.m., is Eureka Main Street's Jazz Fest kick-off fundraiser A Taste Of Main Street, with samples from 25 local food businesses, jazz in various venues and general conviviality, all for $25. Call 442-9054 to see if there are still tickets available.