When my wife asked if I wanted to take a midnight stroll I was delighted. I was even more delighted when we saw a couple of unexpected predators. Not wishing to get into a conflict with the bear, we turned around and headed homeward, frequently looking over our shoulders. On the road home, we saw a spider whose bold black and white markings were new to me. For the most part, spiders are cryptically colored (which is biology speak for camouflaged). So, I took it home in a plastic spice jar, to get a few photos. The arrangement of a spider's eight or six eyes can help identify it. Although a handy chart got me down to the Ground Spider family (Gnaphosidae), I got stuck there, so I posted photos online in www.BugGuide.net (a great resource for identifying arthropods of North America) and a couple of other places. Within a minute I had an answer. Sergiolus montanus. This species hunts by running around and capturing other arthropods, often larger than itself. The next day, after I got the shot I wanted, I released her near where I found her.
Anthony Westkamper
Ground Spider Sergiolus montanus' eye pattern is diagnostic.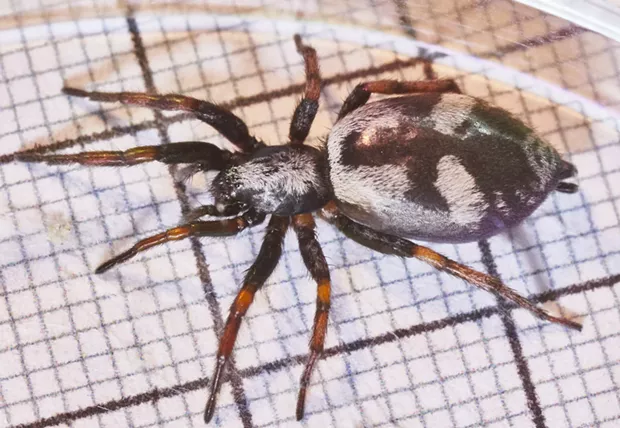 Anthony Westkamper
The small squares underneath this ground spider Sergiolus montanas are 1 millimeter.
Today, in full sun along the Van Duzen, one of my favorite butterflies, the Red Admiral (Vanessa atalanta) stopped to drink nectar from some wild sweet peas near me. Like many legumes the flowers of this plant have a lip which makes it difficult for many insects to get at the sweet liquid reward it holds. While large bees often force their way past the barrier some butterflies bypass the barrier with their long thin proboscis which they carry coiled like an old watch spring when not in use.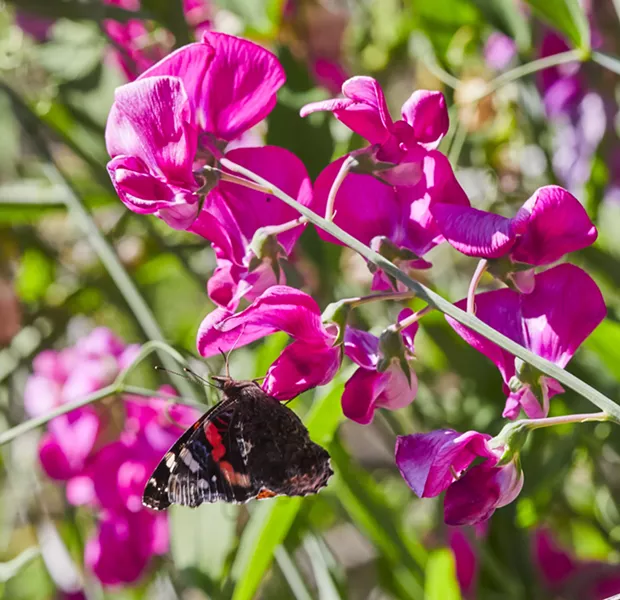 Anthony Westkamper
A red admiral uses an extended proboscis.
Anthony Westkamper
A bumblebee forces its way into a pea flower.
A pair of the largest dragonflies in our area, the Western River Cruiser (Macromia magnifica) flew past me in what is known as the "Wheel Position." Which I think looks more like a heart than a wheel.
Anthony Westkamper
Marcomia magnifica, one of our largest dragonflies, can actually fly in this position