It's been clear for decades that re-thinking fire management in the West is as much art as craft and science, so it's fitting that the annual prescribed burning training program called TREX, just ending in and around Orleans, invited in a gang of real artists this year to help spread the message.
Since its inception in 2014, the Klamath TREX has had two goals.
The first is to light intentional fires around communities at safer times of the year, to restore cultural and natural resources and avoid the devastating wildfires in summer's heat that destroy homes and property. In this way, the collaboration, which includes the Karuk Tribe and members of the Yurok Tribe represented by the Cultural Fire Management Council, replicates the fires Native communities lit frequently for thousands of years until their traditional ignitions were forcefully suppressed and outlawed a little more than a century ago.
The second goal is to spread the gospel of intentional fire to communities across the West that are increasingly threatened by devastating burns. The artists, who call their work nature journaling, were enlisted to give wings to the idea that humans are responsible for how fire looks on their landscapes. They aim to show that fires can preserve and restore threatened and endangered species instead of threatening them, and that prescribed fire can reduce the damage done by seasonal wildfires, conflagrations that grow more destructive every year.
One of the challenges to prescribed burning has always been the optics of a bunch of people intentionally lighting fires in the woods after a lifetime of Smokey Bear commercials preaching a very different message.
The journalers, if that is a word, recently accompanied crews out into the woods to watch them light and then manage fires that would burn out the undergrowth near homes, reducing fuels and restoring life to forests that had grown stagnant from a century of fire exclusion.
The artistic result reflected a spontaneous and understandable view of how prescribed fire does its work. Recruiting the artists to Klamath TREX was the brain child of Miriam Morrill, a fire education specialist with the California office of the federal Bureau of Land Management.
The 10 artists, who varied in their style and background, were given access to the actual ignitions that was so close it required the escort of several experienced fire fighters and issuing the artists the same fire resistant Nomex clothes as the regular TREX trainees.


Most were nature journal veterans and one of them, John Muir Laws, has published eight books since 2001. He began drawing in elementary school, where he struggled with dyslexia. "After the school day getting beaten down all day, I'd go home through the park with binoculars and a notebook," he explained. "I'd find peace there with something real."
He stuck with it through college at University of California at Berkeley, where he studied conservation biology, then at the University of Montana in Missoula for a Masters degree in wildlife biology and finally at University of California at Santa Cruz for a program in scientific illustration.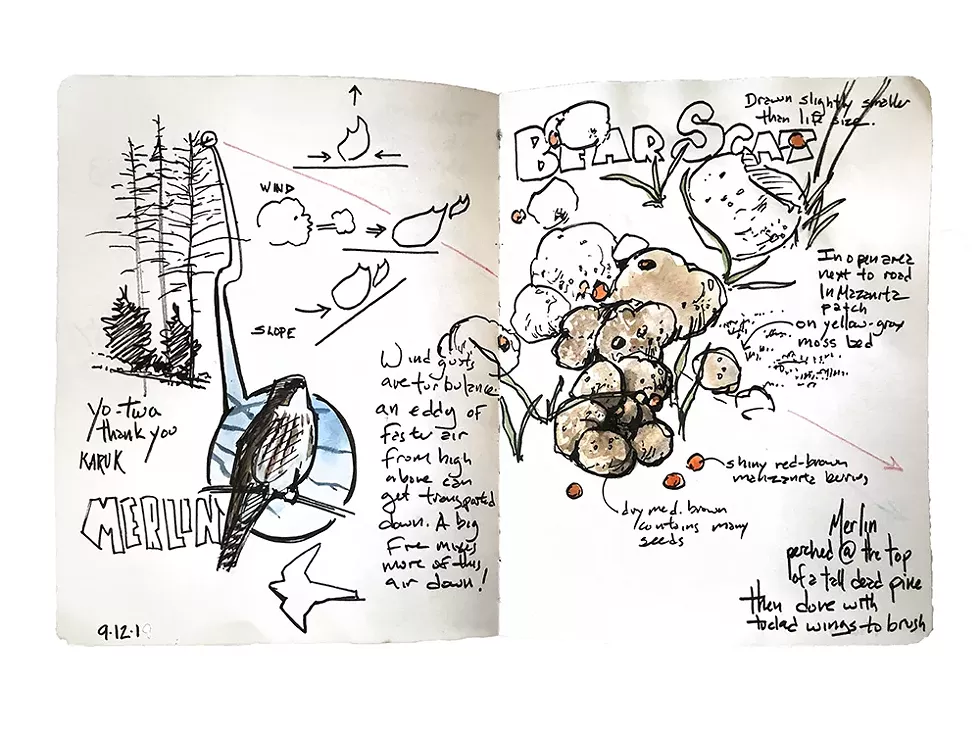 "We use our notebooks to describe the world around us. You learn to trick your brain to see what you usually walk by," he said. In one of his books, Laws Guide to Nature Drawing, he quotes Arthur Conan Doyle's fictional detective Sherlock Holmes: "I see no more than you, but I have trained myself to notice what I see."
Laws was not alone in experience. Another artist, Robin Lee Carlson worked in fisheries and began journaling to translate complex scientific information into more easily understandable stories, while Marley Peifer is a naturalist and wildlife tracker who has journaled around the world and Laurie Wigham is a San Francisco painter who has organized journaling groups.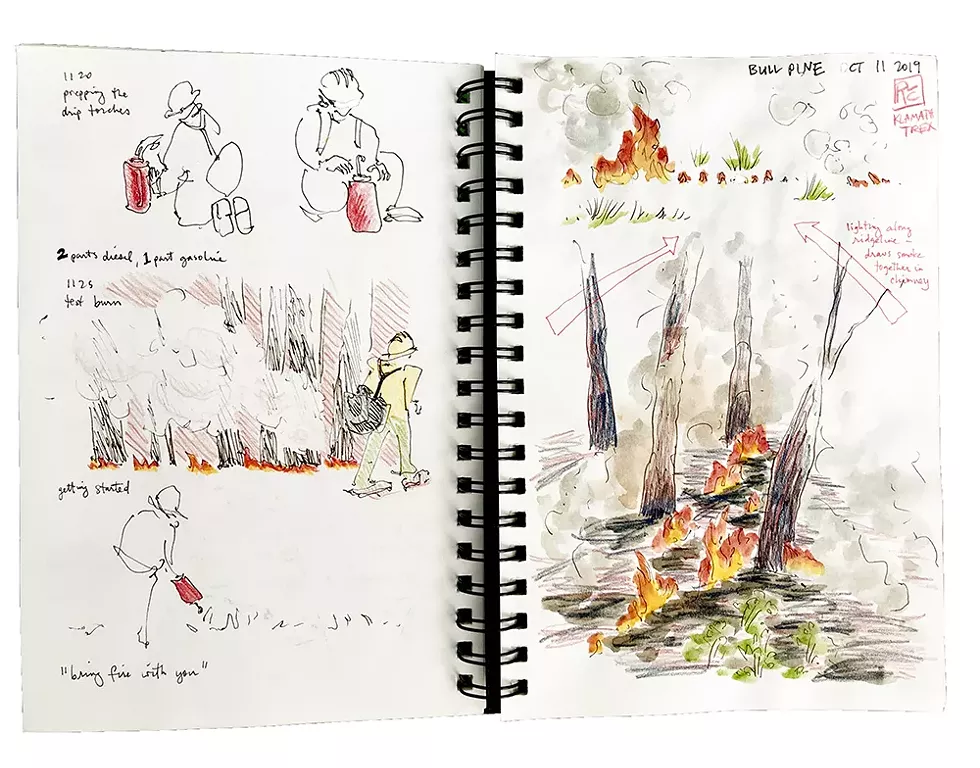 Lynn Decker, who is less experienced as an artist, retired last year from her post as leader of the North American Fire Initiative, a program of the Nature Conservancy funded by the U.S. Department of Agriculture and Interior to support innovations in fire management. She has been a key organizer of a family of networks, including the TREX Coaches Network, which has hosted more than 200 TREX events around the country.
Decker said the Klamath TREX was a standout program for several reasons, including its productive links between nonprofit groups, tribes and government agencies. "They keep accomplishing things people say can't be done," she said. "They're being trusted by Cal Fire and federal fire agencies who, until now, 'owned' fire. This is the second time they've talked their way out of a statewide burn ban."

And Decker said trainees often go home after Klamath TREX events thinking, "Maybe we should talk to the tribes in our area."
Art by Laurie Wigham depicts a firefighter in a moment of respite from the lines of a controlled burn.
When the artists were not with the burners, they met with cultural representatives from the Yurok and Karuk tribes. One of them, Margo Robbins, Yurok organizer and president of the Cultural Fire Management Council, showed the journalers two adjoining sites near Weitchpec, one of which burned nearly a year earlier and the other just a week ago. The fires promoted access to deer, acorns, basket materials and much more.
Another cultural representative was Bill Tripp, deputy director of eco-cultural revitalization for the Karuk Department of Natural Resources. He met with the artists at the Windy Point overlook along State Route 299 near Somes Bar. From there, he explained the history of recent wildfires and an older history of Offield Mountain, which loomed in the distance.
Before the suppression of cultural burning, he said, Offield Mountain was burned annually at the end of the World Renewal Ceremonies. Tribal members rolled flaming logs off the mountain top during the new moon in September. To truly capture the significance, an explanation of the reasons behind the Offield Mountain burns would fill a book. Nowadays these types of burns are prohibited, but Tripp and others in the Western Klamath Restoration Partnership are currently planning the 9,000 plus acre Ikxaryatuuyship (Offield) Project, to create a series of strategic fuelbreaks and set the stage for these ceremonies to resume.
The nature journal cohort questioned Tripp about the burn scars from recent wildfires that were easily visible from the overlook and then they began another round of sketches, punctuated with side notes and labels with the information Tripp had shared.
As they began their sketches and paintings, Tripp gestured across the Klamath and said miners in the Gold Rush had hydraulic mined away a village site there, destroying the homes and killing at least one resident.
At the end of their three-day stay, the journalers shared their work — annotated drawings, watercolors, even haikus — after a dinner attended by the 120 TREX participants. The prescribed fire trainees seemed transfixed by the drawings, which ranged from quick sketches to paintings worthy of a frame, with many corrugated with written observations, names and years of old wildfires.
Morrill, the BLM fixer, who came up with the idea of the journalers' visit and floated it just a few months earlier, was very pleased.
"We all felt honored and in awe of the collaboration and efforts to restore fire to the area," she said afterward. "It was like a window into a historical movement that we were privileged to witness and journal about. Saying it went well is not accurate or adequate."
Abundant September rains preceded the two-week TREX session, arguably making some of the planned burns safer and making others too damp to light at all. Despite this, an old obstacle re-emerged when Cal Fire issued a statewide burn suspension because of forecasted strong, dry north winds in the Central Valley, the same kind that spread the devastating Camp Fire last year and also prompted PG&E to shut down power lines throughout the state. In the deep folds of the Klamath mountains, however, this weather created the ideal conditions for burning sheltered south facing units.
The TREX collaborators wrote a lengthy letter to Cal Fire Director Thomas Porter citing evidence that they had sufficient capacity on site to handle any potential escapes from the prescribed burns, and noting that Porter's predecessor, Ken Pimlott, had granted a similar exemption in 2015.
"This training program is organized into a Type 3 Incident Management Team with three burn modules," the letter stated. "Each burn module includes at least 22 firefighters, a burn boss and burn boss trainee, task force leader, squad bosses, two Type 6 engines, one Type 3 engine, one water tender and a contingency Type II dozer."
The letter added that there would be expert specialists in weather and smoke forecasting and 120 qualified firefighters from several agencies, tribes and non-profits on site, and bolstered its case with a 10-page appendix demonstrating their caution, preparation and expertise.
The idea of returning to prescribed burning after nearly a century of fire suppression got its start at least 20 years ago (and there were savvy firemen in the U.S. Forest Service lobbying for it 40 years ago). Locals in the Orleans area began trialing controlled burns in 2003 through the local Fire Safe Council. They used a model of "neighbors helping neighbors," a re-invention of the Prescribed Burn Association model brought west by U.C. Cooperative Extension's Lenya Quinn-Davidson, to form the Humboldt County chapter.
There were itinerant TREX ventures in 2012 and 2013 before river locals began their own Klamath TREX program in 2014 with sponsorship from the Nature Conservancy (TNC). The list of sponsors grows each year and this year included the Karuk Tribe, Mid Klamath Watershed Council (MKWC), TNC, U.S. Forest Service, Cultural Fire Management Council, Firestorm, Prometheus Fire Consulting, Deer Creek Resources, Cal Fire, Bureau of Indian Affairs, North Coast Unified Air Quality Management District, Northeast Air Alliance, California Air Resources Board, Bella Forestry, AAA Forestry, Firefighters United for Safety, Ethics and the Environment (FUSEE), Happy Camp Fire Safe Council, Orleans/Somes Bar Fire Safe Council, Orleans Volunteer Fire Department and Salmon River Restoration Council.
Will Harling, director of the Mid Klamath Watershed Council, said the group's letter to Cal Fire proved persuasive.
"Porter gave verbal permission through his chain of command to the unit level for us to burn while no one else in NorCal was burning," he said, adding that this year's TREX burning shut down a day or two early because of nearly an inch of rain in the area, underscoring the complexities of needing perfect conditions when it is not too wet, too windy or too dry for prescribed burning to be both safe and effective.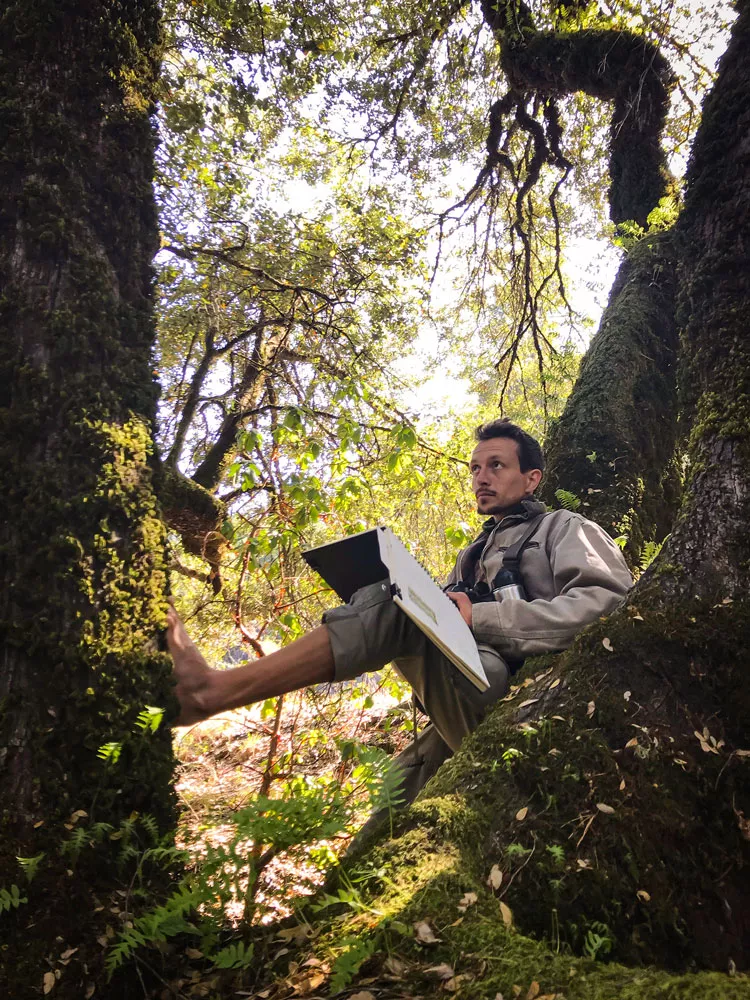 Photo by Laurie Wigham.
Marley Peifer nature journaling as part of an effort to demystify controlled burns.
Part of the goal of the journaling project was to increase the confidence in affected communities that intentional burning has made them safe enough that they will be more receptive to "managed wildfires" in the future.
"Too often resources can't be mobilized in time to take advantage of burn windows (for intentional fires), but the TREX model has built a community of fire practitioners that is available to pounce with us when the window opens," Harling said. "We need to pounce on our burn windows as if our lives depend on it. They actually just might."
Photo by Laurie Wigham.
A recent controlled burn near Orleans.
Harling also praised the nature journalers as aiding in that effort.
"[They] showed us a new way of communicating about fire that helps demystify the complexities of prescribed fire and good fire, making it accessible to the lay person through art and simple text," he said. "The more ways we tell the good fire story, the better."
Malcolm Terence is the author of Beginner's Luck: Dispatches from the Klamath Mountains, published by Oregon State University Press. He prefers he/him pronouns and has written for papers throughout California including NCJ, Good Times Santa Cruz and the Los Angeles Times.