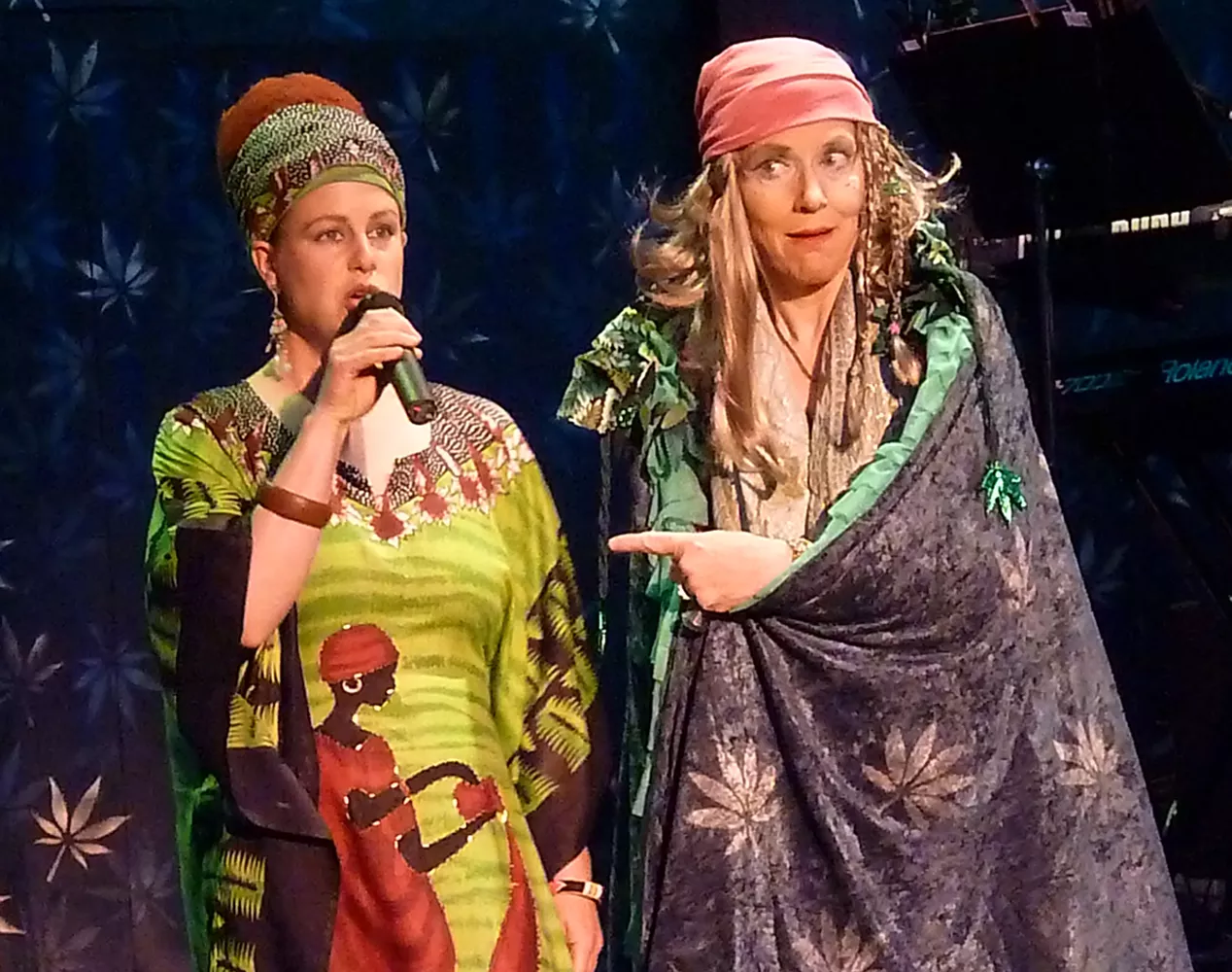 photo by Bob Doran
Zuzka Sabata and Joan Schirle in Dell'Arte's Mary Jane, an example of theater of place, but not the only kind of local theater
As the current theater season winds down, announcements of next season's offerings on North Coast stages are beginning. Before some of those are revealed later in this column, a few words on the wider context, and a reminder.
The reminder is this: All theater is local. It's true that the plays we see here are often done at many regional and community theaters around the country and even the world, for years and even centuries before we see them. It's also true that some theatrical creations are more local than others -- such as Dell'Arte's Mary Jane: the Musical or The Loggers Project by Sanctuary Stage, and other "theater of place" productions created out of local experiences.
But all productions are local in the sense that they are created on stage only by people of the here and now, and experienced by audiences exclusively here and now. That includes the experience of a play from elsewhere, its history and its meaning to us, here, now.
To suggest another meaning of "all theater is local" consider a play that we won't see locally this season or next, or probably ever: Spider-Man: Turn Off the Dark. This current Broadway musical cost $75 million to produce (including $2 million for harnesses and flying rigs), enough to finance all of North Coast theater possibly until the end of time. Most local theaters would be happy with an annual budget matching the $1.2 million it costs to stage this show each week.
Yet after more than 180 previews, a fired director and a rewrite, it opened to reviews that would likely get a North Coast critic a shove off Trinidad Head: "This singing comic book is no longer the ungodly, indecipherable mess it was in February. It's just a bore," wrote Ben Brantley in the New York Times.
Other critics wrote: "This effects-driven musical is still situated a wide canyon's distance from good." "A sad, stilted event that crashes consistently and rarely flies." "Deteriorated from mindblowingly misbegotten carnival-of-the-damned to merely embarrassing dud."
Entertainment Weekly noted that the common complaints were incoherent storytelling and mediocre songs.
Tickets to see it on Broadway range from $69 to $362 (with broker fee). In an era when even regional theater tickets elsewhere can flirt with or exceed $100, most North Coast theaters tickets are under $20. Obviously a Broadway show or a regional theater production will be different in many respects. Some will be better -- occasionally even the more than the 10 times better suggested by the difference in ticket price. But not always. Theater is an uncertain thing everywhere, all the time.
Even apart from cost, shows will always have different virtues and weaknesses, rewards and disappointments. Because all theater is local. For instance, one of the repeated rewards of North Coast productions is the person on stage who lifts you out of your seat. It may be a well-known local veteran in a particularly revelatory role. Or it may be a young talent passing through, from local high schools to distant universities, from local colleges to destiny elsewhere, maybe on a bigger stage.
Stage presence is perhaps the most mysterious and most indispensible quality. It expresses itself as dramatic talent, of power and timing, or a comedic talent, of movement and personality. It may be a speaking voice that commands attention and expresses unexpected emotion, or a singing voice that thrills and touches the heart. Or it can be moments, or an entire production that's illuminating or moving. But you have to be there. Because all theater is local.
As for what North Coast audiences can see on stage beginning this fall, here are the next season productions announced by three local theaters.
North Coast Rep begins with the Sondheim musical Into the Woods, followed by Agatha Christie's stage mystery The Mousetrap. Neil Simon has been good to NCRT, so next year features his Laughter on the 23rd Floor. The annual Shakespeare production is the comedy Much Ado About Nothing. Next spring the 2003 musical Avenue Q is followed by the comedy The Red Velvet Cake War.
Ferndale Rep's season begins in October with a farce in which four actors reenact the Hitchcock film, 39 Steps. A stage adaptation of the viral TV holiday classic A Christmas Story is followed in February by the first Shakespeare at Ferndale in awhile: The Taming of the Shrew. Then three musical productions complete the season: Evita, Cabaret and Woody Guthrie American Song.
HSU has announced its most ambitious season in years: Neil Labute's Fat Pig (directed by Michael Thomas) in September, the musical Brigadoon in October, followed by Eugene Stickland's Christmas comedy, Some Assembly Required. Venus by Suzan Lori-Parks is in February, the Noel Coward comedy Blithe Spirit in March, before the spring dance show and the 10-Minute Play Festival.
Coming Up: But there are more shows before this season is over. Opening at North Coast Rep on July 28 is The Kitchen Witches, a comedy by Caroline Smith, directed by Carol Escobar and featuring Kathleen Marshall, Laura Rose, Daniel Kennedy and George Szabo.