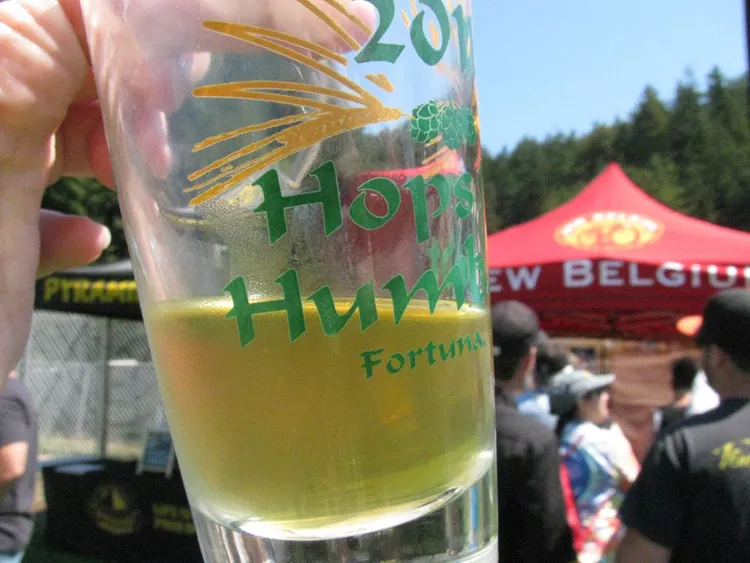 You knew this was beer country. But did you know that the newest brewery in Humboldt plans to grow all its own barley and hops? And that it will sell shares of its production just like some farms sign up subscribers for boxes of fruit and vegetables? And that it will be pouring at Hops in Humboldt this weekend, even before its own grand opening in McKinleyville next week?
If tasting some of that doesn't sound as tempting as a riding a mechanical bull, well, maybe you're not quite the right demographic for Fortuna's ever-growing beer fest.
Hops in Humboldt is bringing 38 breweries to Rohner Park on Saturday, Aug. 25, coming from California and Colorado, Alaska and Hawaii. "That is the most ever," says Jason "Woody" Woodward, festival vice president and self-described "beer dude."
Many brewers will offer up new beers, but it's not as common for the festival to help debut an entirely new brewery, Woodward said.
The local newcomer is Humboldt Regeneration, which wants to become a "Community Supported Brewery," growing its ingredients south of Fortuna in Alton, and offering tastes and beer to go at its McKinleyville brewhouse.
Oh, and the mechanical bull is new this year at Hops in Humboldt, too.
The festival gets going even before its gates open, with music starting at 11:30 a.m. Gates open at noon, taps are open from 1 to 5 p.m. and the whole thing winds down at 6 p.m. Admission is $40 for all tastes you have patience to wait in line for, or $5 for nondrinkers. Before designatingly driving friends or relatives home, they can soak in the sounds like everyone else, with music by Loose Gravel, Joe Dominic, Matt Borden and Angel's Cut.
Two words of caution. This isn't a kid or pet-friendly event. Hops in Humboldt only lets in people 21 and older. And really, get a driver. Local shuttles will run for Fortuna residents, and Humboldt Transit has scheduled extra buses for its regular routes to points north.