Photo by Peri Escarda
The California Federation of Women's Clubs Grove.
The instant I stepped out of my car and into Women's Grove, I was hit by the scent of rain-soaked earth and redwood bark — a smell that I will always associate with my childhood. My parents would load us into the station wagon and drive us to this grove, where we would tumble out among the ferns and the clover. We would race around the massive trunks and scramble over logs, strewn like fallen giants, until we were called to eat at the long, redwood plank tables. In the center of the clearing, squatting like a witch's cottage from a fairy tale, was a peculiar building: a four sided-hearth, made from moss-covered, hand-hewn stones.
I had returned to Women's Grove for a day hike, working my way around the stately trunks of these massive old-growth trees. International Women's Day was fast approaching, with many women around the nation considering a Women's Strike, and I found myself wondering how the grove got its name. Even though I had decided not to strike, I had pledged myself to spend the day in solidarity with other women, with a heightened sense of gratitude for the women who had come before me. As the winter light slanted down between the branches, I decided that my first step would be to investigate the origins of Women's Grove.
Photo by Peri Escarda
The Four Fireplaces, or the Federation Hearthstone, designed by Julia Morgan.
It turns out that if not for the efforts of a determined group of Eureka women in 1923, we would have lost these trees to the loggers' saw. Various different women's groups, meeting in parlors around the county, came together under the banner of the California Women's Federation of Women's Clubs to purchase the grove. Because they were good at multi-tasking, they also took on some other issues such as child labor laws, scholarships for women, and that pesky business of a women's right to vote. And that curious little cottage in the center of the grove? It was designed by California's first female architect, Julia Morgan, who designed the Hearst Castle and many other esteemed buildings in the Bay Area.
Seeing how the ladies of The Eureka Women's Club managed to accomplish so much, I figured I could at least skip my lunch hour on International Women's Day and head down to the Plaza for 15 minutes of solidarity. When I arrived, about 30 women dressed in red stood in a circle of silence, "reflecting on our ancestors and contemporaries who encourage us to speak our truth." The women widened the circle for me to join, and over the next half hour, I watched more and more women arrive. Each time, people would step back and the circle would widen, until more than 100 of us stood in silence.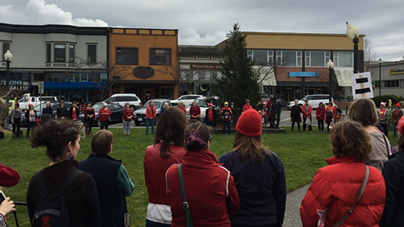 Photo by Peri Escarda
The widening circle on the Arcata Plaza on International Women's Day.
I recognized many of the women from Power Lunch Humboldt, a group that meets on Tuesdays to call elected representatives about issues. I left the plaza, inspired to download their contact sheet and make a few calls, as soon as I got off work. My next planned stop was the celebration hosted by the Women's International League of Peace and Freedom, as part of the Zero to Fierce Women's Festival at the Arcata Playhouse.
Coming in out of the evening rain, I tossed a donation into the jar and then stood, amazed, in front of the food table and its spread of desserts, breads and cheese — so much delicious cheese. But this is the way of every women's gathering: Before all else comes the food. And as I eased away, still holding a plump chocolate chip cookie, I could hear Liz Smith of Humboldt NAACP beginning her speech. I slid into my seat and listened.
Against the backdrop of a gorgeous quilt donated for raffle by Open Hearts Quilters, Liz Smith told us of the many women who had played important roles in the NAACP. She also gave us advice on how to be "bold" in these tumultuous times: Be good to each other, take time to celebrate, take risks, speak up and learn that sometimes it's okay to say, "no." After those wise words, numerous grants — collected from money raised by book sales and raffles — were awarded to women doing good work in our community. Then the Raging Grannies took the stage, sporting a sassy collection of hats, to begin a sing-along that went on into the night. Jan Bramlett and Leslie Quinn broke out their guitars and led us through several protest songs.
As I listened to our voices rising up together, I thought about how long women had been joining forces, to give support, raise money and solve problems. More than a 100 years ago, women in our community gathered together — just as we had gathered together on this rain soaked night. Those women of our past did not even have the right to vote. Still, they were not idle. They cooked meals, sewed quilts and fundraised pennies until they could purchase an entire grove of towering trees. If ever I doubt that women can triumph, I will remember Women's Grove. Those trees have stood tall through many generations. They have not fallen and neither will we.