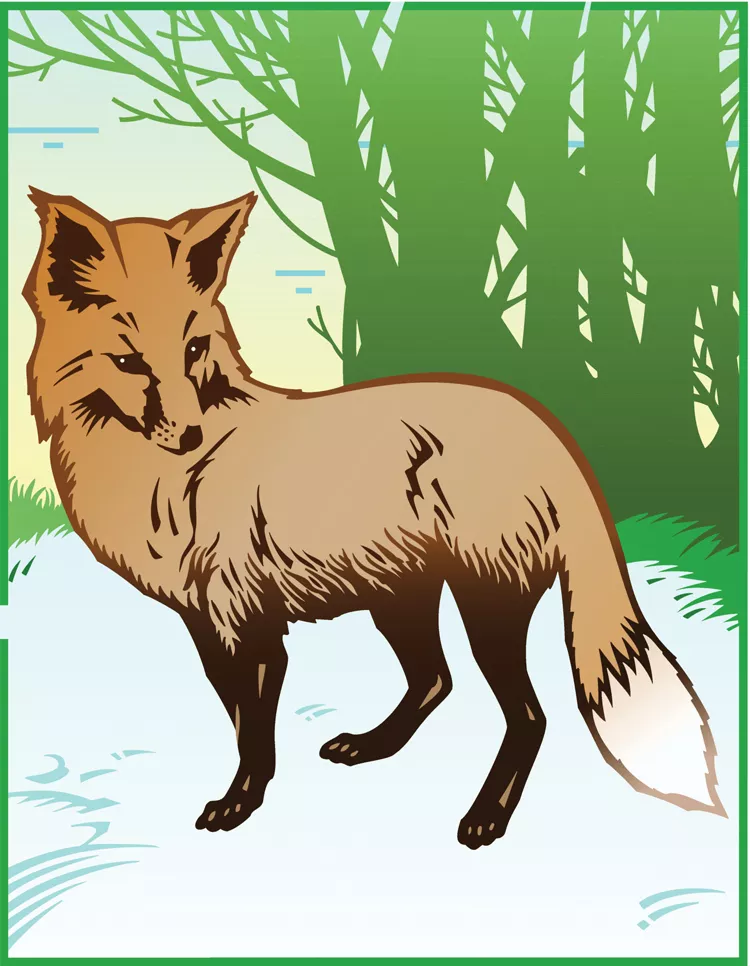 That night, the fox had trotted into each of their dreams. But in the morning, none of the storytellers would remember him. Maybe a vague tickle on their noses where the fox had breathed, whisker-close as he watched their eyes skitter under closed lids. Maybe they tasted his musty blackberry scent on the backs of their tongues. Perhaps they awoke with a daring unease that made them want to dash up Trinidad Head and lean far, far, far out over cliff's edge to gaze longingly at the rock-bashing waves, then pull back just before losing balance to laugh joyously, released from fear.
It didn't matter to the fox that they didn't remember his actual pointy rust nose or white whiskers or sharp, berrystained teeth. That they didn't hear him creep next to their beds on moon-cooled paws to stare at them. Alter their minds.
The fox was just making sure they felt at home in his home. That they got it. They would be telling all sorts of tall tales the next couple of days to all sorts of gullible people. Let them have fox essence and fox canny in their minds and hearts. Fox respect.
Satisfied he'd done his best, the fox turned from the last bedside -- another snoring storyteller forever changed by his visit -- and padded quietly out the door of the inn in the trees, up the road into the small town of Trinidad, and then down to the beach and up again, up, up along the hill-twining path to the top of Trinidad Head. He took his time. Stopped frequently to clip the low berries from the bushes with his teeth, chew and swallow, and then dance up onto his hind legs to lean, forepaws pressing into leafy branch flesh, for the high ones. Along the way he pooped a lot, bright, seedy, berry-red piles of welcome and warning. You're in my home now. It'll be my home when you leave. Come, have some berries. Then scat.
If the fox could chuckle, he would have. Honestly, though, these storytelling folk were probably all right. He was glad they were here.
The 13th annual Storytelling Festival by the Sea begins Friday evening, Sept. 7, and continues through Saturday, Sept. 8, at the Trinidad Town Hall, 409 Trinity in the center of Trinidad. Local and visiting storytellers spin tales from around the world -- from the North Coast to Ireland and beyond. The Neena McNair Family Singers and other musicians might break the spell -- and pull you into a new one. Master storyteller Cynthia Restivo, who honed her acting chops touring Europe with a theater troupe, will perform both days, and on Saturday she'll conduct a storytelling workshop, from 8:30 to 10 a.m., called Stories Well-Lived. Other fun includes ghost tales (Friday night), an open-mic story swap -- your chance to shine! -- and yet more stories, summoning dragons, heroes, foolish folk, fate, (maybe foxes?) and love.
Registration is at 6:15 p.m. Friday, and at 7 p.m. Liz Lara O'Rourke performs the opening song. You can pay an all-show $30 fee ($15 for kids 4-15); or $8 per event ($4 kids); $12 for two events ($6 kids); $65 for a family pack; $25 for just Saturday. The Cynthia Restive Workshop costs $10 (unless you're a librarian, in which case you get into it free!). Also, you can buy lunch ($10) and dinner ($20) on Saturday from Teri's Custom Catering, but you must order ahead: Call Dan: 677-3840.
The Storytelling Festival is put on by the North Coast Storytellers Guild, part of The Ink People Center for the Arts. For a full festival schedule go to www.northcoaststorytellers.inkpeople.org.