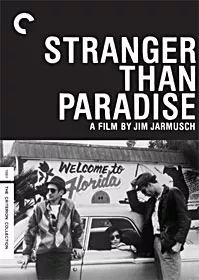 'Stranger Than Paradise,' directed by Jim Jarmusch, Criterion Collection.
These days, when much American independent film has devolved to formulaic low budget romantic comedies, adolescent Tarantino ripoffs and torture porn, it's hard to believe the promise that a new wave of filmmakers heralded in the '80s. More than 20 years after its original release, Criterion has just released a remastered version of director Jim Jarmusch's breakthrough indy Stranger Than Paradise , a package that also includes, as an extra, his rarely seen first feature.
It's interesting to see how far Jarmusch progressed between Permanent Vacation in 1980 and Stranger Than Paradise in 1984. The two films share many elements — the slacker protagonist played by a non-actor (perhaps protagonist is too strong a term for Jarmusch's principals, since they don't actually do a hell of a lot), a shambling shaggy dog story and a minimalism partly imposed by the filmmaker's limited means. Permanent Vacation tells the story of an annoying hipster named Allie (Jarmusch's CBGB pal Chris Parker) who wanders around Manhattan stealing cars, worshipping Charlie Parker, and visiting his institutionalized mother. (Perhaps the film should have been called Off the Road. ) The pitfalls of low-budget films are seen here — amateurs who can't act and scenes that go on interminably. It's notable for the presence of Frankie Faison, who plays one of the police captains in the current acclaimed television show The Wire , seen here in one of his earliest roles. His peformance stands out, if only because he actually can act. It's clear to see why this film has not been widely seen: It's a dud, the filmic equivalent of a trunk novel that should have stayed in the trunk.
What a difference four years made. Whether its a matter of chemistry, added experience or just plain luck (or a mixture of all three) Jarmusch succeeded In Stranger Than Paradise in all the ways his first film failed. Making a stylistic virtue of necessity, Jarmusch shot the film with long takes using extra film stock provided him by Wim Wenders. The story's quite simple: Willie, a Hungarian emigre, is visited by his cousin Eva on her way to their aunt's place in Cleveland. A year later, Willie and his pal Eddie go to visit her in the dead of winter. Then they go on a trip to Florida. The interest (and the comedy) all comes from the elliptical way Jarmusch orchestrates their missed connections and deadpan dialogue. John Lurie (of the "fake jazz" group The Lounge Lizards), Richard Edson (then the drummer for Sonic Youth) and Eszter Balint were not experienced actors (Balint was the only one with any acting experience), but Jarmusch used them in a setting that highlighted their idiosyncrasies.
Where his earlier film was tentative, here Jarmusch came into his own with confidence and a singular vision. He once described the film as "a semi-neorealist black-comedy in the style of an imaginary Eastern European film director obsessed with Ozu and familiar with the 1950s American television show The Honeymooners ," which is not too far from the truth. Jarmusch never again quite matched the unpredictable charm of Stranger Than Paradise , and the film still holds up after all these years. Deadpan tends to age well.
— Jay Herzog, a frequent Journal contributor