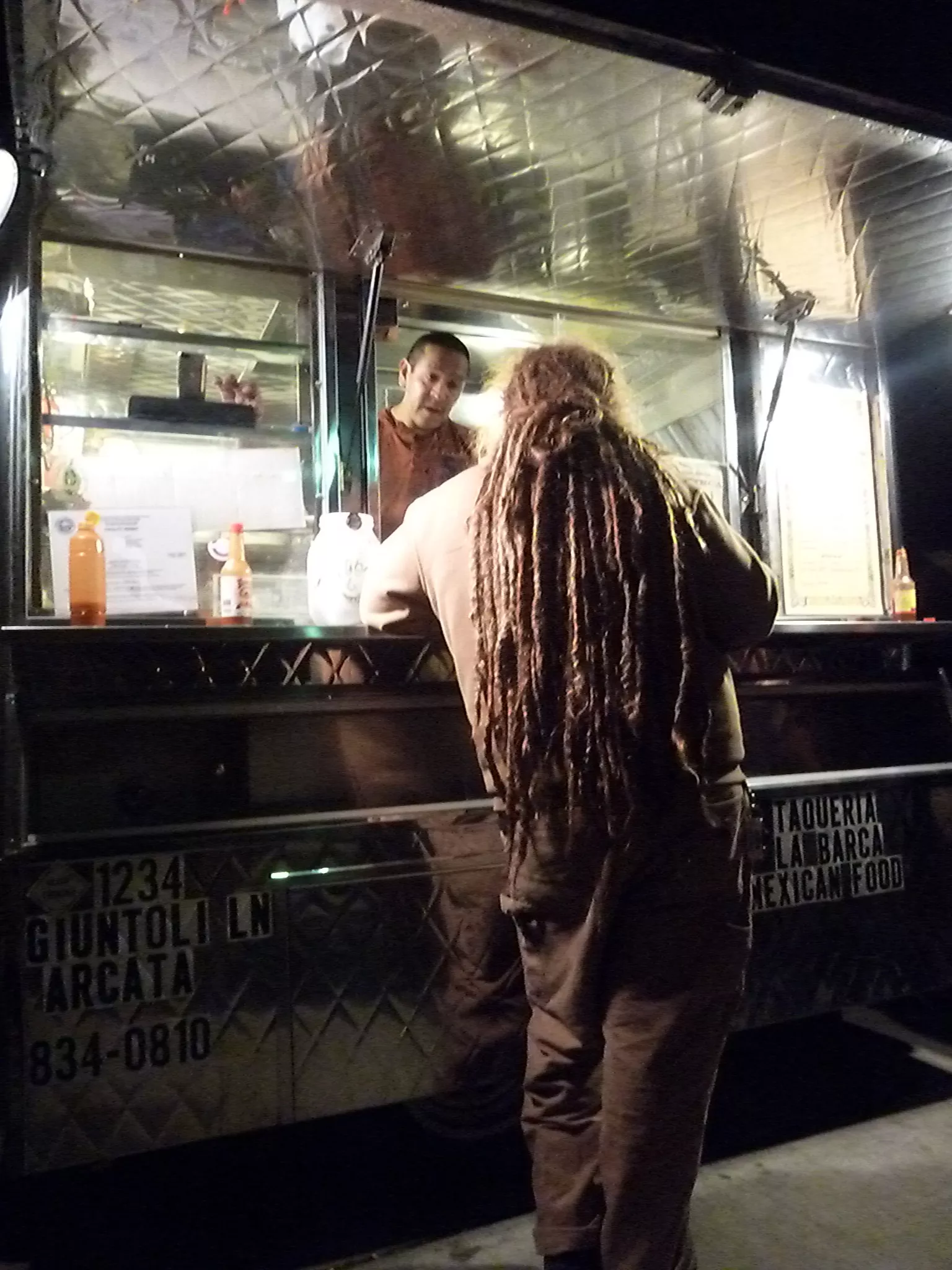 photo by Bob Doran
Red Rasta places his order
Slipping out the back door of the Alibi way past midnight on a Saturday, my stomach growling for food, I was dreading the probable line at Don's Donuts. There would be famished teens, street people and half-drunk bar patrons waiting to order SE Asian sandwiches, pizza slices or classic sugar-bomb donuts. But right down the alley, behind another bar, another option presented itself: Taqueria La Barca, a mobile taco/burrito joint clad in shiny quilted stainless steel, was serving up after-hours Mexican food, and I figured a lingua (beef tongue) or maybe an adobada (marinated pork) taco just might hit the spot.
There was actually a line there too, but not too long. I placed my order (out of lingua so adobada it was), grabbed a mango Jarritos and sat down to wait. Dreadlocked reggae DJ Red Rasta, behind me in line, joined me and we got to talking about his street food dream: He wants to get a truck and sell Jamaican-style meat patties (with some requisite veggie option), but he figures he'll need at least 20 grand to get going. He'd just signed up for this year's Economic Fuel contest and was getting ready to shift into business plan mode in hopes of following in the footsteps of Agogo, an E-Fuel winner from a few years back that got $25K for its mobile vegetarian sushi truck start-up. (What ever happened to it?) After polishing off my taco and depositing my empty in a recycling bin, I headed off into the night.
Of course Lambarca is just one of maybe a half dozen mobile Mexican eateries, along with a growing number of other trucks and carts, that are part of the Arcata street food world. We don't hold a candle to thriving scenes like Portland, street food heaven, where amazing pods have taken root in every part of town, but in recent weeks the local options have been growing quickly.
The newest addition: a little cart called Fritanga Nica Tamales that's set up, for now, in front of Revolution Bicycle Repair on G Street in Arcata. Proprietor/cook/vendor Alba Lopez, originally from Nicaragua, explained that fritanga essentially translates as street food in Central American slang. "You can find everything on the street -- all homemade food," she added.
Her cart offers a simple, very limited menu: just homemade "Caribbean style" tamales and cold drinks. "This is a recipe I have been doing in my family," Alba explained. "I learned it from my grandma; my grandma from her grandma. It's indigenous food from the Indians from Central America. It's banana leaves they find in the jungle, and corn -- corn masa -- and the wild pork. They just wrap it all up. It's an old, old recipe from my ancestors."
The dark green bundles tied in color-coded ribbons -- pink for pork, yellow for chicken -- come plump and steamy hot from the cart. A woman with a knit cap sat on the curb eating her tofu tamale, using the unfurled banana leaf as a plate. I took home a pair and reheated them in the microwave (probably sacrilegious). The pork tamale was the best: The juices, held in by the leaf, merged with the masa and bits of potato making everything savory and delicious through and through. The white meat chicken didn't work quite as well, but it was tasty too. I'll be back.
The other new addition to the Arcata cart world is what I'm hoping is a pod in the making, a pair of trucks that were operating in Eureka until recently, but relocated to the former used car lot at Seventh and I streets, right down the street from the Alma's taco truck and the bright yellow Indian food truck, Naan of the Above.
I first encountered Izzy Elidrissi, the Libyan owner of the Pita Grill Mediterranean Cuisine truck, last summer when he was set up in a lot across from Eureka Natural Foods on Broadway. I stopped there whenever I was in that part of town and worked my way through most of his menu: classic gyros with tzatziki (cucumber yogurt sauce) and tahini, vegetarian falafels with spicy fried garbanzo balls, and my favorite, kofta kababs with a Persian-style ground meat combining beef and lamb. Each one is a meal in itself, but to make a more varied dinner I get his combo plate: warm triangles of pita with baba ghannoui (garlicy roasted eggplant spread) and hummus in addition to tzatziki and tahini. And, of course, a square of baklava for dessert. Needless to say, I was thrilled to learn he was moving his cart to Arcata, where he'd be closer at hand.
His restaurant background? "I used to manage Burger Kings in the Bay Area, years ago," he said with a shake of his head and a big smile. After climbing the corporate food chain until he was managing three BK operations, he quit. "Since working there, I never eat fast food myself," he said.
His Arcata relocation plan involved a second Eureka food truck, The Trailer, a burger, hot dog, Philly cheese steak operation that, pre-move, was on the opposite side of Broadway.
Like Izzy, owner/operator Jon Mathers came out of the BK fast food world. Jon was a Burger King franchise district manager locally in the '80s, then went overseas, operating 65 BKs in New Zealand. "I opened the first Burger King in Taiwan, and the first one in Bangkok, Thailand," he said.
"I came up here to retire," Mathers said, "but the economy wasn't good to me," so he returned to burgers and fries, but with a twist. "We Appreciate Your Patience -- It's not fast food -- You'll taste the difference," says a wooden sign on the truck. "It's not fast food, it's better," he said. "I use Humboldt grassfed beef for the hamburgers -- buy it local -- I get whatever I can that's local. It's burgers and hot dogs basically. I also have the Philly Cheese and some awesome chicken, thin-sliced, marinated and grilled." (He calls it Philly chicken.) "A lot of pride goes into putting out something good -- good food. It makes my day whenever someone comes back and says that was really good, so you see the same faces."
After trying a few locations in Eureka -- and not getting enough regular business -- he figured Arcata might work better. "The trailers and the trucks seem to be readily accepted here," he said. "And the only non-Mexican one here was the Indian. The Mexican restaurants do an extremely good job at what they're doing, but we offer something different. I have the America food; Izzy has the Mediterranean. They're different enough. I think it will work."
Judging from a recent visit to the mini-pod, the combo seems symbiotic. A young woman with blue hair (and what she called "a list of allergies") ordered a falafel with dressing on the side while her boyfriend opted for a burger -- and baklava from Izzy. Both got what they wanted -- and my kofta kabab was great.
Fritanga Nica Tamales is open 10 a.m.- 6 p.m. Tuesday through Saturday in front of Revolution Bicycle Repair, 1360 G St. Arcata. Call Alba at 561-309-8261.
Pita Grill is open Monday-Thursday 11 a.m.-8 p.m. Friday and Saturdays 11 a.m.-11 p.m. in the parking lot at Seventh and I streets in Arcata. Phone orders at 707-502-8535.
The Trailer is open 11 a.m.-6 p.m. Monday - Saturday. And, Mathers adds, "As the weather gets better we'll be open longer." Call ahead at 499-7146.
The Journal wants to open up its food (and arts) pages to a wider range of voices. If you would like to write for TableTalk, please email freelance@northcoastjournal.com.