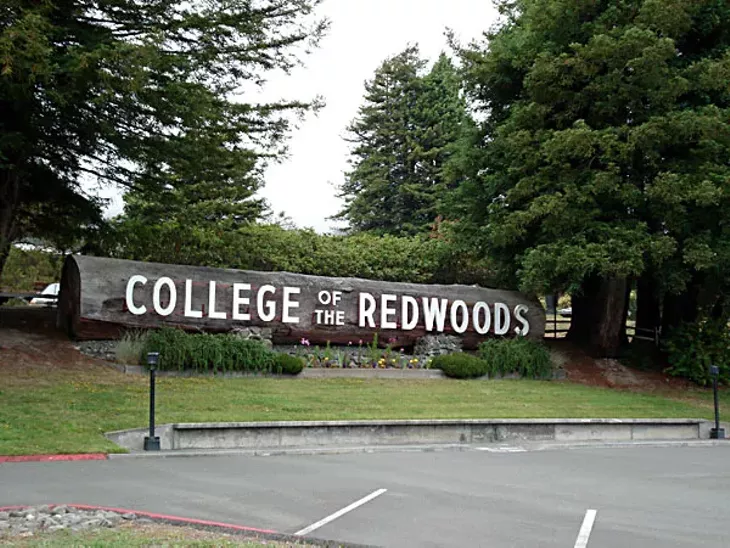 5 slides
College of the Redwoods' main campus -- a herd of squat wooden buildings overlooking green pastureland and Humboldt Bay from a wide shelf at the base of a redwood-draped hillside, seven miles south of Eureka -- sits on a network of active fault lines. Not by design, mind you. The campus was constructed in the mid-1960s; the underlying Little Salmon fault lines weren't discovered until PG&E workers noticed zigzag striations in the soil in 1980. Several buildings, it turned out, straddle these seismic friction points. Two faults converge beneath the old library, which has an open atrium at its center. If an earthquake strikes, says current CR President/Superintendent Jeff Marsee, the building will simply implode.
No doubt Marsee, who took the helm in July of last year, would discount any symbolism implied by the fact that the community college -- which has spread over the years to instructional sites up and down the North Coast, from Crescent City to Fort Bragg -- was founded on unstable ground. But there it is. CR's history is full of tremors, particularly in the past 10 years as the school has been dogged by unstable enrollment, budget shortfalls and accreditation sanctions.
In 2006, the Accrediting Commission for Community and Junior Colleges (ACCJC) put CR on warning status for its inadequate response to recommendations dating back to 1999. The next year, following the departure of longtime President Casey Crabill, the school was downgraded again, this time to academic probation -- just two steps from losing accreditation altogether. Enrollment plummeted by more than 20 percent, and CR found itself saddled with a $4.5 million budget shortfall.
And yet, by the time Marsee arrived in July of 2008, things were looking up. The budget problems had been more or less sussed out, enrollment was back on the rise and, just two days into Marsee's tenure, CR was taken off probation. ACCJC President Barbara Beno commended the school's progress, telling the Eureka Reporter, "They have given other colleges a model for how quickly and how well they can turn 180 degrees." Marsee promised a new era of data-driven results and accountability.
Fast-forward to now. Marsee is engaged in a nasty power struggle with the Academic Senate, the body that represents faculty on campus. Members of student government are complaining that they've been manipulated by administration and ignored by the Board of Trustees. In Fort Bragg, site of CR's Mendocino Coast educational center, a group of citizens, faculty and public officials are leading a movement to secede from the college and align themselves with either Ukiah's Mendocino College or Santa Rosa J.C. -- or even go it alone if they have to. And the state budget approved Friday includes $5.7 billion in cuts to school districts and community colleges.
After being removed from warning status in January, CR was put back on again last month amidst angry finger pointing and accusations of sabotage. (They remain fully accredited while on warning status.) When ACCJC President Beno was reminded of her sunny assessment of CR's turnaround last year, she scoffed. "They turned back," she said on the phone last week. "I guess they're good at turning those 180 degrees."
Depending on whom you ask, CR's latest troubles are either the byproduct of a long overdue overhaul of the school's system of governance or the result of Marsee's misguided power-hoarding. Whichever the case, relations are terse, and the problems need to be resolved quickly. With the deadline for addressing one of the ACCJC's two current recommendations less than six months away, "CR should be very concerned," Beno said. "We've been telling them these things for a long time. ... In fact, federal law requires that if they don't correct these deficiencies by January, we'll have to remove accreditation."
At the center of the maelstrom is Marsee's power struggle with faculty, and the battle is not unique to College of the Redwoods. As government funding for education has steadily dwindled in recent years, the Board of Education has been demanding more accountability. Administrators, under increased pressure to produce quantifiable results with fewer resources, are seizing control from faculty leadership.
Marsee, who earned his master's in economics from Cal State Long Beach and a doctorate in higher education and administration from the University of Texas, has largely abandoned the term "shared governance" -- long the standard at CR -- in favor of "collegial consultation," suggesting a more top-down approach to administration. "The president is responsible for reporting to the board, not the faculty," Marsee said last week from his office on CR's main campus. "It's important to be inclusive and transparent, but it still remains the president's responsibility to make decisions."
His style of governance differs vastly from that of Crabill, who had eliminated the dean structure and allowed more faculty decision-making -- a system Marsee said wasn't working. The Academic Senate lagged on replacing retired instructors in programs like agriculture, welding and engineering, he said. When problems arose, the AS suddenly was not available. Marsee blames CR's 20 percent enrollment decline -- which happened at a time when other schools' rosters were climbing -- on the ineffectiveness of this decentralized power structure. "You have this recurring pattern," he said, "criticize and then disengage."
Marsee has since reestablished an administrative team consisting of three vice-presidents, four deans and two operational instructors.
The faculty, not surprisingly, paints a different picture. Marsee, they say, is a borderline dictator who issues decisions with little or no input from educators. In running the school like a business, they argue, he's prioritizing numbers over education, and sacrificing collaboration in the name of efficiency.
"Before Marsee came here, I will tell you that that was the best year I've ever had at this school," said Chemistry Professor Tony Sartori, who served as co-president of the Academic Senate until June 30. "It was just such a sense of wellbeing, good mood and high morale at the end of 2008. Here we are at the end of 2009, and I have never seen the sense of low morale that I see now. The whole community -- it's fractured."
The feud reached a breaking point in April when the Academic Senate, who felt they hadn't been adequately included in the drafting of an Educational Master Plan (EMP), sent a letter to the ACCJC, telling the accrediting committee that the plan was "seriously flawed," had "not been widely discussed and did not have broad-based support."
"The majority of that EMP was Dr. Marsee's plan," Allen Keppner, current co-president of the Academic Senate, told the Journal last week. "The plan that he took in December to the accreditation committee and presented as our plan we had not even seen. We hadn't had an opportunity to look at it, to comment on it, to revise it. In fact," Keppner said, "it was a plan to make money. It was a business plan, not an EMP."
The draft plan was presented to the ACCJC in December as evidence that the school was making progress on its last remaining recommendation -- to establish a standardized system of program reviews. And it was accepted as such. CR was taken off warning status in January, though they were also given a new imperative -- to establish a firm delineation of roles and responsibilities in order to improve communication and rebuild trust. "In essence," Beno said, "this is [saying], 'Stop having arguments over who has what authority.'"
The school was finally free of sanctions, but when the faculty leadership got a hold of the draft EMP, they were outraged. They felt they'd been taken out of the loop and that the plan made no provisions to ensure the quality of education at the college. So they took their complaints to the ACCJC.
Marsee considered the move sabotage. "Their frustration was expressed by -- what was the Russian term? -- the 'scorched-earth policy,'" he said. He and the board of directors worried that the faculty's protest letter would threaten the school's accreditation gains by exposing the institution's ugly underbelly. "It was awful," Marsee said, clearly pained by the memory. "The most frustrating experience. Completely irrational."
Following the letter, Marsee sent an angry response to college staff, telling them, "I am at a loss to understand what is motivating the Academic Senate to send misstatements to the ACCJC, misstatements that could jeopardize the accreditation status of our College."
Misstatements or not, the ACCJC did indeed place CR back on warning status last month. In an April report, Beno wrote that while CR seemed to have made significant progress the previous fall, "the College appears to have slowed or reversed its direction."
Sartori insists faculty did not want or anticipate such a reaction. "We thought [the ACCJC] would want to hear this information from us," he said. Plus, he and Keppner believed they had nowhere else to turn. CR's Board of Trustees has expressed total confidence in President Marsee since April, following a heated staff retreat and board meeting. After confronting the Academic Senate about their protest letter, then meeting with Marsee in closed session, the board emerged backing the new president. "The board has a designated representative," Board President George Truett told the Journal last week. "We delegate to this person our authority. That's Dr. Marsee."
"When they came out and said, 'We are 100 percent behind the president,' we had nowhere to go," Sartori said. "We were dead in the water." He and Keppner firmly believe that Marsee's autocratic leadership threatens the school's future. If the board wouldn't hear their complaints, well, the accreditation committee just might. "It was either do something drastic now or face the severe consequences down the road," Keppner said.
The Academic Senate isn't the only group frustrated with the new power structure. When the college acquired a large copper sculpture by the late Hobart Brown earlier this year, it did so with the help of $14,000 from the Associated Students of College of the Redwoods (ASCR), and the process of approval left some in the student government peeved. ("Eye of the Beholder," June 11) A small box (a shoe box, say the students) was placed in front of the 30-feet-wide piece during its three-week display in the library along with a question -- something along the lines of, "Do you like this?" or "Is this a piece of art you think the school should own?" The response was roughly 78 percent positive.
But then-ASCR Secretary Jennifer Thompson felt the process was a farce. "There was no information about money. ... They didn't know what they were agreeing to," she told the Journal recently. Then-Treasurer Dave Reyes agreed, saying that the 150 or so students who responded to the survey hardly represent a vast majority of the student body, as the administration framed it. "Four thousand students go here," he said. "That [150] is a small fraction."
Still, it was the ASCR that cast the final vote approving the expenditure, and Reyes himself voted "yes." But he says he felt pressured by the unwelcome presence of a faculty member -- Student Services Vice President Keith Snow-Flamer. Reyes and Thompson feel the ASCR was "strong-armed" by the administration into approving the $14,000 expense (augmented with another $11,000 from the non-profit CR Foundation), so they took their complaints to the Board of Trustees. But the board shot them down. "I feel like they didn't really want to hear what we had to say," Thompson said.
"It scares me," Reyes concurred. "If it's that easy to push us into approving something, what are they gonna do to future students?"
Marsee said the controversy provided a wonderful civics lesson. "We had a majority that voted for it and were knowledgeable about it. A minority voted against it," he said. "At some point the minority has to say, 'OK, democracy has ruled. Time to move on.'"
The Mendocino secessionist movement apparently was sparked when Marsee attempted to transfer the popular head of the southern campus' Marine Science Technology program, Greg Grantham, from Fort Bragg up to Eureka. According to a story in the Anderson Valley Advertiser, the move brought longstanding beefs -- like insufficient funding, inadequate course offerings and a perceived lack of attention to community needs -- to a head. Members of the community, including Fort Bragg Mayor Doug Hammerstrom, Vice Mayor Dave Turner and City Manager Linda Ruffing, formed the Community College Interest Group and set about exploring their options.
Marsee may have had good reason to shake things up in Mendocino. The campus, which accommodates roughly 350 full-time-equivalent (FTE) students per semester, has been costing CR roughly half a million dollars annually. According to Marsee, Grantham's Marine Science Technology program was only graduating one or two students each year. "The numbers just didn't work," Marsee said.
But he may have underestimated the reaction of Fort Bragg community-members, who argued that it was the responsibility of the main campus, not professors, to recruit students. Two hundred fifty or so local residents showed up to a public forum at which Marsee solicited ideas for how to make Grantham's program work. When the secessionists persisted, he took the gloves off, telling them that if they truly wanted to divorce themselves from CR and could find another district willing to take them on, then so be it, with one stipulation: They'd have to reimburse the college for the 40 acres of prime, ocean-view real estate they sit on.
The movement appears to have calmed down. Marsee announced Grantham would be staying at Fort Bragg for at least another year. ("We're in an evaluative position," he said.) In the meantime, CR has been working with the Mendocino center to boost enrollment in the Marine Science program through scholarships and Web-based promotions. Calls to Fort Bragg's mayor, vice mayor and city manager were not returned.
Despite these numerous tribulations, Marsee remains remarkably optimistic and ambitious in planning CR's future. Based on summer enrollment and fall registration, he's predicting a 20-25 percent increase in full-time-equivalent students this semester, some of whom will attend classes at two new instructional sites -- one in the McKinleyville Shopping Center and another at Stewart Elementary School, near Arcata High. Construction is set to begin on two new buildings (which carefully dodge those pesky fault lines) at the Eureka main campus. And in the biggest potential development, CR has offered $100,000 -- far below the list price of $748,000 -- for the former Garberville School, a 1939 four-classroom schoolhouse that could potentially give the college a permanent anchor in southern Humboldt. (Along with the offer came a pledge of "close to a million dollars to get the place renovated," Marsee said.)
He insists all this expansion is driven by numbers -- that the investments will almost certainly pay off. The startup money for the Garberville site will come largely from leftover funds generated by Measure Q, the 2004 voter-approved proposition to sell $40.3 million in bonds, currently being paid back through parcel taxes. All Measure Q monies were spent or committed when Marsee arrived, but in February, he halted construction on an $11.5 million student union building, opting instead to renovate the current student union. (More than half a million had already been spent, however.)
Sartori and Keppner are not convinced that these are all wise decisions, and they're annoyed at having been left out of them. "We're not against all these moves," Sartori said. "We want to be involved in them. We want to help. But, guess what? We're not being asked for help. These things are just being done." Both men questioned whether the Garberville expansion would be a legitimate use of Measure Q funds given that no such proposal was presented to voters five years ago when the measure was approved. But Marsee pointed to language in the measure providing for "improvement and expansion of project space."
As CR gears up for another semester, the power struggle remains fierce. It may cool down a bit this fall thanks to a scheduled mediation (requested by the Academic Senate) with the leaders of the state Academic Senate and the League of California Community Colleges.
"There's got to be some changes from the way Jeff [Marsee] operates," Sartori insisted. Marsee, meanwhile, says faculty leaders "are not the operational administrators they perceive themselves to be." With both sides expecting validation, someone will eventually be forced to give ground.
CR's board of directors has already chosen a side, and Truett, the board president, has been infected by Marsee's enthusiasm. "I'm excited about CR, because until Jeff Marsee came there was really no coherent vision," Truett said. "He has taken the ball and run with it."
Just how far he can run remains to be seen. The January compliance deadline is looming, and without accreditation CR would be of virtually no value to students hoping to continue their education at a four-year institution. Should CR succeed in resolving that first recommendation from the ACCJC, it will have until June of 2011 to respond to the second, which requires the college to "develop a means by which trust can be enhanced and respect increased... ."