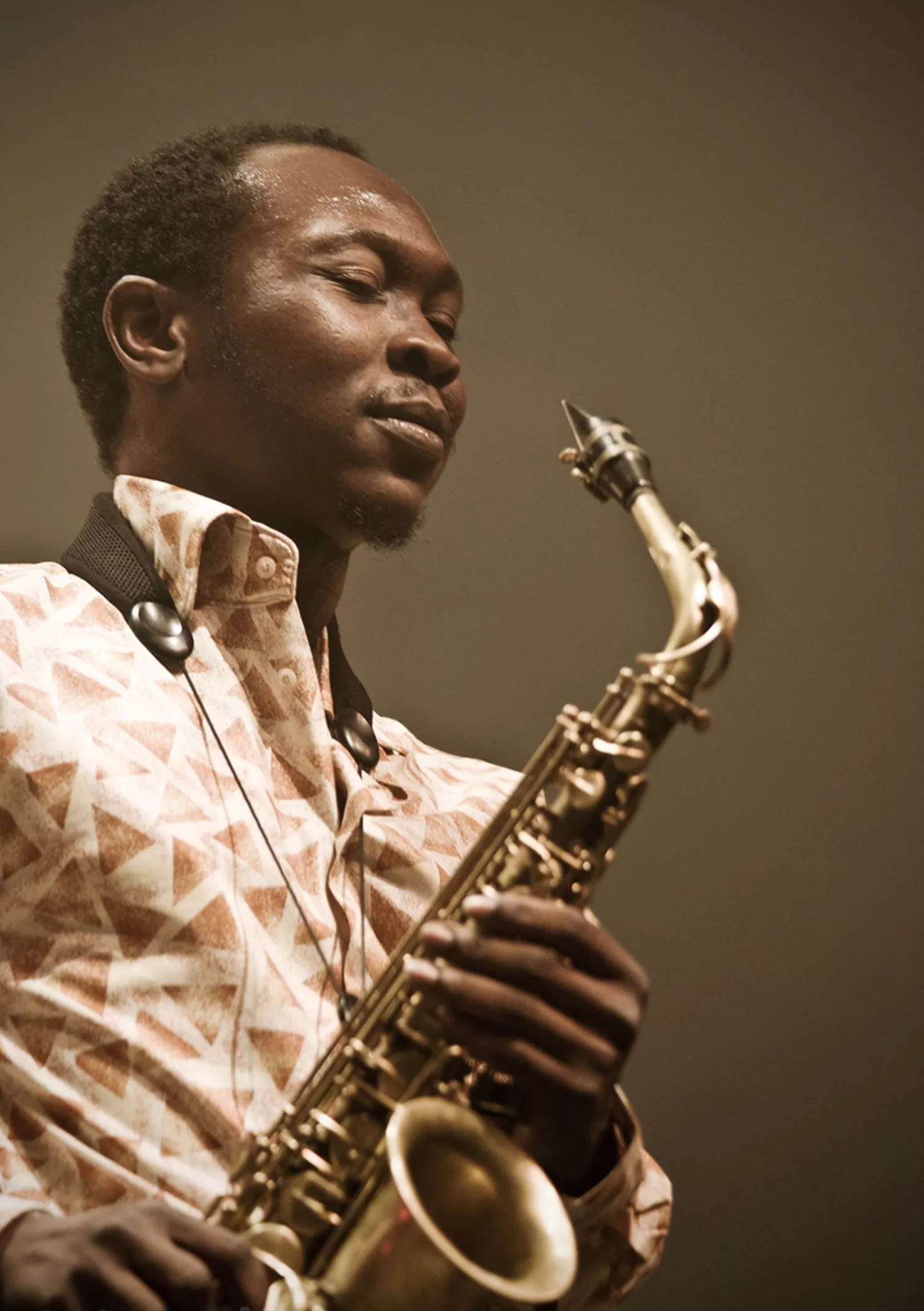 photo by Benoît Derrier
Seun Anikulapo Kuti
It's that time again. Summer's here -- almost, anyway -- and the time is right for dancing in the street, in a meadow or perhaps along the riverside at a music festival.
Some of your options in the coming months:
The 35th Annual Summer Arts and Music Festival. While the future of the park at Benbow might seem uncertain, projected state park closures are not until next year and the Mateel's huge SoHum party will go on as planned. Four stages boast 60-plus acts amid art, craft and food booths, a kid's zone, dancers and beautiful people everywhere. Headliners include Lyrics Born, ReBirth Brass Band, Skampida, LoCura, The Brothers Comatose, Alice DiMicele Band, Afromassive, The Real Nasty and returning fest faves Yogoman Burning Band and Scott Huckabay. June 4 and 5, Benbow Lake Recreation Area, south of Garberville. www.mateel.org 923-3368
The 34th Annual Redwood Run. The Kiwanis have taken back the "original" biker bash and moved it to Cooks Valley on the Bowman Ranch (next to Dimmick Ranch). As always the music is blues and hard rock, including Tommy Castro, Kaye Bohler, Ronnie Montrose, L.A. Guns, biker rockers The Fryed Brothers, and locals such as Kent Stephenson Band, Jimi Jeff and The Uptown Kings. June 10-12, Cooks Valley, Piercy. www.kiwanisrwr.com
The 3rd Annual Mad River Summerfest. The free festival on the Mad returns once again with homebrew, sporty stuff, arts and crafts, fun for the kids and mucho music, all local. For starters: Ishi Dube, Moo-Got-2, The Miracle Show, Kulica, Speakeasy Saints and Sierra Rose Band. Saturday, July 9, Pump Station No. 1 on West End Rd. outside of Arcata. eruptionproductionz.com
The 27th Annual Reggae on the River. With the fall of Reggae Rising, the Mateel's bash at Benbow is the place to be for reggae fans. The musical mix includes sets by Ky-Mani Marley, Seun Anikulapo Kuti and Egypt 80, Gramps Morgan, Tony Rebel, Queen Ifrica, Army, HR, The Alliez, Jade Steel, Jah Sun and Ishi Dube. July 16 and 17, Benbow Lake State Recreation Area. www.mateel.org 923-3368
The 34th Annual Humboldt Folklife Festival. The Folklife folks offer another full week of music, mostly folk, almost exclusively local, concluding Dell'Arte's Mad River Festival. Starts Sunday, July 17, with Blue Lake's Annie and Mary Day Fiddle Festival in Perigot Park including (nonlocal) stringers Real Vocal String Quartet. July 18 is Women's Songwriter Night in Dell'Arte's Carlo Theatre with Morgan Cordivay and Lyndsey Battle among others. Redwood Jazz Alliance helps with Jazz Night July 19, including Gregg Moore's SquarPeg and Miles Ahead, again in the Carlo. The action moves out back to Rooney Amphitheatre July 20 for Country Night with The Country Pretenders, Cadillac Ranch and Huck Flint gone electric. July 21 is Backyard Bluegrass and Beyond with The Compost Mountain Boys, Clean Livin' and more bluegrass, again in the Rooney. Striped Pig String Band plays for Friday night's Barn Dance at Arcata Vet's Hall July 22. Closing day is Saturday, July 23, an all-day free festival with scores of local folkies etc. taking over Dell'Arte and vicinity. July 17-23, Blue Lake and beyond. www.humboldtfolklife.org.
The 2nd Annual Jefferson State Old Time Revue. Missing Link returns with their alt. old time/roots fest, unfortunately on the same day as Folklife's free festival, although this one runs later. Among the acts, Pokey LaFarge, Lana Rebel, The Dust Busters, The Brothers Comatose, The No Good Redwood Ramblers and Striped Pig String Band. July 23, Arcata Playhouse. 826-0590.
The 18th Annual Trinity Tribal Stomp. Located out 299 just this side of Weaverville, the Stomp is a classic hippie music fest with a very eclectic music lineup and onsite camping. Saturday is heavy on reggae and world beat with Midnite, Roots Underground, Woven Roots, plus Charles Neville and Youssoupha Sidibe and jammers Jemimah Puddleduck. Sunday, stomp to G-Love and Special Sauce, Roy Rogers, Anders Osborne, Alice DiMicele, Clan Dyken and MaMuse among others. July 23 and 24, Junction City Park, on Hwy 299 in Junction City. Trinitytribalstomp.org. 530-623-3856.
The 11th Annual Buddy Brown Blues Festival. No bands announced yet for the all-local blues-o-rama, but it's back. Saturday, Aug. 6, in Blue Lake's Perigot Park.
The 14th Annual Blues by the Bay. Redwood Coast Music Festivals' Labor Day weekend bash brings in a mess-o-blues. Saturday features Tommy Castro, Joe Louis Walker and Kaye Bohler. Sunday's power-packed show includes Tower of Power, John Nemeth Soul Revue, Tom Rigney, Earl Thomas and the Arcata Interfaith Gospel Choir. Sept. 3 and 4, Halversen Park, by the Adorni Center, Eureka. www.bluesbythebay.org
The 38th Annual North Country Fair. Plans are underway for another weekend of crafts, food and music overseen by the Same Old People. Music line-up TBA. Sept. 17 and 18 on the Arcata Plaza. www.sameoldpeople.org
Among the many other music fests elsewhere in Northern California:
The 33rd Annual Harmony Festival. Somehow Harmony keeps getting more eclectic while maintaining the eco/new age vibe with speakers, both spiritual and political. This year's music includes everything from The Flaming Lips and Primus to Natacha Atlas, Michael Franti and Spearhead, Fishtank Ensemble and electro master Gaudi, plus much more. June 10-12, Sonoma County Fairgrounds, Santa Rosa. www.harmonyfestival.com
The 17th Annual Sierra Nevada World Music Festival. Now settled into Boonville, SNWMF maintains its top-flight rep, pulling in the best of reggae: Steel Pulse, Toots and The Maytals, Horace Andy, Anthony B, Collie Buddz, Midnite and mento pioneers The Jolly Boys -- spiced with dashes of "world," Ozomatli, Thomas Mapfumo and Vusi Mahlasela. June 17-19, Mendocino County Fairgrounds, Boonville. www.snwmf.com
The 16th Annual Kate Wolf Memorial Music Festival. Another year of roots and folk in honor of the late, great folk singer. Los Lobos, Taj Mahal, Mavis Staples, Nitty Gritty Dirt Band, Bruce Cockburn, Ruthie Foster, Jorma Kaukonen, David Bromberg, Preservation Hall Jazz Band top the bill with many more, some playing multiple sets. June 24-26, at Black Oak Ranch, north of Laytonville. www.katewolfmusic.com
The 21st Annual High Sierra Music Festival. The former jamband fest grows even more eclectic with My Morning Jacket, Ween, Neko Case, Yonder Mountain String Band, Gillian Welch, Maceo Parker, ALO, Ernest Ranglin and Bill Frisell among the 50 plus acts. June 30-July 3, Plumas County Fairgrounds, Quincy. www.highsierramusic.com
The Gaia Festival. With Earthdance moving on and Reggae Rising on the skids, Gaia manages to replace both with "five stages, four directions, three days, too much fun, one love!" on the Hog Farm, aka Black Oak Ranch. The music so far: India.Arie, Aaron Neville, Galactic, Funky Meters, The Mighty Diamonds, The Wailers, Sister Carol, DJ Cheb I Sabbah, John Trudell, Toubab Krewe, Albino. Aug. 5-7 (formerly Reggae weekend), Black Oak Ranch, Laytonville. www.thegaiafestival.com
The 10th Annual Earthdance. This year the "Global Dance Festival for Peace" moves from bucolic Mendo to Vallejo. While more headliners are planned, it looks good so far with Les Nubians, The Orb, Beats Antique, Dumpstaphunk and EOTO, plus Gaudi and Mimosa and others in the Electronica Temple. Sept. 23-25, Solano County Fairgrounds, Vallejo. earthdancelive.com