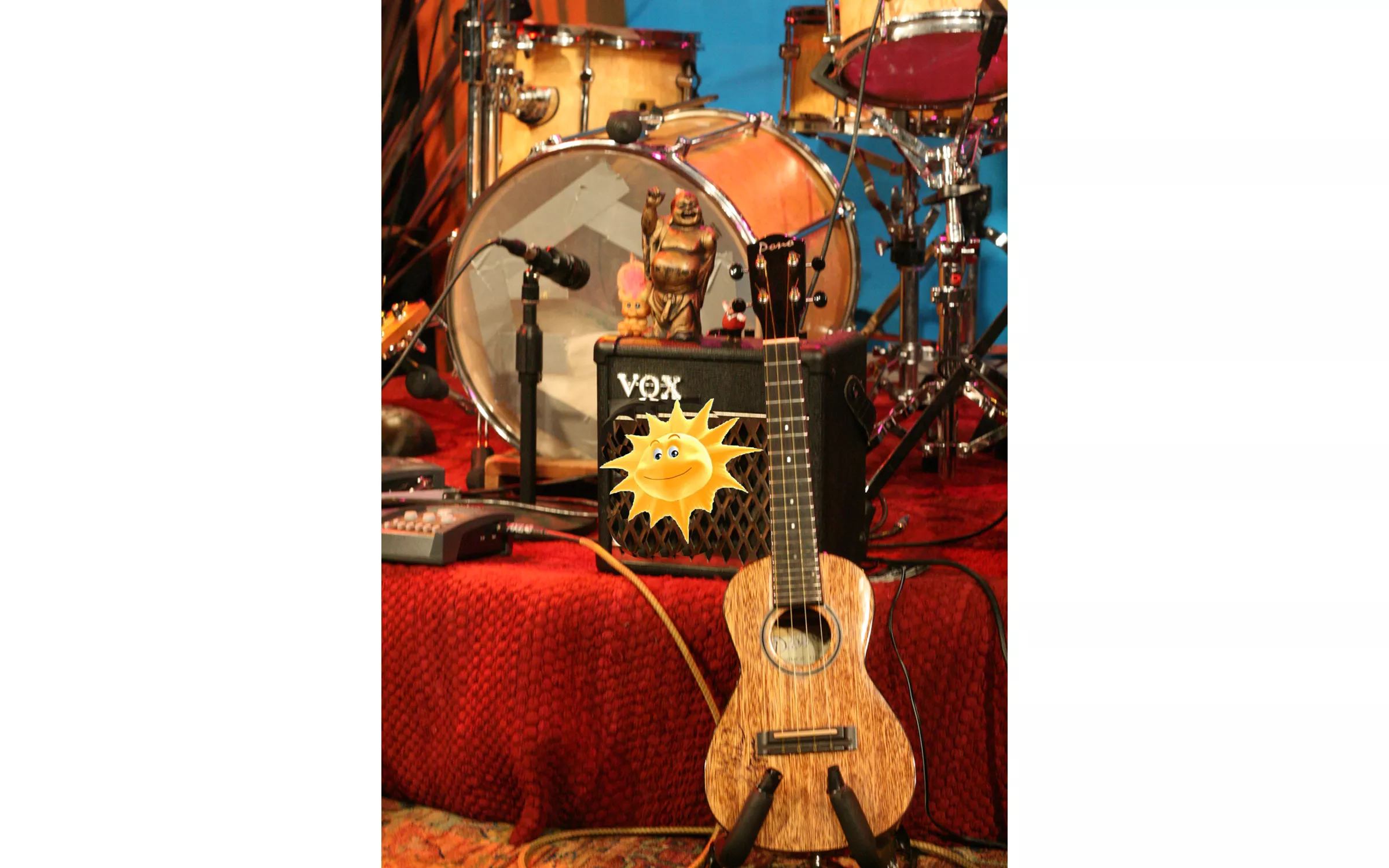 photo by Bob Doran
Ukulele
Type the word Summerfest into Google and you'll find they're all over the place. Summer is festival time after all, and people want to dance and party in the great outdoors. We had one east of here for a few years with an emphasis on heavy rock and hip hop -- it went down for reasons we won't go into here.
The name was revived locally last summer with a totally different intent. Scott Carlson, who among other things works for Humboldt Brews, wanted to put on a free festival with an emphasis on local music and homemade beer. With help from friends he did just that last summer along the Mad River and followed up with Winterfest, a successful multi-band, multi-venue benefit in downtown Arcata.
Now it's time for the Second Annual Mad River Summerfest at Pump Station No. 1 (West End Road). Again the line-up showcases the best in local bands. The lovely ladies of AkaBella start things off at 11 a.m. with some worldly a cappella, perfect for a summer morning. Then at 11:30 soul survivor Courtney Weaver and her new band lay down some blues and such. AkaBella returns for a tweener set at 12:30, followed at 1 p.m. by hard rockin' by The Rezonators. A break at 2 p.m. brings samba and the first of several raffles, with proceeds going to The Ink People Center for the Arts, Humboldt Baykeeper, Humboldt Surfriders and the Arcata Skatepark (phase 2).
At 2:30, it's the instantly acclaimed all-star Tom Petty tribute band Full Moon Fever, who already have a pack of fans after just a couple of shows. Then at 3:30 it's folky-punk Greg Lokjo, back in town for Dell'Arte's Mad River Festival (he did sound for Blue Lake: The Opera, etc.), who might do a Rubberneckers song if you beg. Things get funky at 4 p.m. with another all-star combo, The Lowdown.
More raffles at 5 (with an iPod among the prizes). Then at 5:30, the unique UKEsperience with summery tunes, Hawaiian-Humboldt stylie. Greg Lokjo leads into one more raffle and the announcement of the homebrew contest. (Did I mention the beer? Five bucks gets you a commemorative pint glass). That takes us to 7 p.m. when The Fickle Hill Billies close things out with some tie-dyed psychedelic rock.
OK, we touched on the beer. This is a festive affair with arts and crafts and food all day, a halfpipe for skaters, a climbing wall and more stuff for kids, like a straw maze. Since Pump Station parking is limited, there's a shuttle running from Wes Green Landscape at West End Road and Ericson Way (west of Valley West). And once again, as with Mr. Kite's party, "a splendid time is guaranteed for all."
Meanwhile down at CR, it's Relay for Life weekend with cancer survivors and supporters walking to support research for a cure; music by The Roadmasters, among others. As we went to press, Cliff from KHUM was looking for more bands. Wanna play for a good cause? Give him a ring.
Berel Alexander (who I'll always think of as young Bernie) called over the weekend with an update on the Berel Alexander Ensemble: "We have these summertime celebrations happening: Friday at the Red Fox, then Sunday night at Mosgo's (7-10 p.m.), which is all ages, geared more toward families. We have a new recording coming out, recorded over the Valentine's shows. We took a few songs from each show and put together this live album with a few new songs, some from Hooked and a Chilean folk song "Poco a Poco," which translates as "Little by Little." (No, it's not the old Stones song.)
Norm of Bad Kitty is the undisputed keeper of the hotrod psychobilly flame. This week's "Psychobilly Summer" romp: Dana's Birthday Bash, Thursday, July 8, at the Red Fox Tavern with The Rocketz. Norm notes, "As always, this powerbilly trio from Los Angeles brings with them one of their favorite bands -- this time it's the Hotrod Hillbillies from Austin. HHs have a new record due out, You Wanna Race?, as both bands embark on a two-month U.S. tour, starting right here. Guaranteed to redline your yee-haw. C'mon down and join the party. Did I mention Dana has a race car for sale?"
Same Thursday, different crowd: Future Productions presents A Mid Summer's Dream at Arcata Theatre Lounge with Lowriders featuring An-ten-nae and a pairs of ladies, DJ Laura and DJ Eko plus a Beautiful People fashion show. (Is there another kind?)
EndFragment
[if gte mso 9]> 0 0 0 <![endif]

Dub Cowboy, aka that all-caps guy with no vowels (MXMSTR KRSHN2N), alerts us to a show Friday at the Jambalaya with "original Humboldt County DJ/promoter/producer Flip Fyxtion." DC/MK reports, "Flip moved away from Humboldt County 10 years ago, but before that he helped promote some of the original electronic music events in Humboldt, essentially helping lay the groundwork for a decade of amazing full moons, Sunday socials, weeklies and one-offs. He will be spinning classic tunes and original productions, some of which are being created in the woods right now as he is camping out in the days leading up to the show.
They call it "The Acoustic Church of Lightnin' Woodcock," which basically means the Eureka native blues/punk psycho guitarist/harp player is back in town for a solo show Saturday night at Lil' Red Lion. Local terrorist rockers Splinter Cell jumped on the bill, then The Iveys, a sibling indie pop trio from Tornillo, West Texas with an emphasis on harmonies. Neither of those bands is acoustic, and the worship-worthy Woodcock is pretty electric even when he's acoustic. Be prepared to rock out. 
At Six Rivers Saturday is Dgiin, a band from Sonoma County named for the genies, not that beverage served with tonic. They're in the Absynth Q school of Django-inspired jazz, but with a touch of funk and vocals in French by (French) brother/sister duo Gabe and Mimi Pirard. Quebecois fiddler Magali Sanscartier adds further Frenchness (well, sort of).
"A World Condemned Tour" was supposed to hit Nocturnum Saturday with a blast of international hardcore loudness, but the French band Nightshade dropped off the tour for unknown reasons, leaving just Blood of the Prophets, a melodic death metal sextet from Toledo, OH. Local headbangers Locust Furnace and Transient Messiah fill out the ears-bleeding bill.
Also on the heavy side, the Monday Night Budget Rock show at the Jambalaya July 12, with Black Skies, a sludge metal combo from Chapel Hill, and Sean, a grindcore duo from Seattle with Mike Peterson on drums and Luke Laplante on keyboard (with piano preset to run through a noise gate into guitar amplification). Shattered Skull Sound System opens. You can guess what kind of records they'll play.
The Mateel hosts the 707 Cannabis College Expo Saturday afternoon, a "State of The Herb" forum to discuss pot-related issues and introduce a new SoHum school that's supposed to prepare you for the promise of legal ganja. DJ Chris Gilles spins appropriate "retro eclectic" tunes between talks by (among others) Dennis Peron, Ken Miller M.D. and Ellen Komp, deputy director of the Cali branch of NORML. And yes, they'll have munchies.
Word from SoHum's Eli Fowler, aka Elision, aka Little Kidd Lost, on a show Sunday at the Red Fox: the Fake Four Inc. Records tour featuring Moka Only (aka Ron Contour), Factor, Open Mike Eagle and Fake Four founder Ceschi Ramos with special guest local opener, Little Kidd Lost. "This show is gonna be awesome," says Eli. "I've been a fan of Moka's for a long time, ever since he was with Swollen Members (who are now signed to Suburban Noize Records, same as Potluck). I met Ceschi a few years ago when he was with a band called Toca, which at the time was one of the greatest shows I'd ever seen -- and there were only six people in the crowd. So come out, support and if you get there early, you can catch some of my newest tunes, some not yet recorded. Hope to see you there!" Let's be sure more than six people show up for this one. You, you, you and you -- be there.
In the midst of the Journal's rockin' party on the Boardwalk on Saturday, someone tapped me on the shoulder and pointed to a guy in spandex on a recumbent bike. It was Chris Ursich, who wanted to let me know he'd booked a Humboldt Folklife show on Sunday, July 18, at the Arcata Playhouse with the always amazing Laurie Lewis and Tom Rozum. I know that's still a ways off and in the middle of the Folklife Society's eight-day-long festival, but I'm thinking tickets in advance (since it may well sell out).